Ghost In The Machine Shows Future Of Local Film Company
Monday December 13th, 2021, 9:00am
Hello time traveller!!
This article is 717 days old.
The information listed below is likely outdated and has been preserved for archival purposes.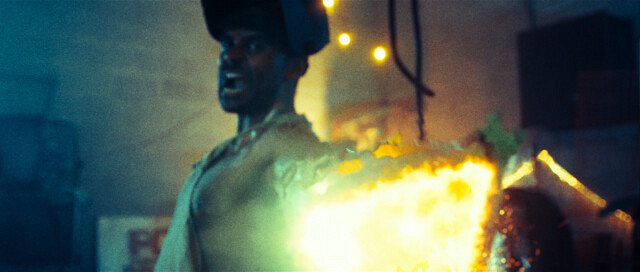 Travelling far into the future, a local movie crew has worked hard to present their unique vision.
Despite somewhat limited resources, Helios Films is taking a big step forward. Recently shooting The Phantom Machine, the group is delving into science-fiction with their latest short. Binding together a cinematic story with synthwave music, the video is step one in creating a more expansive universe.
It also allowed director Jendo Shabo the opportunity to work with one of his favourites from the genre.
"Waveshaper was one of the first artists that ignited my passion for synthwave music, so it was genuinely a dream come true to collaborate with him," he said. "I launched Helios Films to focus on creating cinematic, narrative-driven content and support those projects with my commercial experience making teasers, posters, social media promos, etc. for various clients throughout the years. For my team, it felt like a natural next step in our overall goal to constantly create big, Hollywood-style content regardless of resources, relying more so on skill and drive."
Set in a neo-apocalyptic future, the world is shown through the eyes of the traveller (a character inspired by Solid Snake and The Man With No Name.) As the story unfolds, we learn that the murderous Phantom Machine was The Traveller's best friend until being abducted and reprogrammed by tech poachers. Attempting to restore his friend's original software, it all climaxes in an intense battle between the futuristic gun-slinger and band of crudely augmented thieves.
Looking for his next project at the time, Waveshaper began talking to Shabo about the concept. Instantly connecting over their shared film and video game interests, the artist wrote a song titled The Phantom Machine. Clocking in at a little under three minutes, it was used to fuel the production and originally played for actors while getting ready to film their big brawl.
Despite having their soundtrack though, more work was needed before cameras rolled. Planning out every detail, this extended to the intricate fight scenes at the centre of the film.
"This was a lengthy and rewarding process," said Shabo. "My team and I tried to plan every step possible, including multiple choreography sessions between me and my stunt coordinator Marcello Morle. After we had a solid action sequence planned out from point A to Z, we brought in all of the actors to film a pre-visualization of the fight in my backyard with random backyard supplies as stand-ins for the props they'd be using on set in the coming weeks."
Excluding The Traveller's investigation, it was almost nine minutes long. Despite pairing things down, other changes were also made. As more ideas formed, the director's co-writer Michael J. Krym and production designer Rachel Fitzgerald brought more than three minutes of them to life..
Showing his flexibility, Waveshaper continued to collaborate and adapt with the project as well.
"After Waveshaper saw the first cut, it was clear that we shouldn't trim it down to three minutes, so he wrote an additional five minutes of brand new music to accommodate the length," said the director. "Tom Andersson (Waveshaper) was an amazing collaborator throughout the whole process, not only by supporting the film with new music, but also for giving me enough freedom to explore and experiment."
Keeping things fluid is something Shabo is familiar with too. By storyboarding every frame of his projects, the film-maker also creates alternate ideas he can incorporate if things go wrong.
Following extensive rehearsals, challenges can still come from unexpected places after all.
"Our ambitions are always big, and I've learned to prepare back-up ideas in case things don't work out as initially planned," said Shabo. "The biggest obstacle to overcome was pulling off an exciting action sequence between six characters and a robot. It was a challenge executing the lengthy shots before the makeup melted off the actors, but thanks to our talented special effects lead Stephanie Johnston, her assistant Mary Shabo and [Fitzgerald,] we found a balance between cosmetic repairs and the ticking clock."
Developing a synthwave-inspired horror universe for almost a decade, the director imagined The Phantom Machine as a side story within it. As his team looks to create a feature-length film set in the shared space, Jendo took the opportunity to execute some of its broader concepts. This includes the Traveller's Smart Respirator, a cinematic mixture of sci-fi and Western aesthetics, specific technology like the shoulder-mounted light and wrist-mounted DataPad.
Translating these elements to video is a testament to his crew. Even with a limited budget, almost all characters look identical to how they were first drawn. A large part of this was due to production design and costume creation by Fitzgerald along with Johnston's special effects and make-up. Adapting Jendo's vision, they used their skills in many creative ways. This included Fitzgerald learning to solder LEDs for the robot, perfecting major props like The Traveller's respirator, shoulder-mounted light and ensuring they looked their best the entire time. Johnston molded dozens of custom silicone "augment" scars in different shapes (Jendo's favourite being Ace's domino mask scar.) She brought her unique touch to flesh and gore as well.
Of course, this future couldn't exist without the people living in it either. Being involved with many plays and the local arts community, Krym knows several area actors. When it comes to casting Jendo's projects, the two usually discuss the director's overall vision and character ideas before deciding on the best choices to pick from.
In this case, having so much Windsor talent meant only two actors came from outside the city.
"We were able to cast Windsor's own Bob Steele as the Survivor's Elder, Kitu Turcas as the group's aggressive leader, Shayla Hudson as their brilliant battle and tech support and Avery Meloche as the agile gunslinger," said Jendo. "Steve Kasan was brought in from Toronto because I had a great time working with him on a war film I directed years ago and Katy Chapman came in from London to lend her physicality as the team's warrior."
In addition to acting ability, some cast also went through gruelling conditions. Wearing his face mask, eye patch and hat, Shane Morris led a fight against five people. On the other side, Paul Hucker had to remain alert and ready despite the heat in his Phantom Machine suit. This remained true for Andrew Seguin as he took on the role for additional filming.
Casting decisions were important down to small roles though. Setting the tone for the story, Mercedes Ranjit is the first face people see as the video opens.
Choosing proper filming locations also went into creating the right atmosphere. Because of this, using Scarehouse Windsor was important to the production. Preparing another proof-of-concept short film, someone mentioned the facility to producer Krym. After receiving a tour from owner Shawn Lippert, development of The Phantom Machine came first as the Waveshaper collaboration was prioritized.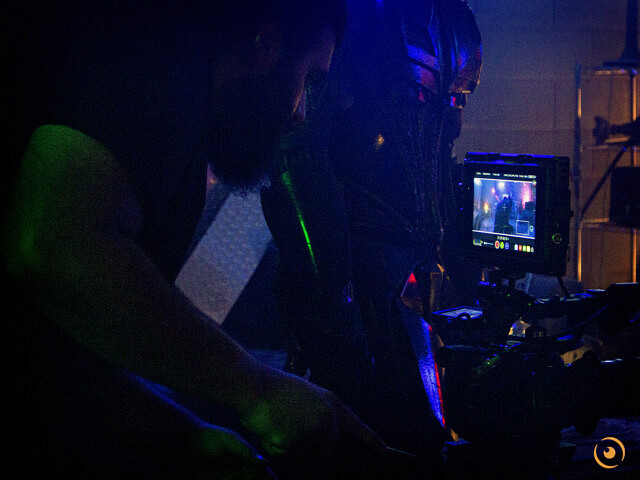 Support from local businesses didn't stop there either. Justin's Auto Repair played a big part in the film's introduction, helping the crew with a Delorian and by letting them film in his vintage mechanic shop. As a thank you, he appears in the film as The Phantom Machine's first victim.
Garfield's restaurant also allowed the production to build a hideout with overgrown foliage and can on fire for actors to huddle around. Beyond this, lights were rented from Gear House for glowing vegetation or lightning that illuminated the auto shop.
In the end, everything came together and created a universe the director is satisfied with.
"Atmosphere is one of the most important aspects of a film for me," said Jendo. "When I watch a movie I want to be immersed in that world completely. I'm very happy with how the bold visuals were complemented by Braden Koksal's wonderful sound design, fueled by Waveshaper's incredibly melodic music. It's no surprise that eventually a project has to end, and while I ran out the post-production clock for our debut release, I'm happy with the current version."
That's not to say the director is finished with The film though. An extended cut that's more accurate to Jendo's original vision is in the works. This includes key stylistic differences that were cut from the original due to time constraints. Having done his own visual effects for projects before now, the film-maker enlisted the aid of Anthony Sunsin and Justin Goulet: The pair created the valley cgi intro, outro and glowing veins on the robot's victims. Even more of their work is set to be featured in The Phantom Machine: Ultimate Edition.
Finishing this version, Jendo is ready to push his limits even further. With many unused ideas, he's hungrier than ever to create a feature-length film. Making this new concept a reality on their own, the director and his crew are excited to see where it takes them.
It's also this ambition that has planning for a bigger story underway.
"The Phantom Machine is the exact kind of movie I loved to watch, and I'm confident there are other people who like this specific mixture of elements," said Jendo. "The feature script is already written and while it's heavily inspired by my influences, it's unlike any sci-fi horror I've seen. The Ultimate Edition will show that we can tackle the ambitious concepts that we will delve deeper into with the full length film."
In the far less distant future, Helios has a couple of diverse projects on the way. Beyond a more ambitious video with one of his favourite synthwave artist, Jendo and his team are working on an Ontario Nurse's Association campaign. Transitioning from an alternate reality to such a serious topic, the film-maker finds it creatively rewarding.
It's also one of many projects that allows Jendo and his peers to develop their skills.
"My primary goal as a filmmaker is to push my limits with each project and thankfully, I have a team of extremely talented, dedicated artists to help bring my vision to life despite the limited resources," he said. "One of our first films in high school was a visual effects fueled, action packed superhero fan-film. Since then, I've been fortunate enough to collaborate with like-minded clients and develop those big-concept skills in a variety of projects. Each one, whether it was a music video or a wedding film, taught me something that I've been able to use in my passion projects."
Released by NewRetroWave, The Phantom Machine can be found at Helios Films' website. The Ultimate Edition will also be included in the coming weeks.
Content Continues Below Local Sponsor Message
Content Continues Below Local Sponsor Message
Content Continues Below Local Sponsor Message