Shop Local Guide: Locally Sourced Recipes For The Holidays
Saturday November 27th, 2021, 10:55am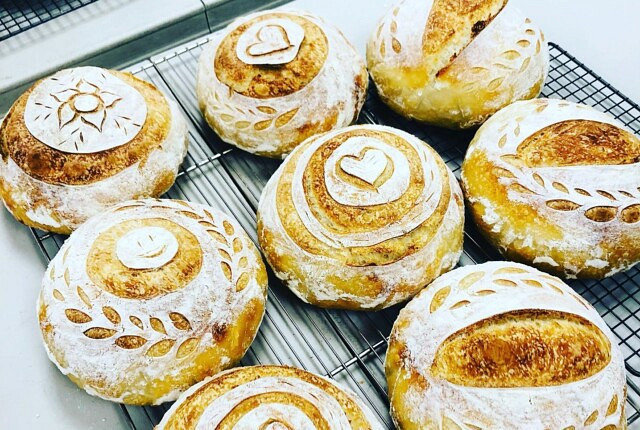 W.E. Heart Local Ways to Entertain This Holiday Season!
While you are picking up items for your holiday creations, make sure to support our many local shops, farm stands and suppliers. Whether you are buying pre-made, ready-to-serve or looking to our local markets & shops to buy locally sourced, you will have no shortage of choices this holiday season.
Markets & Fresh Produce
DOWNTOWN WINDSOR FARMERS' MARKET 
Pre-Made Local Products
Get all the fresh details on where to buy farm fresh and our local producers at weheartlocal.ca. 

Locally produced – given with love!  Check out these delicious recipes created by the Ontario Greenhouse Vegetable Growers made with locally-grown produce! Cook up something delicious for your family and friends using items sourced close to home.
Try out these four sensational easy-to-make recipes to celebrate the holiday season, starring Ontario-grown greenhouse vegetables! Perfect for your holiday get-together.
Italian Village Salad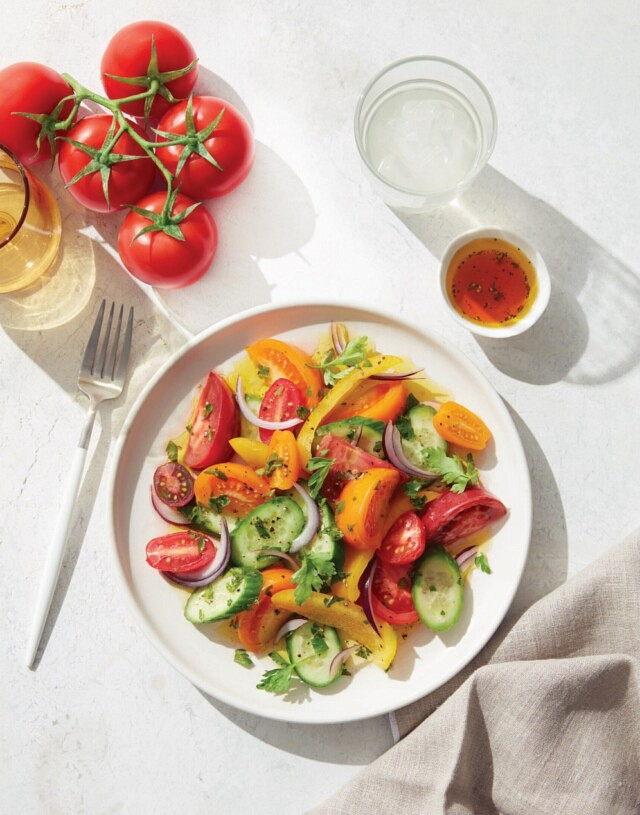 Ingredients: 
1lb (455g) mixed ripe Ontario greenhouse tomatoes (heirlooms can add a punch of colour)
4 Ontario greenhouse mini cucumbers (or 2/3 Ontario greenhouse English cucumber)
1 Ontario greenhouse pepper (be as colourful as you want)
1/3 cu (80mL) thinly sliced red onion
1tbsp (15mL) chopped flat-leaf parsley
3 tbsp (45mL) extra-virgin olive oil
2 tbsp (30mL) red wine vinegar
Salt & pepper to taste
Directions:
Cut tomatoes into wedges.  Cut cherry and grape tomatoes in half.
Slice cucumbers on bias (if using English cucumbers, halve lengthwise first.)
Cut pepper into bite-sized pieces.
Place vegetables in large mixing bowl with onion and parsley.
Drizzle with oil and vinegar.
Season with salt and pepper.
Mix thoroughly.  Transfer to serving dish.
Enjoy!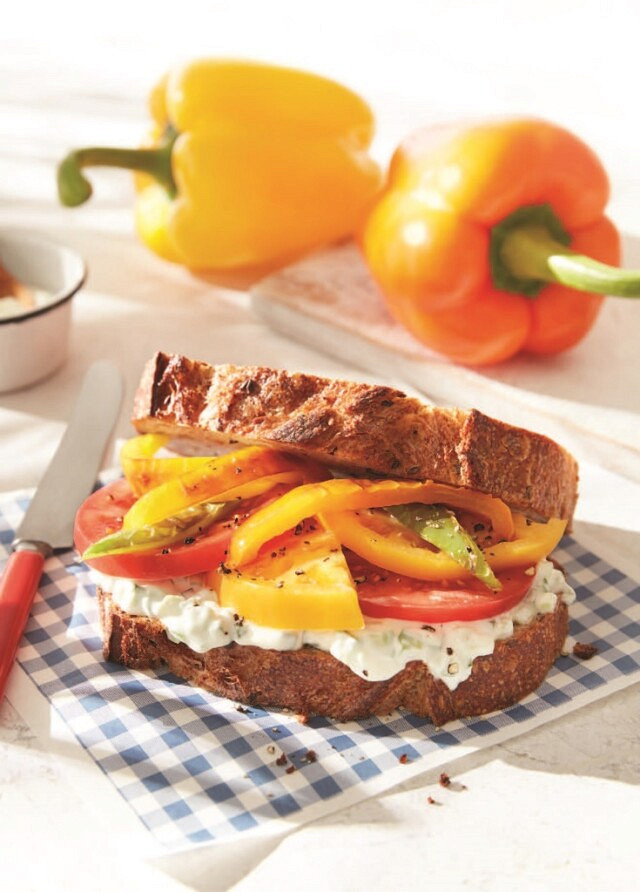 Rainbow Veggie Sandwich: Slice 1/2 (each) Ontario greenhouse red, green and yellow peppers into thin strips. Heat 1 tbsp (15 mL) olive oil in a skillet over medium-high heat. Cook peppers, stirring, until crisp tender. Cool completely. Peel and finely chop 1/2 English cucumber. Mix in a small bowl with 1/2 cup (125 mL) mayonnaise. Set aside. Lay out 4 slices of rustic bread. Generously smear with cucumber mayo. Slice 1 Ontario greenhouse beefsteak tomato and divide among bread. Season with salt and pepper. Top with peppers and 4 slices of bread. Serves 4.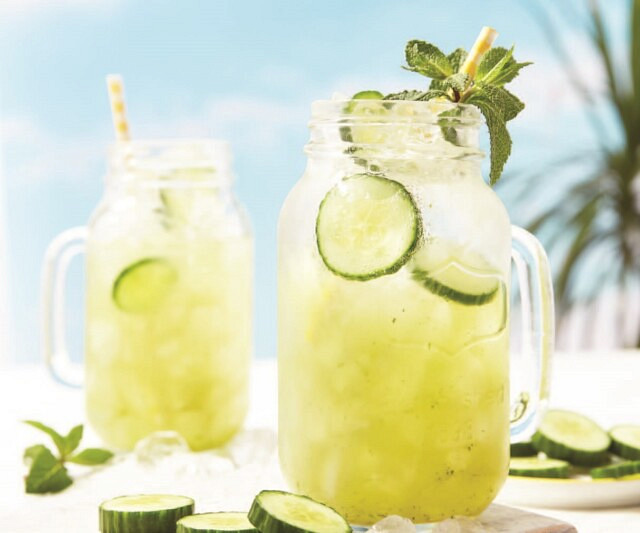 Cucumber No-Buzz Spritzer: Cut 1 large Ontario greenhouse cucumber into chunks. Place in a blender with 1/2 cup (125 mL) fresh lime juice, 1/4 cup (60 mL) agave syrup and 1 cup (250 mL) mint leaves. Blend until well juiced. Pass liquid through a sieve placed over a bowl, pressing on solids. Reserve liquid and discard solids. For each drink, pour 1/4 cup (60 mL) cucumber liquid into a highball glass filled with ice. Top with chilled sparkling water and lightly stir. Garnish with a mint leaf. Serves 6.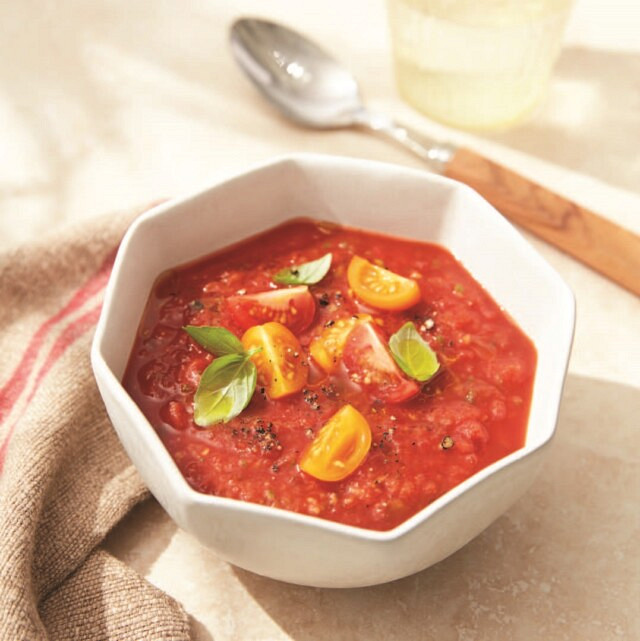 Greenhouse Gazpacho: Roughly chop 3 lbs (1.36 kg) ripe Ontario greenhouse tomatoes, 1 small Ontario greenhouse cucumber, 1 small Ontario greenhouse red pepper and 1/2 small white onion. Place in blender with 1/4 cup (60 mL) extra virgin olive oil and 1 tsp (5 mL) sherry vinegar. Blend until smooth. Season with salt and pepper. Transfer to airtight container. Refrigerate at least 2 hours. Serve garnished with quartered Ontario greenhouse cherry tomatoes. Serves 4 to 6.
Sponsored story by Tourism Windsor Essex. For more details on Tourism Windsor Essex click their website, or visit them on Facebook, Twitter, or Instagram.
Content Continues Below Local Sponsor Message
Content Continues Below Local Sponsor Message
Content Continues Below Local Sponsor Message