Here's The City's Proposed Neighbourhood Plan For Walkerville
Wednesday October 6th, 2021, 12:50pm
Hello time traveller!!
This article is 428 days old.
The information listed below is likely outdated and has been preserved for archival purposes.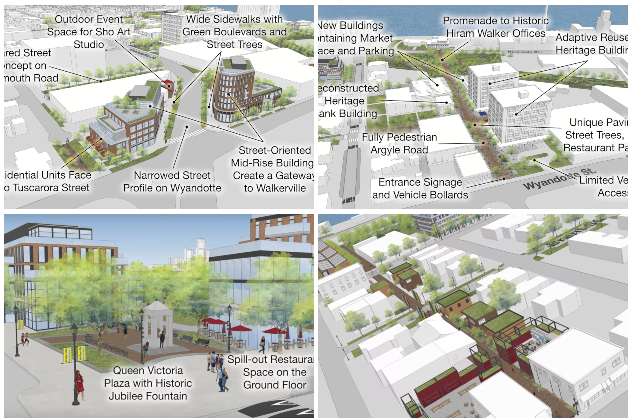 The City of Windsor has unveiled conceptual designs for a proposed Walkerville Theming and Districting Plan.
The plan was presented Wednesday morning by Mayor Drew Dilkens, Ward 4 Councillor Chris Holt, BrookMcIlroy Senior Associate Nathan Flach and senior members of City of Windsor administration.
The artistic renderings were designed by BrookMcIlroy and guided by ideas and suggestions submitted from over 400 residents who took part in public consultations between 2018 and 2020. The plan proposes nine initiatives, improvements, projects and opportunities that build on Walkerville's history, architecture and location.
Ward 4 Councillor Chris Holt says he has always believed in the power of neighbourhoods and their ability to shape lives.
"It's the highest calling of a municipality to do everything in its power to building inclusive and equitable neighbourhoods in our quest for this higher quality of life," Holt said.
The initiatives include creating more greenspace, building new parks, plazas, active mobility corridors, mixed-use developments, pedestrianized streets, gateways, unique signage, and wayfinding programs.
Once finalized by council, the City says the plans will serve as a blueprint for the development and beautification of historic Walkerville for the next twenty years.
Here are the nine initiatives:
#1: Riverfront Park and Pathway Connection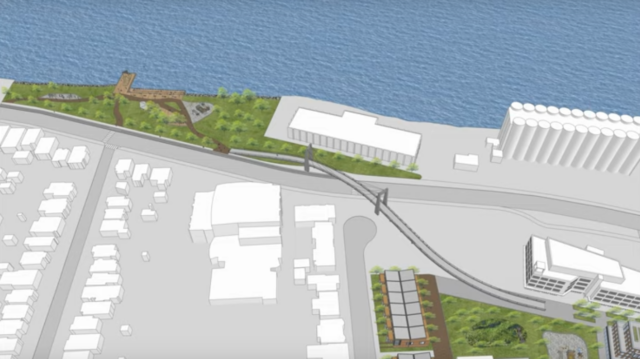 This part of the proposal includes a pedestrian bridge over Riverside Drive in the area of the former Peabody Bridge.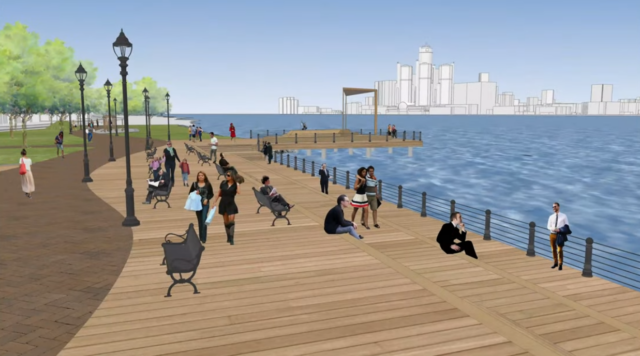 It features an adult fitness park, a lookout pier, a tiered waterfront deck with seating, pedestrian pathways, a seating area with shade canopies, and an extended cycling path.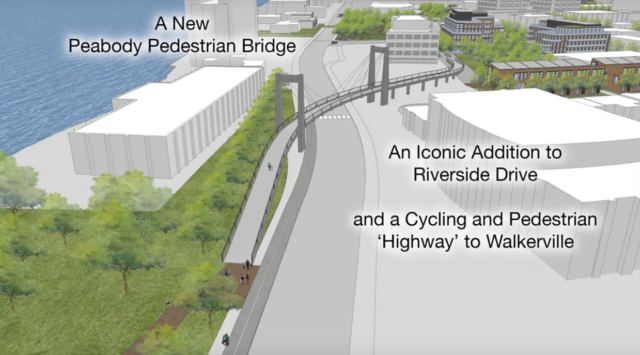 #2: Devonshire / Assumption Mixed-Use Urban Square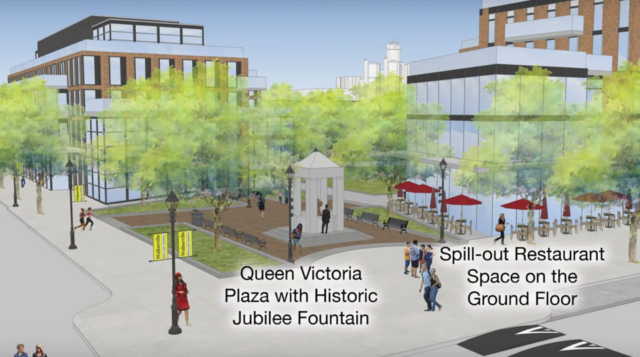 This initiative, at the site of Walkerville's former train station, features back-to-back townhouses on Chilver Road, mid-rise, mixed-use buildings framing the street with an internal courtyard, curb bump-outs at intersections for safer crossing.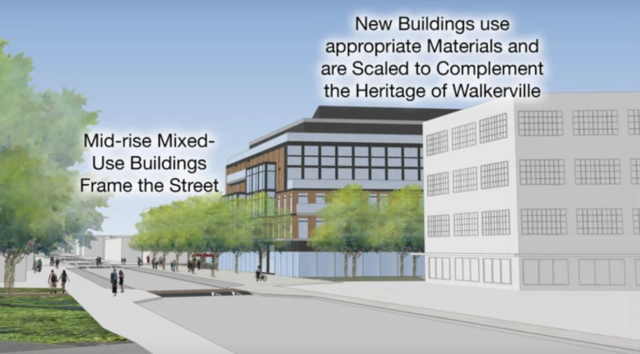 It will also feature a new playground and green spaces, a narrowed street profile on Devonshire with differential paving for parking areas, the relocation of the Queen Victoria Jubilee Fountain from Willistead Park, bike friendly traffic calming devices, and a spill-out restaurant space.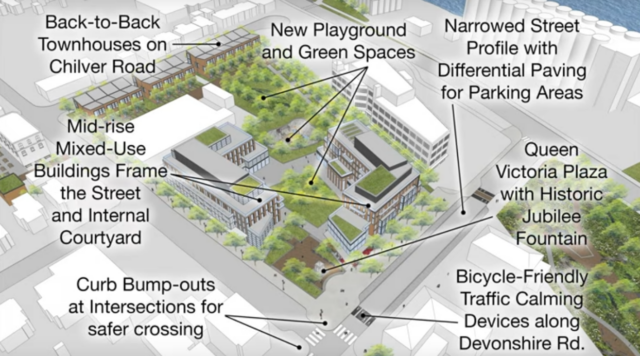 #3: Hiram Walker Alleyway Pilot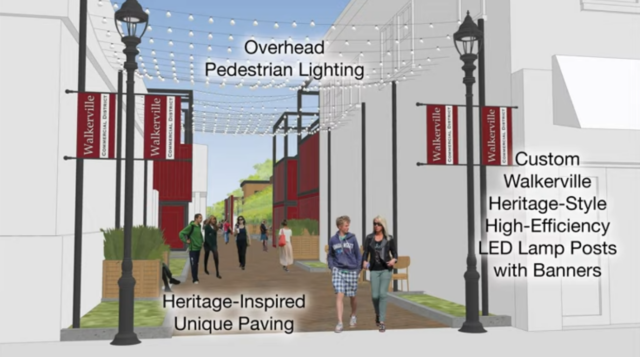 The alley between Chilver and Kildare is planned for a transformation into a pedestrian walkway.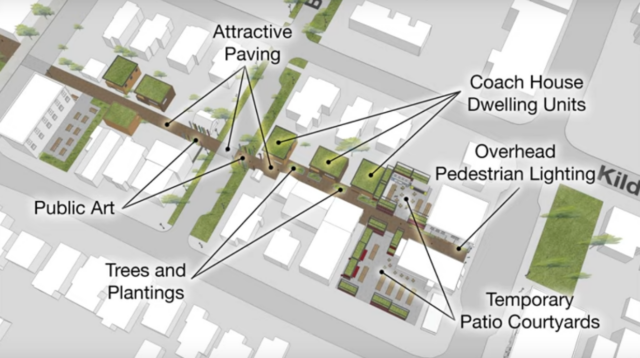 It will feature overhead pedestrian lighting, coach house dwelling units, attractive paving, public art, new trees, temporary patio courtyards with food trucks, eating areas and live entertainment.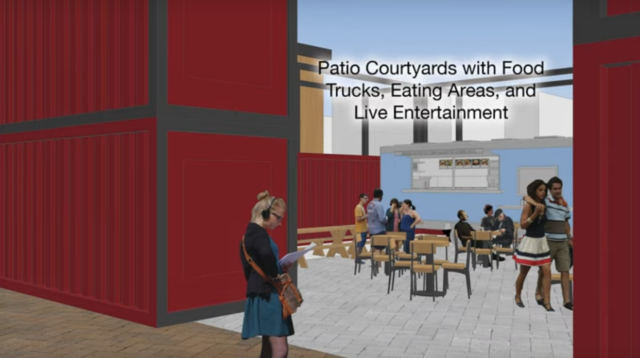 #4: Hiram Walker Gateway Parkette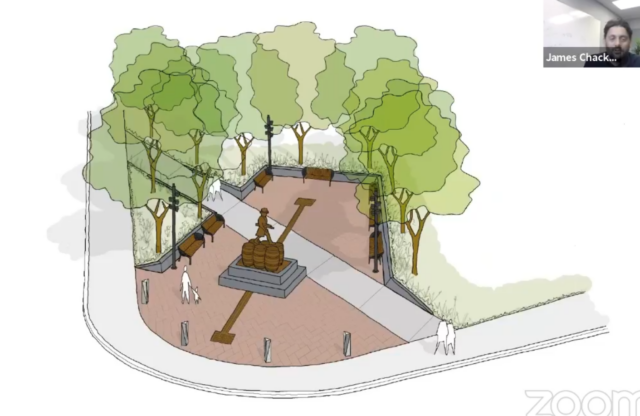 The Hiram Walker Gateway Parkette at Riverside and Devonshire will feature seating and lighting, a Hiram Walker statue, and a connection to the new Railspur Linear Park.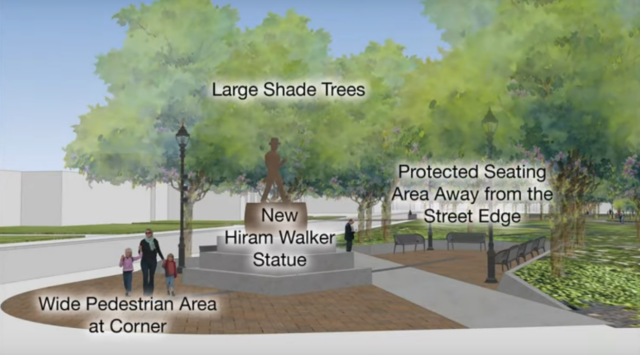 #5: Railspur Linear Park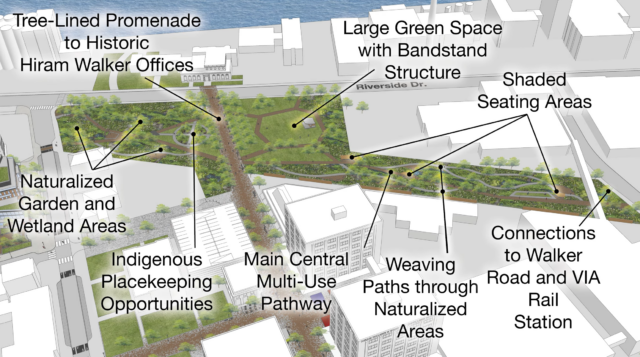 The new Railspur Linear Park will feature a tree-lined promenade to the historic Hiram Walker Offices, a large green space with bandstage structure for festivals, events and performances, and shaded seating areas.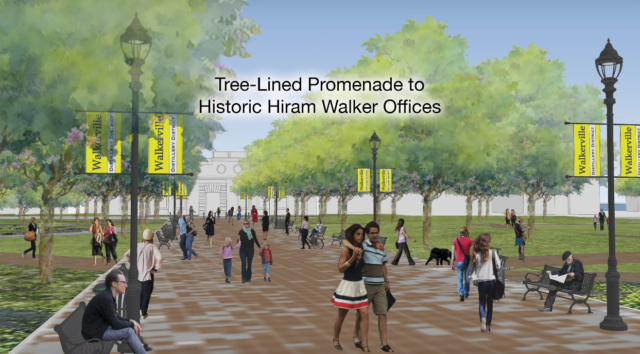 It will also feature connections to Walker Road and the VIA Rail station, weaving paths through naturalized areas, a main central multi-use pathway, Indigenous placekeeping opportunities, a naturalized garden and wetland area, and heritage wall imagery.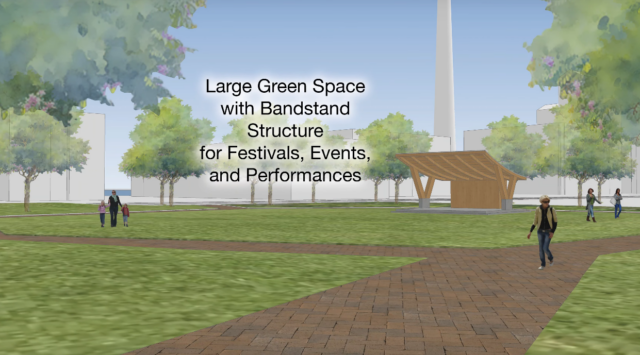 #6: Argyle Road Flex Street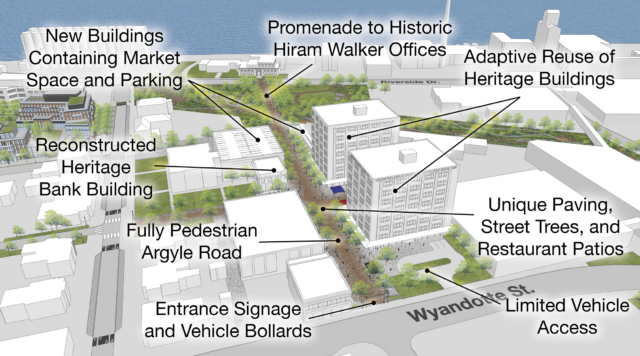 The Argyle Road flex street will feature adaptive reuse of heritage buildings, unique paving, street trees and restaurant patios, limited vehicle access, entrance signage and vehicle bollards.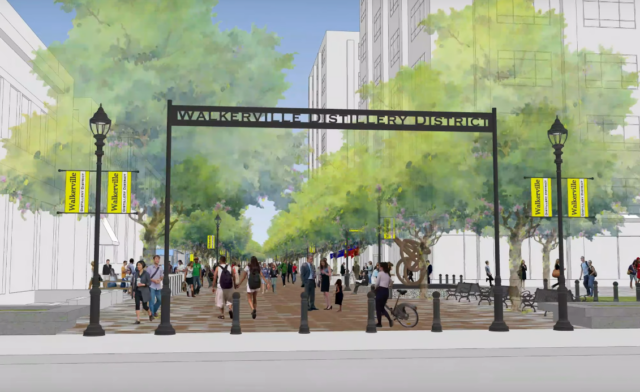 It will also feature a reconstructed heritage bank building (utilizing the former Dominion Bank Building facade pieces from the former Norwich Block at Ouellette and Riverside), and new buildings containing market space and parking.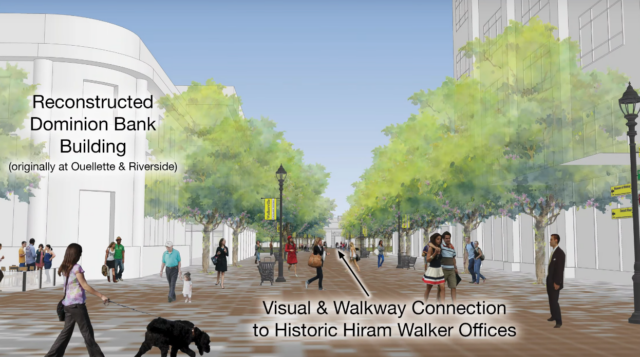 #7: Wyandotte East Gateway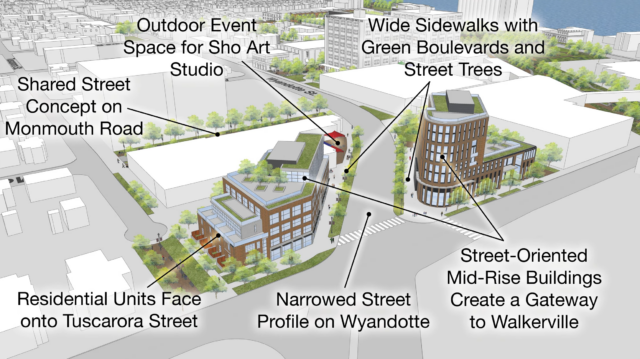 The Wyandotte East Gateway is planned to create a gateway to Walkerville featuring wide sidewalks with green boulevards and street trees, street-oriented mid-rise buildings, a narrowed street profile on Wyandotte, residential units, a shared street concept on Monmouth Road, and outdoor event space for Sho Art Studio.
#8 & 9: Historic Walkerville Program and Walkerville Wayfinding Program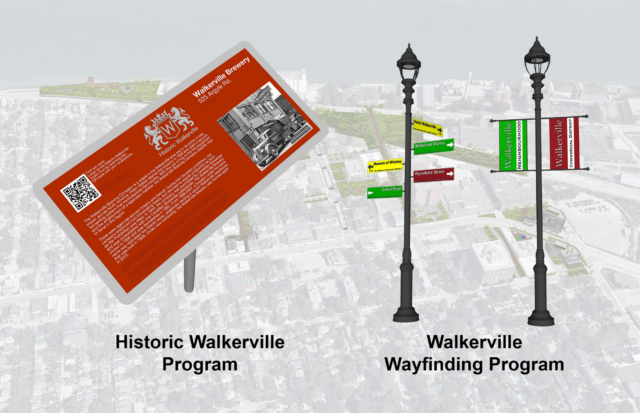 The Historic Walkerville and Walkerville Wayfinding programs plan to build on the popular Walkerville self-guided walking tour by incorporating wayfinding and historic building signage. The program defines the Walkerville area as three districts, the Walkerville Neighbourhood, the Walkerville Commercial District, and the Walkerville Distillery District.
Mayor Drew Dilkens also announced Wednesday that work will begin on the southeast corner of Riverside Drive East and Devonshire Road this year to build the new parkette where a commemorative sculpture of Hiram Walker, the founder of Walkerville, will be installed. The City is planning a celebration in honour of Hiram Walker's 206th birthday that will be held to inaugurate the parkette on July 4th, 2022.
Before the new Walkerville proposal proceeds to council, the City is encouraging residents to review the plan at walkervilledistrictingplan.com and complete the online survey to provide feedback. The online public consultation will be open until October 27th.
Content Continues Below Local Sponsor Message
Content Continues Below Local Sponsor Message
Content Continues Below Local Sponsor Message