Couple Shows No Fear With Surprise Engagement At Local Haunt
Thursday October 28th, 2021
Posted at 6:56pm
Hello time traveller!!

This article is 344 days old.

The information listed below is likely outdated and has been preserved for archival purposes.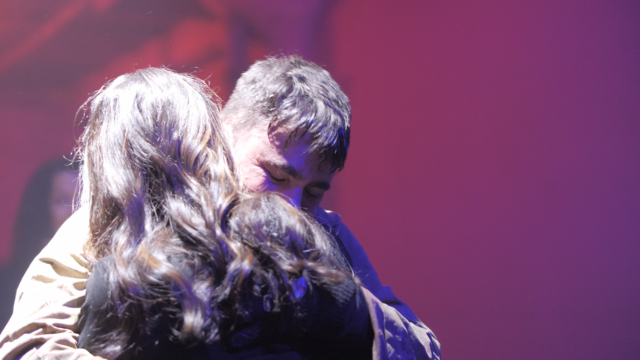 Gaining global attention with a unique wedding 10-years-ago, a local film director is at it again.
Helping a mutual friend with his surprise engagement, Gavin Michael Booth and Scarehouse Windsor (located at 1441 McDougall Avenue) owner Shawn Lippert recently joined forces. Using the haunt as a backdrop, the two started thinking up the massive undertaking with husband-to-be, Eddie.
Although the concept seemed simple, their elaborate ideas weren't.
"[Eddie] had so much excitement and passion to create an engagement scenario that would layer surprise on top of surprise for [his fiancee]Genevieve," said Booth. "Being friends with [Lippert,] Dario Silvaggi from Scarehouse Windsor and myself – we sat down and tossed around dozens of ideas about what scenarios could be accomplished and kept secret inside The Scarehouse building."
It resulted in months of hard work: With new props, a unique story, references to The Ring and a dance number to Michael Jackson's thriller, there were a lot of moving parts. Still, touches such as the reference to one of Genevieve's favourite films and family participation kept it personal.
It's those details that also had Booth on high alert.
"I have some event planning experience and definitely enough wedding video filming," said the director. "This includes [Lippert's] famous Surprise Wedding video, but let me tell you – nothing is more stressful than ensuring that something this elaborate that is designed as a surprise goes off without a hitch. We would only tell people who needed to know and even then most people believed they were being asked to take part in a Scarehouse Windsor promotional video. We wanted to take zero risk that a family member, friend or the 2 degrees of separation Windsorites have would spoil this for Genevieve."
Along with actors from the haunt, Eclipse Afterglow owner Amber Dayus, choreographed and organized her dancers. Meanwhile, family members dressed up and performed scares for Genevieve's walkthrough.
Despite how big the surprise was, some simple ideas also helped. When filming in low light, Booth and those assisting him resorted to their iPhones. Using the device for Scarehouse Windsor's promos this year, he knew it was the perfect tool for many shots.
The film-maker still couldn't have made things work without a great crew however.
"Of course there are some areas we had to augment with film lights," said Booth. "It's to have enough light but also to create the perfect atmosphere for the big reveal moment when Eddie takes his mask off to propose. The filmmakers I hired represent the best the Windsor scene has to offer. There is no competition amongst us. We are all for collaborating, working on one another's sets and honestly, this was a fun challenge for all of us to undertake."
Having done many one-take projects, the director's experience helped too.: With no second chances, the pressure was on to get things right the first time around. Compared to capturing Lippert's surprise wedding, Booth was more heavily involved in planning this reveal.
Knowing the Scarehouse Windsor owner's plans far in advance a decade ago, he only had to capture the day itself. Being more elaborate though, one thing was crucial for the engagement.
"Rehearsal, rehearsal, rehearsal," said Booth. "You see a glimpse of it in the video. "A full dress rehearsal the night before. That and making sure everyone keeps the secret. Making sure everyone avoided telling Genevieve anything that would hint at where they were going that night or what was happening."
All in all, it was a success. Capturing preparations and the new fiancee's journey, everything from conception to execution is showcased. Luckily, the cover story of a promo video kept the future bride from becoming suspicious as well.
Even so, some surprises weren't caught on camera. Upon leaving the venue, Genevieve's favourite song was ready in her and Eddie's car. Friends and family also welcomed them to Nico Taverna (located at 501 Erie Street East) as photos of the newly-engaged couple played on a slideshow.
Having filmed the video however, Booth believes it covers all emotions surrounding that night.
"I think the couple is able to show friends and family who didn't live close enough to attend a slice of the excitement and energy that was there that night," he said. "It will forever be a reminder of how much love there is between them. Hopefully it always reminds them how genuinely surprised and full of excitement Genevieve was when it all clicked together in that magical moment."
Although the director has some films in development, right now he's living in Windsor for awhile. Since returning, Booth has been helping at Scarehouse Windsor in addition to partnering with Amanda Gellman and the Windsor Centre for Film, Digital Media & the Creative Arts. Providing what he can to the organization, the film-maker is impressed by what they're doing in the area.
Despite his experience as an independent film-maker, it's projects like this and helping his friends that leave Booth feeling more fulfilled.
"Honestly, I've had some of the greatest personal joy in my filmmaking career doing personal video work like [the surprise engagement] or working with non-profit organizations like Transition 2 Betterness and Hospice," he said. "The fact that I can point my camera at something and then use my storytelling abilities in the editing room to paint a picture, one that serves as a time capsule of people's cherished moments or the charity work they do in a community, is magic. Anyone can make a movie. Anyone can take pretty pictures. Being able to contribute to people trying to make a change or do something special for a person in their life is really amazing to me."