Haunted House Expands On Immersive Dining Experience This Halloween Season
Friday September 17th, 2021, 9:00am
Hello time traveller!!
This article is 443 days old.
The information listed below is likely outdated and has been preserved for archival purposes.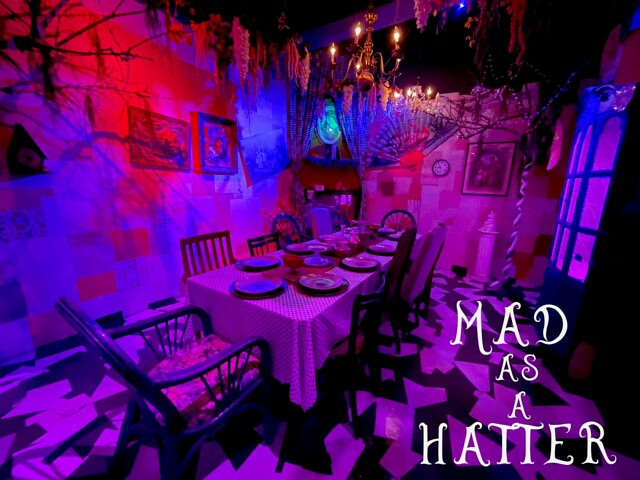 Although brains may feed the undead, a local haunt is expanding its food options for the living.
Opening on Friday September 17th, Scarehouse Windsor (located at 1441 McDougall Avenue) promises to continue innovating with new frights and heart pounding excitement. Adding to its menu, this includes more rooms for a fully immersive dining experience.
Now catered by Nico Taverna (located at 501 Erie Street East,) the latest attraction wasn't originally intended to become so big.
"The Immersive Dinner Rooms were started as a goof," said owner Shawn Lippert. "We have a friend that challenged us to do one for him and his friends, so we did it and then we slowly introduced it to the public. Every time we released a seating we sold out. It was incredible. So this year we added three more rooms. There is Miss Fortune, Cabin in the Woods, Mad as a Hatter and the Cursed Dinner."
Unique to Windsor, each room uses special effects, sound, lighting and actors to tell a story. With specific themes, each one also has an entirely different feel. Cabin in the Woods is a take on 70's-era slasher films, complete with cedar and dead animals hanging everywhere. As a counterpoint, the Mad as a Hatter Room has a Tim Burton meets Disney aesthetic.
Making it a family affair, each area was decorated by Shawn's wife Colleen Lippert. Moving props and animatronics were created by Denis Stojkovic with the owner admitting he just tried to stay out of the way.
If feedback from last year is any indication though, Shawn thinks these additions will be a big hit.
"Every year we sit down in November and discuss what worked and what needs to be junked," he said. "We definitely put a lot of effort into our Immersive Dinner Experience. It's going to blow people's minds. We have already started taking reservations and to date all our reservations are from people that attended last year. That tells us people loved it. We upped our game with the special effects. Nothing is what it seems in the theme rooms."
Beyond an immersive dining experience, other additions have been made. Scared Evil now has the morgue, boiler room and butcher. Haunted Darkness underwent a revamp and even more has been added to the Zombie Maze as well.
It isn't to say the upgrades weren't challenging however. All areas needed a large creative team that had to consider every possibility before implementing a plan: In order to make something move, air must run to it. Everything also requires proper lighting, which informed each choice.
Covid-19 border closures also made it harder for Shawn and company to shop. Often relying on conventions for new items, they leaned on experience instead.
"We had to count on our own instincts in resourcing what we needed" said the owner. "Over the last 13 years we have created a very good team and that is really what made this year happen. Our team is masterfully creative."
Despite provincial guidelines making last year a blur, the experience helped all involved become increasingly efficient. With rules loosening in 2021 and the venue not needing proof of vaccination, things are anticipated to run even more smoothly.
Still, Scarehouse Windsor's usual reservation system ensures that health scares don't join the rest.
"Last year we could only keep 50 people in the building," said Shawn. "This year we are much higher than that, but our timed ticketed system pretty much keeps in line with guidelines from last year. People that buy tickets online are pretty much guaranteeing a limited time in our venue. The days of our line ups being 3 hours long are over."
All tickets for the haunt or immersive dinner rooms can be purchased on Scarehouse Windsor's website. Those who have never been to the venue can also purchase the multi haunt package for the full experience.
Looking to the future, a new haunt will open in 2022, bringing its attractions to four. Knowing there's always more to do, this expansion isn't limited to the venue either.
"Our biggest goal is to grow the Haunt in all aspects," said Shawn. "It excites me when I talk to people that still haven't heard about us. Thirteen years and there are still people that have no clue we are here. That means we have more room to grow in marketing. I love it when we find something that has never been done, like with our Immersive Dinner Experience. It truly is brand new to the world."
Getting this opportunity is also something the owner knows is only possible with local support.
"You spend so much time and effort into something that honestly is weird," he said. "Is it art? Is it entertainment? Is it acting? What is it exactly? It's a Haunted House. Its so silly when you think about it. We put in thousands of hours to be judged and you hope people are happy with spending their hard earned money on something you built. Every year there is a moment when you open the door for the first time and you are amazed when you see the first person come down the hallway on the security camera. It's a surreal moment. We have been blessed that our region has embraced us as their Halloween entertainment. Thirteen years has gone by in a blink."
Content Continues Below Local Sponsor Message
Content Continues Below Local Sponsor Message
Content Continues Below Local Sponsor Message