How To Bike To Work While Working From Home
Saturday May 8th, 2021, 11:00am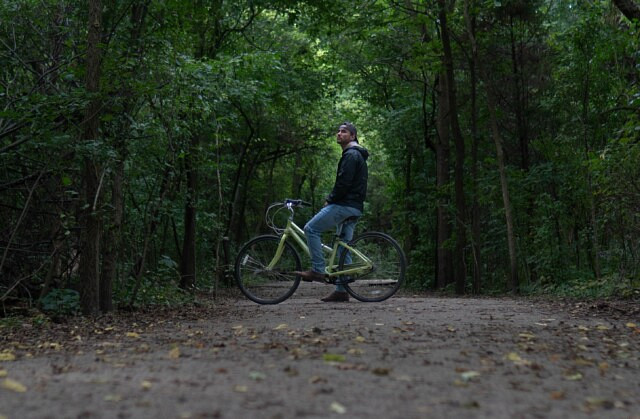 Celebrating Bike to Work While Working From Home
Bike to Work day, an annual event on the third Friday of May, promotes the trusty bicycle as an option for commuting to work. Cycling offers up many health benefits as well as reduces carbon emissions, reduces traffic congestion and is well also lots of fun! Though right now most of us are working from home why not celebrate by taking a break from the home office and getting out to explore one of the nearby trails and bike patch.
Windsor Essex is a cyclists dream – no matter if you are new to two wheels or an experienced rider! W.E. have miles of trails for you to enjoy.  Use our Cycle Tourism Map to explore – there are six highlighted routes to help plan your next two-wheeled adventure.
Bike our trails
This 50 kilometre trail system travels through many communities here in Essex County.  The Chrysler Canada Greenway comprises the southernmost link of the Trans Canada Trail and it's a great space for biking, as well as hiking, birding, and even cross country skiing! Pick a spot to begin and enjoy the green space around you while you explore.
Open year round, the Ganatchio Trail lets you explore 8 km of scenic trails stretching from the City of Windsor to the Town of Tecumseh and features three distinct sections: urban, suburban and naturalized parkland. Along the way you will come across ​Sandpoint Beach with picnic areas, sandy beaches and a play unit – the perfect spot for a rest mid-ride.  The Ganatchio Trail also features exceptional views of the Detroit River making this trail also a great photo opp!
With 40 kilometres of paved trails in LaSalle, you can walk, jog or ride your bicycle throughout the town.  There are 16 signs along the trails which illustration some interesting facts about both LaSalle and Canada – be sure to check out each trail sign and see what you can learn along the way!
Ojibway Nature Centre & Trails
The Ojibway Nature Centre & Trails is your destination for wildlife and nature, offering you over 15 km of woodland and prairie hiking trails. The Ojibway Nature Centre Trail is a 2.3 kilometre loop trail that offers the chance to see wildlife and is good for all skill levels.   Adjacent to Black Oak Park, designated trails are partly paved and partially woodchipped and are suited for walking, birding, photography, and leisure cycling. follow marked trailhead signage as you explore this area.
With 12 km of bike trails and the 9 km roadway, biking is a great way to explore Point Pelee National Park. Trails are well groomed and accessible for most riders so get ready for a great ride through Canada's smallest National Park! Check out the Centennial Hike & Bike Trail which is a 6km topsy-turvy trail which whisks you through different habitats – from marsh to dry forest, past savannah, swamp forest and beach. The Centennial bike trail is just one of the many trails and a great way to experience the park!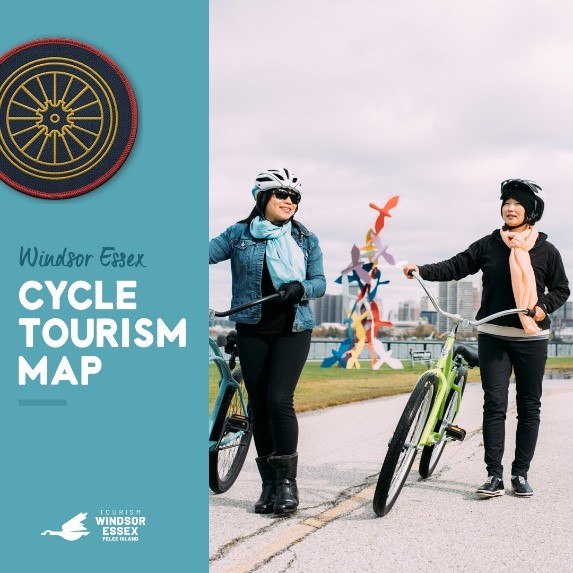 Make sure to Be Safe and Share the Trail
Adhere to road traffic laws and be respectful of others around you
Cyclist keep right, pass on left and warn before passing – make your presence known with a bell or a friendly greeting
Traffic on biking trails flows in each direction, be courteous to oncoming traffic by leaving enough room for fellow bikers and hikers to pass
Protect and preserve our natural environment – do not crush vegetation alongside designated biking trails
Use caution where trails intersect or cross streets
Stay in public areas and respect private property
Helmets are encouraged for adults and the law for those 18 and under in Ontario
So maybe this year it's "Bike From Work/Home", this day encourages everyone to find some time to ride a bike whether it be to commute or just for fun. Explore all the different areas of Windsor and Essex County by downloading a copy of our Cycle Tourism Map to start planning your next bike adventure!
Sponsored by Tourism Windsor Essex. For more details on Tourism Windsor Essex click their website, or visit them on Facebook, Twitter, or Instagram.
Content Continues Below Local Sponsor Message
Content Continues Below Local Sponsor Message
Content Continues Below Local Sponsor Message