Ain't No Pizza Better Than Windsor Style Pizza
Saturday May 22nd, 2021, 11:00am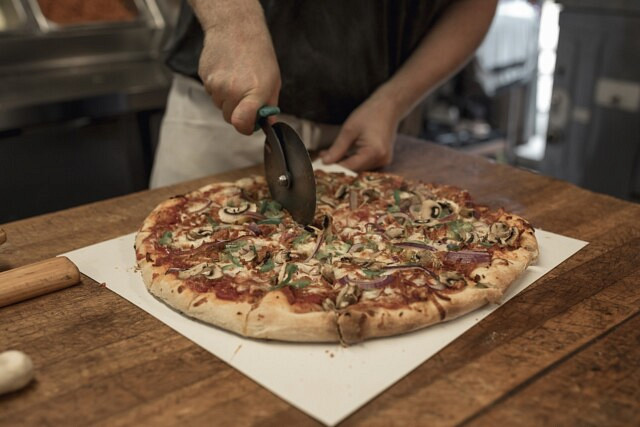 Who's ready for a Pizza Party?? DYK that each year on the third Friday in May, millions of pizza lovers across the country join in on celebrating one of the most loved foods with National Pizza Party Day?  
Pizza has a long history, especially here in Windsor Essex with our well-known and well-loved Windsor-Style pizza – a tried and true recipe that includes canned mushrooms, shredded pepperoni and locally-made Galati Cheese!.  Being that it's one of the most loved foods by man, it comes as no surprise we would celebrate a day that features a pizza party.  It is a mainstay of most birthday parties, office meetings and get-togethers and though this year we'll have to celebrate with a smaller crowd just at home – there is no shortage of cheesy ways to acknowledge this super fun day!
Windsor-Style Pizza
Still not convinced that Windsor-Style pizza is one of the best? Check out our Windsor Style Pizza video to see just how it is made and why so many of us love it so!
Take and Make Pizza kits
Feel like doing your own thing to make your pizza party special? Order up some of these DIY Pizza Kits from our local pizza vendors like Armando's Pizza and let your creativity take over! Top it with all your favourites and enjoy.
Don't Forget about dessert
If you've yet to try this chocolate-hazelnut spread deliciousness, get your curbside order in at Oven 360! As one of our Windsor Pizza Club members, Oven 360 is just one of the city's favourites putting out a unique, thin crust woodfired treat, topped just the way you like it.  If you haven't yet, get your self a free membership card and sample pies from each of our Windsor Pizza Club members – make it Pizza Party day every day!
Shout out to the south!
As much as we all love our local favourites, a few of our #DineYQG restaurants like Armando's Amherstburg are serving up something special honouring our neighbours to the South with their Detroit Style pizza every Sunday.  Try something out of the ordinary and grab a slice of this deep-dish pie!
Grab Some 'Za To-Go
We have put together a great list of our local restaurants who are ready to fill your curbside or take out orders with delicious eats with our #DineYQG Take Out Guide but a few of our local pizza spots are also available to you at your local grocery store! Pick up one of The Chelsea's coal-fired pizzas at any of the 37 Superstore locations across Ontario as well as in many of our local independent grocers across Windsor Essex.
So, though the debate is still out on if pineapple belongs on pizza (it does!), we do know that if there's one thing that makes any day better it's a hot slice of pizza so order up a few of your favourites with your family and salute this day!
Sponsored by Tourism Windsor Essex. For more details on Tourism Windsor Essex click their website, or visit them on Facebook, Twitter, or Instagram.
Content Continues Below Local Sponsor Message
Content Continues Below Local Sponsor Message
Content Continues Below Local Sponsor Message