#YQG Insiders Guide: St. Patrick's Day 2021
Saturday March 6th, 2021, 11:00am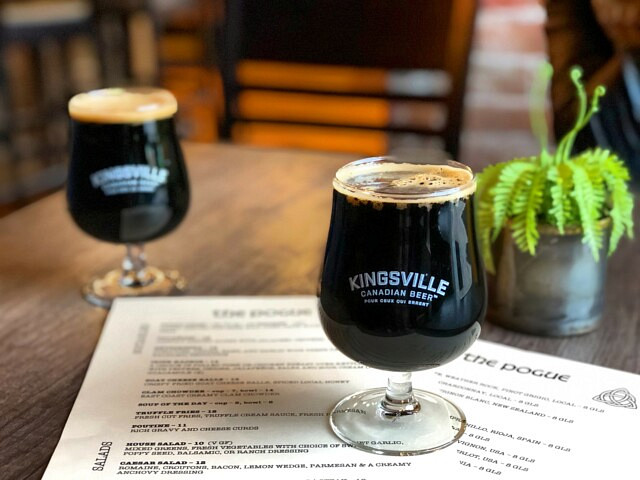 Irish or not Windsor Essex has many great opportunities for you to embrace your inner Leprechaun and celebrate this St. Patrick's Day!
Drinks & Delivery!
With plenty o' options for local craft beer or whisky, your St. Patrick's Day drink of choice can easily be made with products from any one of our Barrels Bottles Brews partners.  Grab a cold porter from Sandwich Brewing Co. or make your coffee Irish with Wolfhead's Coffee Whisky to make your St. Patrick's Day celebrate complete!  The day isn't complete without a belly full of corned beef or Guinness stew so order up some traditional grub from one of our proud pubs serving up authentic Irish fare.  With weekly specials, Walkerville's O'Maggios Kildare House and Olde Riverside's Thompson House are ready to fill your bellies this St. Paddy's Day and beyond.
Why not celebrate a bit o'history with your choice of beverage? Walkerville Brewery's special Limited Edition beer celebrates the history, heritage and refurbishment of Windsor's own Streetcar No. 351. This unique beer is an extra strong Imperial Stout, matured for 351 days in bourbon casks.  What's more is that $1 from every bottle will go to support the Streetcar No. 351 project.  The Zug Island Porter from Chapter Two Brewing Co. is a chocolatey beer with toasty notes and a touch of caramel sweetness.  A softer carbonation contributes to the smooth mouthfeel of this seasonal favourite and makes it a perfect addition to your St. Patrick's Day takeout!
Suds from Suds
Check out the the I💚PA Key Lime Beer Soap – another collaboration by GL Heritage Brewing with fabulous, local Faerhaven Soaps!  Infused with their American IPA and the very popular Key Lime scent, this limited run, all-natural large soap would be a welcome gift for your St. Patrick's Day fans, March birthday friends or just for anyone who needs a little cheering up.  Another great pairing is Ocean Bottom Soap Company who has created the March Soap o'the Month combining Cucumber, Peppermint and Spearmint for an invigorating scent with a wee dram of FRANK Brewing Co. craft beer.  This soap embraces the minty freshness of St. Patrick's Day and may just bring you the Luck o'the Irish.
GL Heritage Brewing Co
Ocean Bottom Soap Company
Have a Bit O' Fun
Check out these virtual events for some traditional Irish shenanigans, fun, and fare from the comfort of your own home!
A Bit O'Blarney – Eat, Drink & Be Irish
Join The Bank Theatre for a virtual St. Patrick's Day show on March 12, 2021 that includes a meal from Crave Grill and Pub accompanied by tunes from local musicians Max Marshall & Kenneth MacLeod. Enjoy a virtual conversation with Crave owner Chad Robinson, a surprise goodie bag, trivia & prizes to round out the evening following the show.  Your meal includes a 1/2 pound Reuben sandwich, Guinness Irish stew and pint of craft brew. Choose time slot to pick up food order at Crave Family Grill & Pub and enjoy this festive event from the comfort of your own home!
St Patrick's Day Virtual Trivia Night
If trivia is your thing, make sure to join Mack Flash Trivia on their YouTube channel on March 17, 2021at 7pm for some St. Patrick's Day themed trivia!  Presented by Mack Flash Entertainment and Walkerville Brewery, pour yourself a beverage, grab your takeout and settle in for 8 rounds of 10 questions, taking a 10 minute break midway, with your chance to win prizes with some guaranteed fun!
Little Leprechauns
Leprechaun Kids and Parents Virtual Paint Party
Join Julie's Paint Party on their Facebook page, March 13, 2021 from 12pm – 3pm for some painting fun!  Sponsored by Fantastic Fathers, this party will be available to watch for FREE for 2 weeks after the event! No sign up needed but participants will need a surface to paint on such as a canvas, cardboard or bristol board plus a pencil, 3/4″ flat head brush, 1/2″ flat head brush, detail brush and acrylic paints in Leaf Green, Pine Green, Yellow, White, Red and Orange.  Make sure to grab a cup of water to rinse your brushes, a napkin to wipe and a paper plate to put your paints on!
Take & Bake Kit: St. Patrick's Day Cupcakes!
Let the Windsor Public Library tempt you with treats that you make yourself with their St. Patrick's Day Take & Bake kit which includes all the necessary dry ingredients you'll need to make your very own pot of gold cupcakes at home! All you need to provide are the wet ingredients. Recipe and instructions included. Limited number of kits available. Pick up only at Budimir Library – call 519-255-6770 ext. 3300 on March 11, 2021 to reserve yours and get ready to dazzle your family with something sweet this St. Patty's!
So no matter what kind of luck St. Patrick's Day may bring this year, there are plenty of fun and safe ways to enjoy the day at home with your family bubble.  Check out our Online St. Patrick's Day Event Guide for additional events and promotions to add to the fun.
Sponsored by Tourism Windsor Essex. For more details on Tourism Windsor Essex click their website, or visit them on Facebook, Twitter, or Instagram.
Content Continues Below Local Sponsor Message
Content Continues Below Local Sponsor Message
Content Continues Below Local Sponsor Message