#YQG Insiders Guide: 5 Trails to iMove On In March
Saturday February 27th, 2021, 11:00am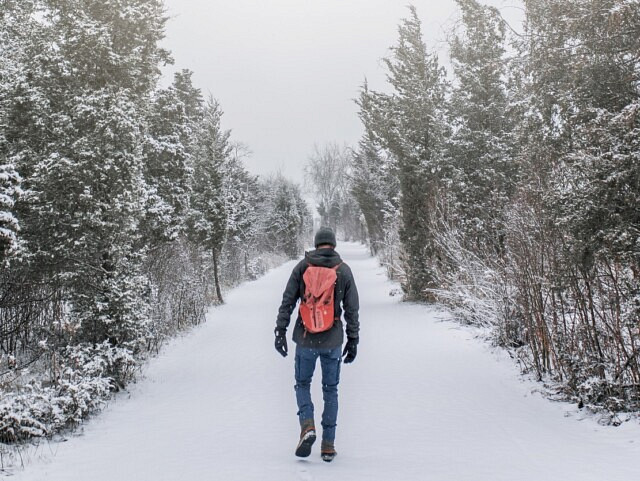 5 Trails to iMove On in March
DYK that March is iMOVE month for the United Way? Get ready to log some kilometres on these five trails and greenspaces – all five are also the five finalists for the 6th annual Best of Windsor Essex awards for Best Trail so once you've completed your walks, make sure you take head over to bestofwindsoressex.com to see all the great things to do, see, eat and enjoy here in Essex County!
Spring will be here before you know it – take advantage of warmer temps and longer days by spending time on the trails with your family and furry friends! These five trails are great ways to get your body moving and see different areas of Windsor and Essex County.
Hike, bike, snow-shoe or cross country ski along this extra wide trail that traverses 50 kilometres through Essex County along the Chrysler Canada Greenway.  No matter the weather or the season, the Chrysler Canada Greenway offers a wide trail good for all skill levels and comprises the southernmost link of the Trans Canada Trail. This trail intersects with  the the Cypher System Group Greenway, an additional 26 kilometre stretch of abandoned rail line that stretches from Amherstburg to the urban centre of Essex.  So grab a friend or the pups and get ready to explore!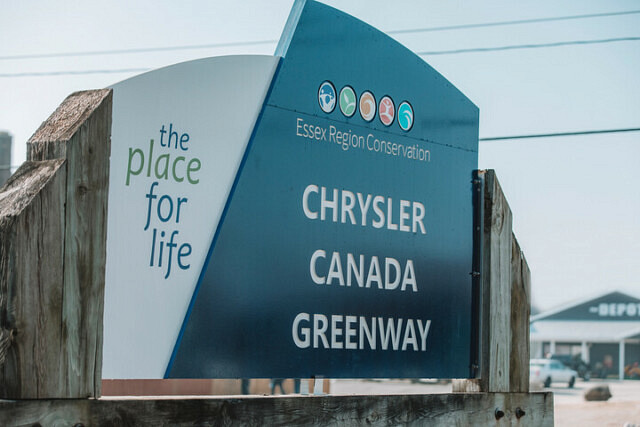 The Ganatchio Trail stretches from the City of Windsor to the Town of Tecumseh and is part of the Windsor Trail.  The two-lane paved pathway makes for ease of travel and this 8 kilometre trail also offers users exceptional view of the Detroit river as they walk, bike, blade or run the trail in East Windsor.  Named after the Indian word for Lake St. Clair, the Ganatchio Trail features three distinct sections: urban, suburban and naturalized parkland.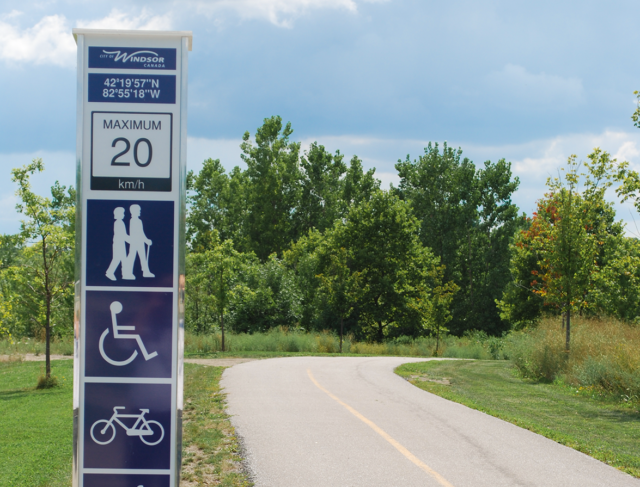 With 40 kilometres of paved trails in LaSalle, there is no shortage of space for you to walk, jog or ride your bicycle throughout the town making it a great area to get out and get active!  Physical activity, especially in a peaceful, natural setting, can help to reduce stress and promotes mental and spiritual health.  Be sure to check out the 16 informative trail signs through the trails and read the interesting facts about LaSalle, Ontario and/or Canada!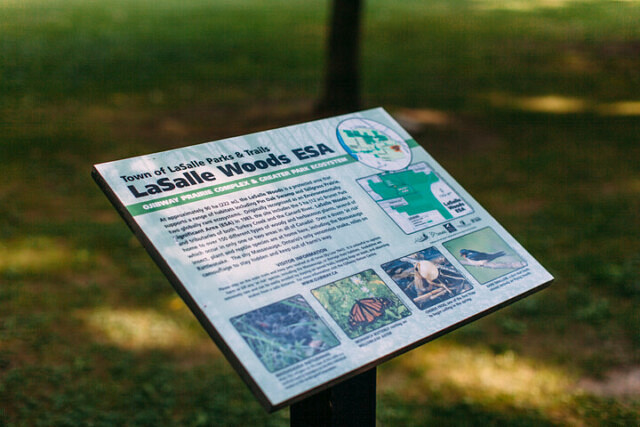 Ojibway Park Nature Centre Trail
The Ojibway Prairie Complex, located in the southwest corner of Windsor, is a unique destination for wildlife and nature, offering you over 15 kilometres of woodland and prairie hiking trails including Ojibway Park, Black Oak Heritage Park, Tallgrass Prairie Heritage Park, Spring Garden Natural Area and the Ojibway Prairie Provincial Nature Reserve.  The Ojibway Nature Centre Trail is a 2.3 kilometer lightly trafficked loop trail that offers the chance to see wildlife and is good for all skill levels.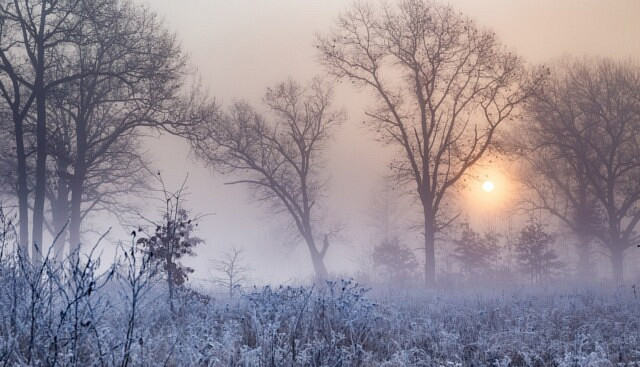 The trails within Canada's most ecologically diverse, yet smallest National Park are perfect for weekend exploration.  Point Pelee National Park, located in Leamington, is the southern extreme of mainland Canada, and supports a mosaic of habitats. A 4.5 km bike trail will take you deep into the forest, trek out to the beach at the southernmost tip, or walk the boardwalk out onto one of the largest freshwater marshes on the Great Lakes.  You can also hike more than 12 km of park trails such as themed trails like the DeLaurier House and Trail, or venture through cedar savannah, dryland and swamp forest on the Woodland Nature Trail.  Get those steps in as you climb the newest Park tower and take in the breathtaking views as your reward for the hard work!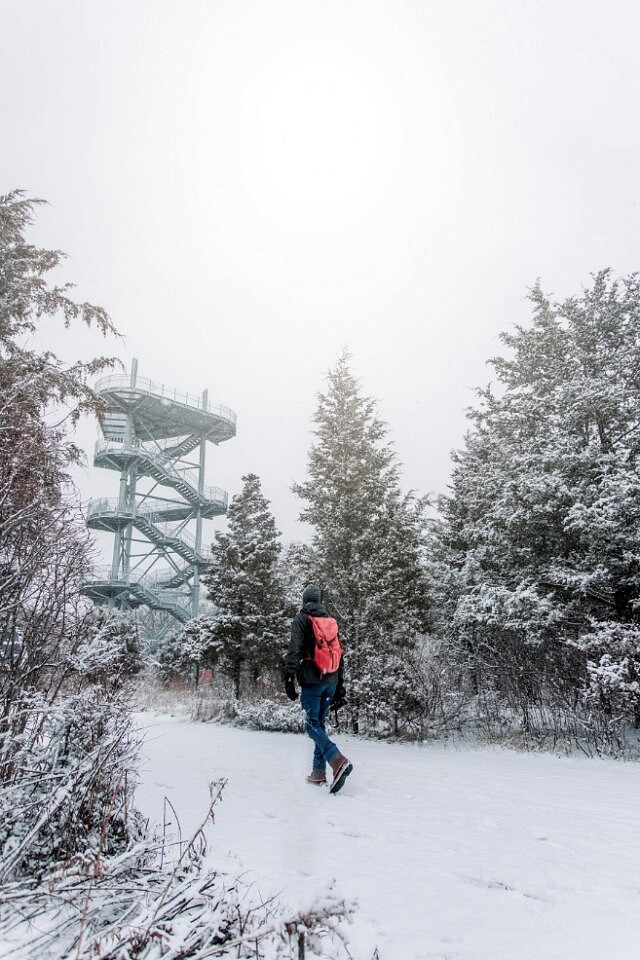 iMOVE for United Way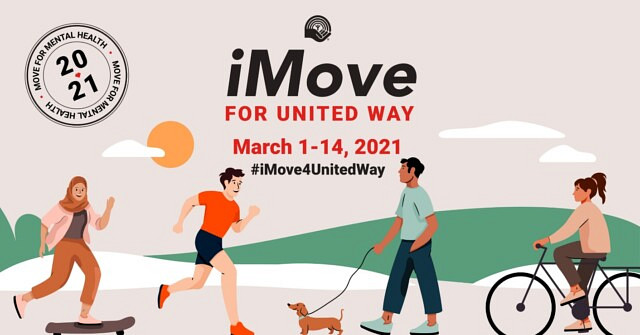 Join the United Way for the first ever virtual iMove for United Way in support of children and youth mental health in Windsor and Essex County.  Many of us are feeling cooped up and isolated from one another. Our daily lives are so different from just a few months ago and we're all feeling the effects. So, get up, get moving, and challenge yourself and others to move for 200 minutes during the month of March!  This event is for everyone. Whether you run, walk your dog, practice your yoga moves, or dance in your living room we want you to get moving for mental health! Sign up online today and get ready to move!
Spring is just around the corner so let's all get moving – separate but together!  Make sure to always maintain 2m of distance from others and use caution where trails intersect or hit cross streets.  Protect and preserve our natural environment and respect private property.
Sponsored by Tourism Windsor Essex. For more details on Tourism Windsor Essex click their website, or visit them on Facebook, Twitter, or Instagram.
Content Continues Below Local Sponsor Message
Content Continues Below Local Sponsor Message
Content Continues Below Local Sponsor Message