Windsor's Art In The Park Will Be Returning To Willistead Park This June
Friday January 22nd, 2021, 1:04pm
Hello time traveller!!
This article is 1050 days old.
The information listed below is likely outdated and has been preserved for archival purposes.
One of Windsor's most popular summer festivals, Art in the Park, will be making a return to Willistead Park this June.
Art in the Park Chair Greg Dehetre says the festival — often dubbed Windsor's unofficial start to summer — has been scheduled for Saturday June 5th and Sunday June 6th, 2021, with modifications including mandatory masks and a push for cashless transactions.
"We are planning for a full return with modified procedures in place to ensure the safety of our exhibitors, customers, and volunteers," Dehetre says.
The event was cancelled in 2020 due to the COVID-19 pandemic, and Dehetre says the economic impact of the cancellation was "huge".
"How much money do you think is spent [buying from independent artists] at Art in the Park in just two days," Dehetre asked. "It's between $750,000 and a million."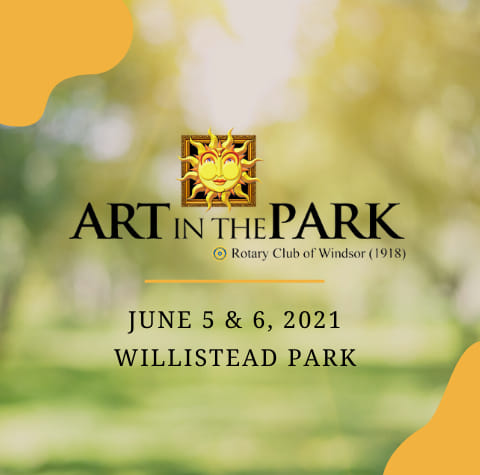 Dehetre says the event is also the single biggest fundraiser for the Rotary Club of Windsor (1918), as well as the single biggest event for Rotary's district. In 2020, organizers said the event had generated over $1.3 million over the years for the restoration of Willistead Manor, and around $2.1 million to support local community organizations.
The festival's planned return for 2021 is already generating interest among potential exhibitors.
"I've been talking to other exhibitors and seeing where they're at," Dehetre says. "And we're getting a reply back about what I've expected, about seventy per cent are saying 'here's my application,' same day, 'I'm so excited, I can't wait to be there.'"
Some of the safety procedures event organizers will be putting into place will result in a reduction in exhibitors. Dehetre says the event typically draws around 270 exhibitors, but they are expecting between 150 and 200 this year.
"We'll be paring it down just a little bit, so it won't affect the quality of the show, but we'll be able to space the tents out," he says.
The event will also include handwashing stations, and hand sanitizer will be provided in each booth. Dehetre says masks will be mandatory at the event, and they'll even make masks available at the entrances.
"At this point, it will be a masked event, period," he says. "That is subject to change, as we get closer to the date — we are still quite a ways out."
He says the event will still feature a food court, but with safety measures including physical distancing, and working with food vendors to ensure all safety precautions are in place.
Dehetre says the event will have a notable change to how tickets and items are purchased this year.
"We'll be going cashless, which is perhaps the biggest message we want to get out to the public," he says. "Some artists and exhibitors will accept cash I'm sure, we're trying to discourage it, there won't be ATMs available on site for the first time in many years."
Dehetre says exhibitors will provide their own debit or credit machines, and there has been a significant increase in the number of exhibitors offering electronic payment in recent years.
"Customers expect it," he says. "With the advent of Square, and other very inexpensive and easily accessible means of credit card and debit payments, the customer expects it."
For ticket sales, Dehetre says organizers will be selling tickets online and three of the entrances to the park will be for pre-purchased tickets. "One gate will be for purchasing tickets, and that will be cash-free. That will be credit or debit at the gate," he says.
Dehetre says the event has a cancellation deadline of May 15th if the event is not able to go forward as planned. He says that date is being communicated to exhibitors and stakeholders.
"If it appears that we're in a situation where the government's just not going to allow it, then that's the date we'll cancel," he says.
Dehetre says the event will be utilizing a safety model that had been successful in other municipalities across the province in 2020.
"It worked very well," he says. "We're also in close communications with the City of Windsor and with the way the Downtown Farmers' Market was run last year."
"In the height of the pandemic, the Farmers' Market went forward, successfully, and was deemed to be safe," he says. "And we'll be really taking a very close look at the things they did and implementing them."
"We'll be encouraging the basics, wear masks, wash your hands, and stay distanced from people," he says. "We'll have plenty of volunteers on hand that will be wandering around and making sure that there are no problems. And there will be police on site, should we have any problems."
Dehetre says he's excited for Art in the Park to go forward and he anticipates people will be very excited for the event. "People went a whole year without art shows," he says. "I hope for the absolute best weather you could ever get!"
He says the event is now accepting exhibitor applications, and the criteria for exhibiting remains the same as years past.
Art in the Park will take place June 5th and 6th, 2021.
Content Continues Below Local Sponsor Message
Content Continues Below Local Sponsor Message
Content Continues Below Local Sponsor Message