Super Eats & Drinks For The Big Game
Saturday January 23rd, 2021, 11:00am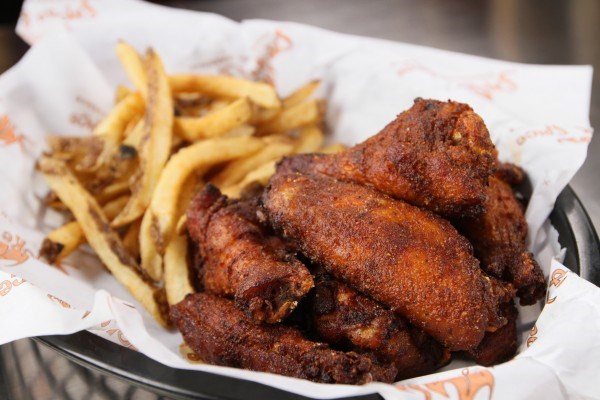 Only a few weeks to go till kick-off at the Big Game and it's down to just four teams – why not plan your football themed party for your household with a few options that pay homage to the last four standing?!
Are you a fan of the Kansas City Chiefs? Well then get your sticky sauced hands in the air as you cheer them on with a little smokey BBQ.  What about the Buffalo Bills? Wing fans unite – with all kinds of difference sauces! Go for bratwurst or Wisconsin cheese for the Green Bay Packer fans out there! And if you are rooting for the New Orleans Saints maybe a killer sandwich like their well loved Po' Boys or maybe a donut to salute their delicious beignets?
Although this year's football feast will be taking place from the comfort of your couch, opt for more than just wings and cheap beer this year with our Guide to Game Day – Like a Local – our guide to celebrating with super eats and drinks!
GAME DAY DELIVERY OR TAKE OUT
THE BULL & BARREL
If wings are your thing, order up from The Bull & Barrel with their "2 Can Dine" meal deal! With 30 types of sauces to choose from and 2 lbs of delicious wings, your potential flavour combinations are endless!
SMOKE & SPICE
Tackle your family's hunger with some of the best authentic Southern Barbeque in Windsor from Smoke & Spice.  Their award-winning smoked wings, pulled pork, and St. Louis-cut ribs are going to leave you thirsty for more!
LA BELLE FROMAGE
Pizza is definitely a football staple when it comes to the menu but why not make it a fun, family affair to create your own pie with La Belle Fromage's take and make pizza kits! Perfect for the big game or any night of the week!
THE CHEESE BAR
Do not risk a Red Card for not having enough cheese at the party! No need to wear it on your head either to honour the state of the Packers! Head on over to The Cheese Bar to grab your supplies – their cheese curds may just make the perfect poutine!
ARMANDO'S PIZZA
Pizza and football is a beautiful love story – pairing two great things together! Order up your favourite toppings on a football field sized crust from Armando's and tackle their hunger with a sweep of sauce and cheese!
50 YARD LINE DRINKS
THE GROVE BREWHOUSE
With free local delivery in Kingsville and convenient pick up options, let The Grove Brewhouse cover both your food and drink needs for game day! Pair four of their finest brews alongside their top-notch fare and you will not be disappointed … well with the food and drink – we can't speak for your team's performance!
VIVACE ESTATE WINERY
Why not try out one of the local varietals with your game-day fare? Pour a bright, crisp rose from Vivace Estate Winery and consider it a touchdown for the wine lover in your life!
J.P. WISER'S
Forward pass. Touchdown. Field Goal. Cheers every play with a premixed Old Fashioned or Manhattan cocktail from J.P Wiser's!  Just add ice and enjoy – simple and delicious.
CHANCE COFFEE
You've got to make it through four full quarters AND a half-time show – make sure that your energy level stays high from kick-off to touchdown with your favourite brews by Chance Coffee roasters.
TOUCH DOWN SWEET TREATS
BAD WITCH BAKERY
It's definitely not a party unless you've got dessert! Grab your fam one of these delicious and handcrafted desserts from Bad Witch Bakery and everyone will be cheering!
PLANT JOY
If you can't get to a New Orleans beignet, well at least get yourself one of #YQG's highly loved Plant Joy doughnuts to satisfy that sweet tooth around half-time!
So on February 7th, get ready to eat, drink and enjoy the half-time show – oops we mean football game – with your household and some great eats, drinks and treats all while supporting our local #YQG businesses!  For more information on where to order your snacks, check out our Take Out & Delivery Guide.  You know what pairs well with finger foods? Just about anything local so take a look at our take out and delivery guides for both EPIC Wineries & the Barrels Bottles & Brews partners.
Sponsored by Tourism Windsor Essex. For more details on Tourism Windsor Essex click their website, or visit them on Facebook, Twitter, or Instagram.
Content Continues Below Local Sponsor Message
Content Continues Below Local Sponsor Message
Content Continues Below Local Sponsor Message