5 Ways To Shop Small This Holiday Season
Saturday December 5th, 2020
Posted at 11:00am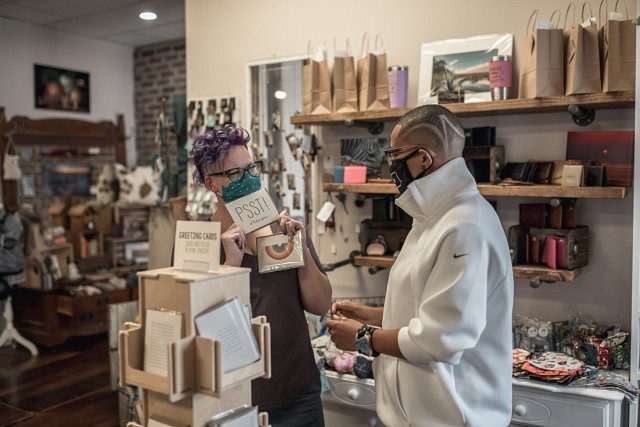 Blog created in partnership with The Windsor Essex Chamber of Commerce | December 2, 2020
Traditions may change up this year but the one thing that remains the same this holiday season is wanting to find the perfect gift for everyone on your list.
Instead of heading online to do your shopping, check out our retail areas right here in Windsor Essex.  From up-scale shopping centres filled with the latest trends and much loved brands, to supporting our big box and retail areas, there are plenty of great places to find everything you need this holiday season – all while supporting the local economy.  Earlier this year, the Windsor Essex Chamber of Commerce and Tourism Windsor Essex Pelee Island were pleased to launch #ShopYQG which highlights the shopping districts, centres and artisans/makers in our community.  To help you tackle those gift lists, we've now put together five great ways that you can "Gift Local" this year and we hope that it will leave you inspired and excited for all the great ideas, stores and ways to delight your family and friends this year.
Buy In Person
Visit Our Shopping Districts
YQG is home to unique neighbourhood districts, quaint Main Streets lined with shops and one-of-a-kind stores across our YQG communities – you can find everything from retail, to craft breweries to restaurants and cafes.  Spend the day meandering through the boutique shops in our distinct shopping districts and order from local artisans and merchants for those hard to shop for and support our workforce!  The owners and employees of these boutiques are your friend and neighbours – show them some love!  You'll find much loved brands in our shopping centres – Devonshire Mall, Tecumseh Mall, Roundhouse Centre or Windsor Crossing Premium Outlets. If you want to ensure that everyone you're buying for is pleased as punch with their presents, head on over to shopyqg.ca and find exactly where to shop for what you need!
Think outside the box
Downtown Windsor Ultimate #ShopYQG Gift Baskets
Well maybe this year, think INSIDE the box – if it's a local gift box filled with goodies from numerous Downtown Windsor BIA member merchants! In partnership with Local Provisions, a #YQG company, they have curated four special gift baskets filled with items from independent downtown retailers to assist with your gift giving needs! No need to hunt for something unique – select from the chocolate and coffee inspired "A December to Remember", the "You're So Wonderful" which has something for the person who already has everything, the foodie favourite "All Bundled Up" or the boozy-themed "Unwrap the Magic" box which supports 6 downtown retailers.
Full bell, full heart
Give the gift of Takeout
The plethora of local food options and authentic culinary experiences will certainly mean that there is something for everyone and every taste! Consider sending a gift of takeout with a catered holiday meal from The Keg or Koolini's, a charcuterie box, or sweet treats from Blak's Bakery.  Think of gift cards to their favourite local restaurants like Mazaar, Antonino's or Thanasis which can make staying in much more enjoyable this winter.
Have it delivered
Local craft beer and wine
Our local wineries and craft breweries do not disappoint with holiday options and gift baskets ready to be sent! Stuff their stockings with a local vintage from Oxley Estate Winery, Viewpoint Estate Winery,  North 42 Degrees Winery or Cooper's Hawk Vineyards. A selection of EPIC wines are a great addition to the holiday meal or to celebrate the upcoming New Year.  Don't forget to pick up their favourite craft beer and cider from Walkerville Brewery to pair with popcorn during a holiday movie marathon!
Pay It Forward
Now more than ever it is important to support local in all aspects and gift cards are a great way to pay it forward and give a gift that gives again – especially in the new year with everyone's pocketbook recovering!  Brighten those long winter nights with a gift card to grab takeout from their favourite local restaurant or pick up mall dollars at one our shopping centres – Devonshire Mall, Roundhouse Centre or Windsor Crossing Premium Outlets – for those who either have everything or are difficult to shop for!
So if you are on the hunt for the perfect presents, have no fear because there are still plenty of great ways to make your friends and family happy.  The number of shopping days left however is finite so make sure you don't delay! Explore all the shopping options in our region. Visit yqgholidays.ca as your one-stop guide to the holidays in Windsor Essex and view our 2020 Holiday Gift Guide.
Sponsored by Tourism Windsor Essex. For more details on Tourism Windsor Essex click their website, or visit them on Facebook, Twitter, or Instagram.