5 Ways To Celebrate New Years Eve At Home
Saturday December 26th, 2020, 11:00am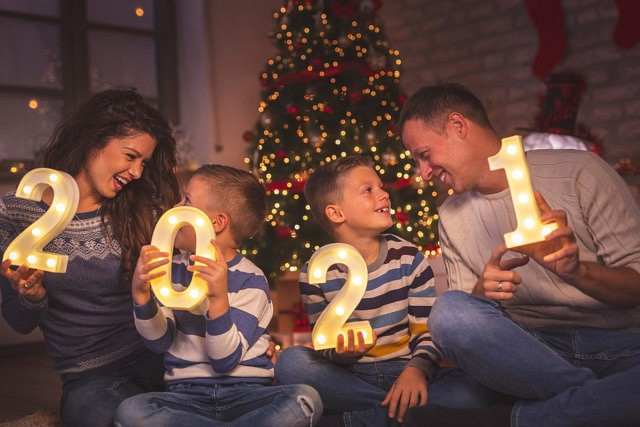 Goodbye 2020!
We are pretty much certain that saying goodbye to this past year will be a welcome celebration.  If we've learned any lessons in 2020, hopefully one is the importance of our community.  Whether it be front line workers who care for us, restaurants & food suppliers who feed us, local vintners, brewers and distillers whose wares give us something to toast with, and our local businesses and artisans who are really the backbone of our community – we've rallied together these past months and we are ready to look ahead together.
The new year – full of possibilities – lays before us and to help ring it in safely this year, we've put together a list of how you can celebrate 2021 like a local!
Seasonal Brews & New Spirits
Craft beer lovers can get ready to cheers with one of the local seasonal brews from our Barrels Bottles Brews partners like the FRANK Brewing Co. Winter Ale, a limited edition beer crafted with fresh ginger, ground cinnamon, star anise, nutmeg, cloves, and locally sourced honey. You can takes the nostalgia in every sip of this spiced ale!  For those with a taste for a darker brew, snag one of the few remaining (and stunning) bottles of Walkerville Brewery's Espresso Vanilla Porter.  Not to be missed are the seasonal beers from Banded Goose Brewing which include a Chocolate Strawberry White Stout, Cherry Vanilla Sour, Apple Cinnamon Oatmeal Stout & Honey Brown Ale. Make one last Negroni or G&T with the new River's End Gin from Wolfhead Distillery and be ready to cheers the New Year! Stock your bar and order from our Barrels Bottles Brews partners for delivery or curbside pick up!
Order In
What better way to welcome a fresh new year than with a sparkling clean kitchen! Forget the mess and order up your favourites from our local restaurants, prepared food shops or caterers for your New Year's Eve at Home celebrations.  Check out our Takeout & Delivery Guide for local options near you.  Try something new or stick with the tried and true – it's the perfect night to over-order so that you don't have to cook on New Year's Day either!
Cheers with Local Bubbly
Nothing says Happy New Year like a toast with something bubbly!! We are lucky to have such diverse sparkling options in our EPIC Wine Region like this sparkling Red Lola from Pelee Island Winery which is inspired by the Italian Lambrusco style and is characterized by its dark, rich colour and flavour.  It makes for the perfect pairing to your New Year's Eve charcuterie board.  Other bright and bubbly options to accompany your New Year's brunch or the midnight toast include the North 42 Degrees Estate Winery Sparkling Sauvignon Blanc, the Mastronardi Estate Winery A'Dorah sparkling wine or one of the newest additions to the Colchester Ridge Estate Winery line up, the Isle of View sparkling Riesling.  Make it easy on yourself and order some local vintages straight to your door with our EPIC Winery Delivery Guide.
Plan Ahead
Start looking forward to the new year by planning your next 2021 staycation! Check out our interactive itinerary planner MyTrip to create a list of where you want to go and what you want to explore safely in the new year.  Get outside this winter and hike a trail.  Plan for the summer with a cottage stay along the lake. Make a list of all our art & culture sites that you would love to visit when they re-open.  Make the new year one of newfound adventure – even when that adventure is close to home!
Celebrate with a Staycation
Distinctive Inns of Kingsville has put together an ultimate and easy way to welcome in the start of the New Year by ending it safely and comfortably in one of their rooms! Enjoy a virtual check in and a late check-out the morning after! You'll be welcomed to a guest suite (impeccably cleaned before your stay) with chilled bubbly and BgB craft beer in the fridge, party hats & noisemakers for the countdown and couch snacks to ring in the New Year.  Fill your bellies with dinner from Jack's Gastropub, which will be delivered direct to your door along with a bottle of Pelee Island Winery sparkling Bella and awake the New Year with a Morning Café basket filled with coffee, teas, pastries and more.
Hopefully there are some things that we can be be thankful for this year – exploring our home town and neighbouring communities, spending more time outside and at home with the ones that we love, creating those recipes we've been dying to try with locally grown foods, supporting local shops and businesses and ordering takeout from our favourite restaurants and maybe a few new ones too.
So, here we are at the doorstep of 2020 – let's say hello to a new year filled with hope and possibilities and continue to support our local artisans, businesses and our community.
Sponsored by Tourism Windsor Essex. For more details on Tourism Windsor Essex click their website, or visit them on Facebook, Twitter, or Instagram.
Content Continues Below Local Sponsor Message
Content Continues Below Local Sponsor Message
Content Continues Below Local Sponsor Message