Post Productions Finishes 2020 Season By Dealing With Isolation
Friday November 27th, 2020, 7:34pm
Hello time traveller!!
This article is 1039 days old.
The information listed below is likely outdated and has been preserved for archival purposes.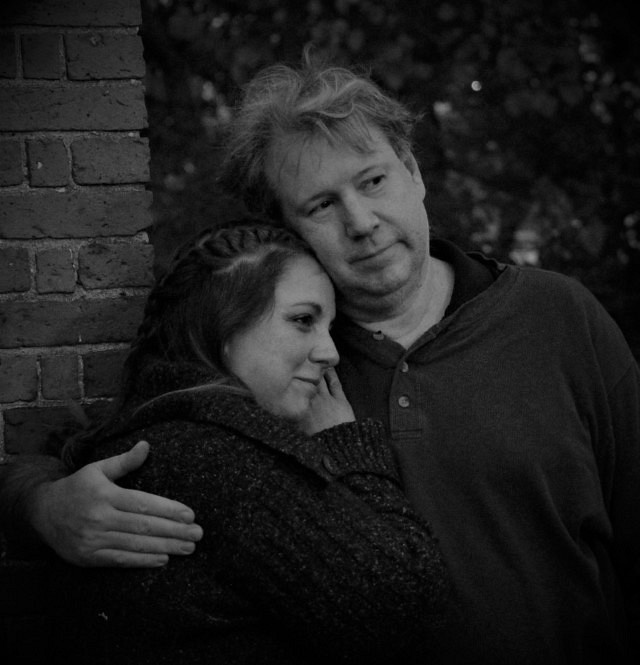 Dealing with uncertainty, a local theatre group is ending 2020 on an emotional high note.
After debuting a shortened run on Friday November 27, Post Productions will perform Martin McDonagh's The Beauty Queen Of Leenane throughout the weekend. Taking place at the Shadowbox Theatre (located at 1501 Howard Avenue),) the group's final show of the year has been discussed since spring 2019. Although it was scheduled to play for the next two weekends as well, the announcement of Windsor-Essex entering red (control) status caused them to end performances after this Sunday.
Either way, the current landscape has made this story even more relevant now.
"The Beauty Queen' of Leenane's theme of feeling trapped in one place or a situational cycle is particularly apt for this year," said co-producer, assistant director and stage manager Nicholas Prsa. "How this feeling informs one's relationships and duties to others is also reflected in the play and the importance of maintaining healthy relationships. The characters in Beauty Queen may not be living in the context of a global pandemic, but we live in the spectre of co-dependency and stir-crazy tension as they do."
Feeling hopeless and stressed by caregiver burnout, Maureen (played by Cindy Pastorius) has spent the last 20 years taking care of her mother Mag (Heather Hausmann.) As the world has moved on without her, Maureen suddenly gets invited to a party by her neighbour Ray (Colin Zorzit.) Finding out his older brother and long-time crush Pato (Joey Ouellette) is attending, Maureen becomes hopeful for the future again.
Auditions began with Covid-19 protocols in mind. Concerned that actors wouldn't be able to fit in a room safely, those interested submitted self-tapes. While the roles of Pato and Ray were decided immediately, callbacks were issued for in-person auditions when it came to Maureen and Mag.
Described as the hardest part of the process, it almost resulted in the play being quite different.
"[ Pastorius] and [Hausmann} gave such strong auditions," said co-director and co-producer Michael K. Potter. "They each auditioned for both characters and their interpretations were different and plausible. The casting really could have gone either way – [Pastorius] could have played Mag and [Hausmann] could have played Maureen. It was so difficult to decide which actress should play which part. Ultimately, we ended up with the perfect people for each role, given how strong their work has been throughout the rehearsal process."
Having successfully produced Fat Boy earlier in the fall, the same protocols were repeated this time around: Beyond self-tapes, masks were worn at all in-person rehearsals until tech week as every possible safety precaution was taken.
This extra work also brought a renewed energy as everyone continued preparing.
"We were fortunate from our experience rehearsing Fatboy to have a precedent for staging rehearsals," said Prsa. "masks-on, maintaining distance, restricting social bubbles outside the cast/crew, testing leading up to the show, etc. I think the actors rehearsing with masks leading up to tech week is an unexpectedly wonderful thing because it made for this beautiful moment during tech week to see the actors' faces and how much they've invested into creating their characters."
It also means the show itself will play to audiences at 25% capacity before the need to shut down. Although this forced a smaller budget, Post Productions still created something unique. Starting with the staging and light design by Matthew Burgess and Carter Dersch respectively, the two were able to create an immersive experience.
Set decoration also enhanced the production and was done by Prsa along with several others.
"The stage setting is remarkable," said Ouelette. "All of the pretend items – the stove, the fireplace – actually work through the magic of sound and light. The set is evocative. When the music is on and you're looking at the set you know in your heart that it's Ireland. You know the personalities of the people who live there from the things they keep in their home."
director/co-producer Fay Lynn also helped with subtle makeup effects. Keeping it simple as well, costuming was relatively straight forward and represents rural Ireland in 1994.
Beyond these elements though, it all comes back to the performance itself.
"Everyone can relate to the Beauty Queen of Leenane in some way, even when they aren't sure they want to," said Potter. "And when you strip away the set and the lighting and the sounds and all the other accoutrements we use to bring stories to life, you still have the actors. Ultimately, it's their job to so fully inhabit another person, another life, so vividly that you simply believe that's who they are. The cast of The Beauty Queen of Leenane is so captivating, so damn talented, so honest and raw, that you'll forget you're watching a play in Windsor, Ontario."
As their 2020 season winds down, Post Productions has an eye on the future. While this year's schedule had to be shuffled right up to the end, 2021 will be busier than ever when performances resume. Even though everyone in charge had already been discussing plans for changing provincial restrictions, Potter remains optimistic the group and Windsor-Essex theatre community will weather the storm, coming out stronger as a result.
If the pandemic allows it however, entertainment will come in many forms for audiences next year.
"I'm really hoping that people in Windsor-Essex take the pandemic seriously and follow proper precautions," said Potter. "We've got a big season planned for 2021 with six productions, two of them brand-new original plays written by local playwrights, a new improv game show that's being developed which will hopefully premiere in the spring and we've just partnered with Windsor Feminist Theatre. So you'll be seeing more of their work at The Shadowbox in the coming years."
Feeling that Post Productions can survive almost anything after 2020, the managing director is especially proud of the group's perseverance. Crediting partners, cast and crew for dealing with difficult challenges, Potter is more confident than ever in their ability to pull off emotionally driven stories for a long time to come.
After selling out all performances of Fat Boy, the same is expected for The Beauty Queen of Leenane. Talked about internally as one of their best productions, it's a bold way to finish a season that reminded all involved about the importance of compassion, generosity and humility.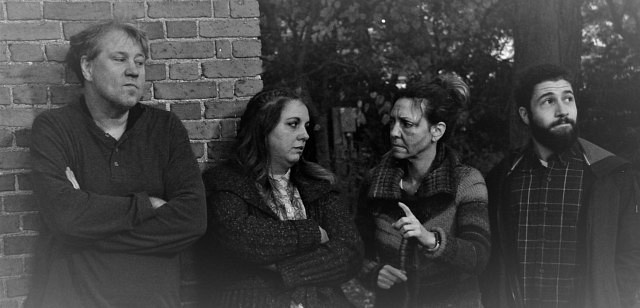 As a result, at least one cast member thinks it's the perfect way to end the year.
"The Beauty Queen of Leenane is the perfect way to finish off 2020," said Pastorius. "Much like this wretched year, it starts off hopeful with just a little sour taste in your mouth about the people who seem to have the power, but then it quickly turns into something you can't quite comprehend. It shares the loneliness and  isolation we've all been feeling but offers a bit of hopeful love and possible escape from our sorrows. We can see the finish line, we just need the right tool to finally get there.  The most interesting theme for me is the complexity of family relationships. We all have those people in our families who we love because they are family, but the struggle to like them and accept who they are, while still protecting our own dignity and mental health, is difficult."
As with their last play, strict COVID-19 protocols will be in place for this weekend's performances. Guidelines can be found on Post Productions' website and tickets must be purchased online. Despite cases recently rising and our impending move into red (control) status, these guidelines already went above and beyond what's been required so far.
Being high risk himself, it's something Potter takes very seriously.
"Many of the patrons who saw Fatboy were surprised by how stringent we are with our Covid-19 Health and Safety Policies," he said. "We went beyond what was required of us by the city and province, in part because we really don't want anyone to get ill because they've seen a show and in part because I'm high-risk, as a chronically ill immunocompromised person. We've kept that up with The Beauty Queen of Leenane. The only change we've made is that now all patrons must provide their names and contact information when they're screened at the door, not just the people who purchase the tickets, which was what the orange level required."
Performances take place on November 27, 28 and an additional date on Sunday, November 29. Doors open at 7:30 p.m. with each show beginning at 8. Even though Sunday was just added, organizers still recommend getting tickets early.
"There's a tinge of irony that we have limited seating for what I think is one of Post's most striking productions, but all the more reason to make sure you have a seat here," said Prsa. "Those watching safely here will feel as though they're an Irish fly on the red-brick wall  among the most captivating stories and characters on this stage yet."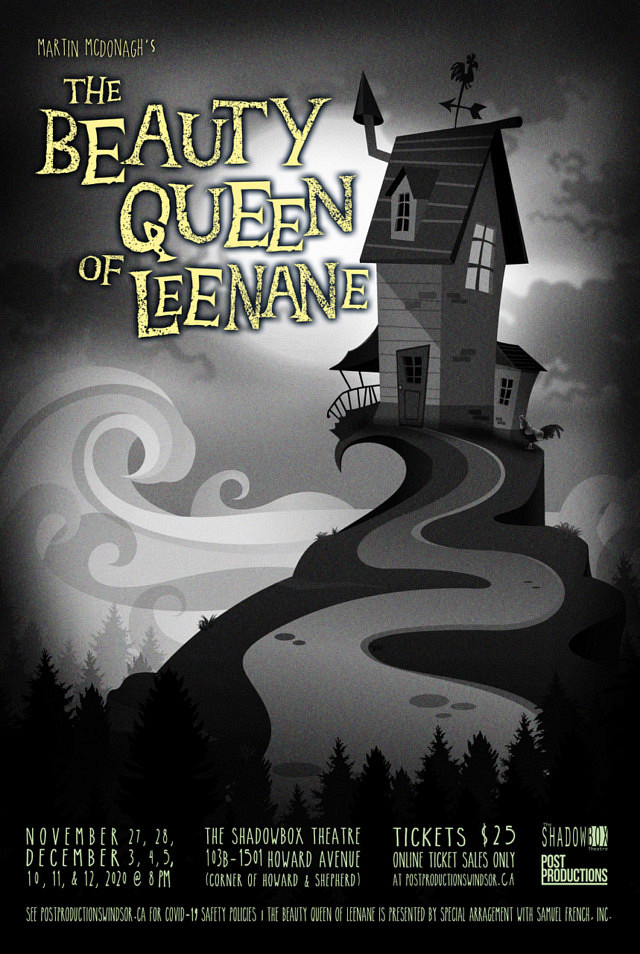 Content Continues Below Local Sponsor Message
Content Continues Below Local Sponsor Message
Content Continues Below Local Sponsor Message