Where To Celebrate World Vegan Day In Windsor Essex
Saturday October 24th, 2020, 11:00am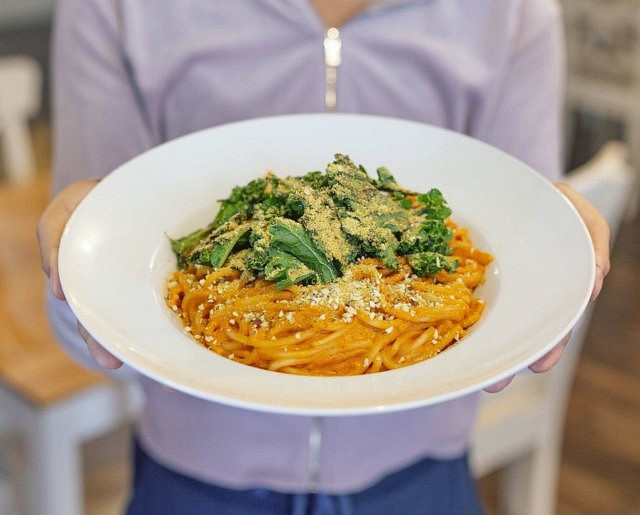 Original blog by Lauren Yakiwchuk of Justin Plus Lauren. | August 6th, 2019.  Please ensure to call ahead to our local vegan-friendly establishments to confirm their current offerings in light of the COVID-19 pandemic. 
Sunday November 1st is World Vegan Day, and did you know that Windsor is an extremely vegan-friendly city? I had no idea until I visited. Make the most of the day by using my guide below for some of my favourite bites when I visited the city.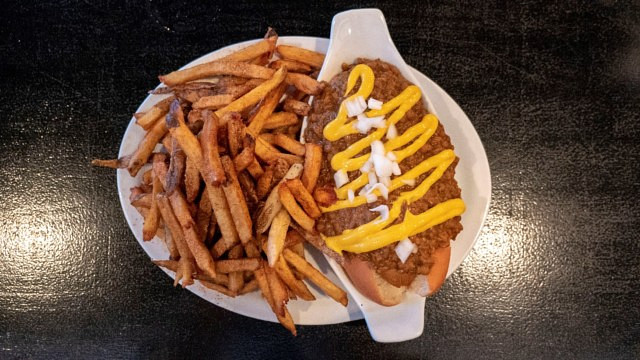 There are such a variety of vegan and vegan-friendly restaurants that you'll have more than enough options for every meal of the day. I certainly didn't go hungry during my stay in Windsor; in fact, I'd have to stay for weeks to sample everything!
Even your meat-eating friends will love to dine at any of these spots. In some cases, the restaurants have replaced the animal products with delicious alternatives where you won't taste the difference. At other times, the food is just so tasty that you won't miss the meat. I've put together this guide to the best vegan meals in Windsor that will satisfy your tummy and your taste buds.
For Comfort Food
If something comforting and satisfying is what you seek, head straight to Nooch, Windsor's first comfort food vegan restaurant. They've got all of your meaty favourites made completely out of plants. The restaurant is owned by four longtime friends who share a passion for bringing their mouthwatering vegan dishes to the city.
Bring a friend and munch on their sharable treats, like Buffalo Bites (seitan bites in a buffalo hot sauce of sweet BBQ sauce) or Jackfruit Tacos (seasoned jackfruit with cabbage, pico de gallo, and an avocado lime crema). You'll want to bring your appetite for their drool-worthy main courses. Choose from the Big Mock (using non-beef patties, vegan cheese, and a veganized special sauce), the Philly Cheesesteak (featuring a steak made from seitan and their nacho cheese sauce), or the Reuben (made with their own seitan corned beef, sauerkraut and served on marble rye).
Don't skip dessert when you visit Nooch: they're known for their sweet treats, too! Be sure to taste their multi-layered carrot cake, indulge in a slice of cheesecake, or nosh on a butter tart. Everything at Nooch is vegan and they also serve gluten-free options. There's truly something for everyone at Nooch, especially if you're craving comfort food.
For a Healthy Fix
For 100% wholesome, plant-based, and gluten-free eats, head directly to Carrots N' Dates. They have two locations in Windsor to serve you (one in Windsor and one in Tecumseh). Carrots N' Dates uses the freshest ingredients that are GMO free and sourced locally when possible. Its owner, Neviana, started the restaurant back in 2012 with raw energy bars and vegan, gluten-free desserts. Nowadays, you can order a variety of wholesome meals and beverages, including sandwiches, soups, salads, and smoothies.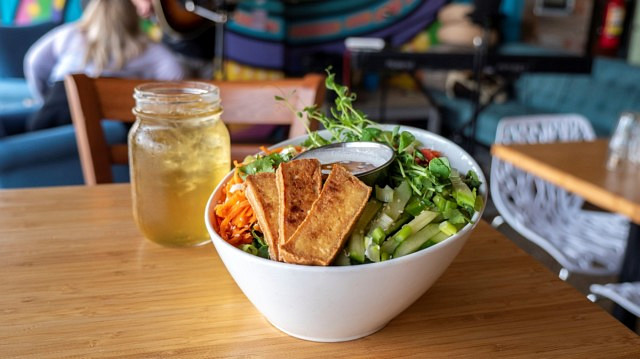 When I visited, I tried the Buddha Bowl, paired with a refreshing kombucha. The Buddha Bowl has lots of wholesome ingredients, like greens, grilled smoked tofu, brown rice, loads of veggies, and a creamy tahini dressing. Other bowls on the menu include the Pad Thai, the Green Power bowl, and the Nachos bowl. Carrots N' Dates also has some tantalizing salads, such as the vegan Caesar or the taco salad. I'd also love to return for breakfast for their pancakes, available in both sweet and savoury versions.
At the Tecumseh restaurant, Carrots N' Dates has live music every Friday night from 6:00 – 8:00pm. Make an evening of it: visit the cafe for a healthy meal, a delectable dessert, and listen to intimate live musical performances from local artists.
For Brunch
Anyone else love going for weekend brunch? It's always a special treat to enjoy a relaxing Saturday or Sunday meal with your partner or family members. I recommend that you go for brunch at Thyme Kitchen. It isn't an exclusively vegan restaurant, but they have a vast array of vegan dishes on the menu.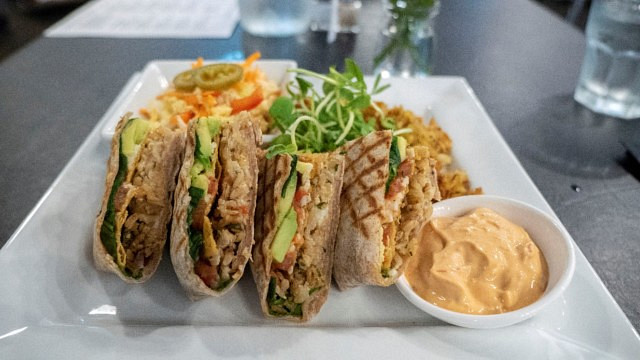 Their staff members are warm, friendly, and very helpful. Every vegetarian, vegan, and gluten-free item is clearly marked on the menu. For vegan brunch at Thyme Kitchen, you can sample the Vegan BLT, the Tofu Scramble Wrap, or even indulge in a vegan Affogato (coconut ice cream and espresso) for dessert. Add a side of vegan bacon, potato hash, or seasonal fruit and you'll start your day off right. And did someone say bottomless cup of coffee? Yes, please!
For Your Favs Gone Vegan
Craving one of your favourite meals that's traditionally prepared with animal products? Don't worry, Healthy Mama has got you covered! Described as an "easy breezy, laid back, plant-based and gluten free restaurant", Healthy Mama has something for everyone (including the meat eaters you know). The restaurant has a cozy front porch with outdoor patio seating, perfect for summer days. And both the cafe and its food are beautiful and Instagram-ready!
After the owner's raw and dehydrated crackers became an instant success among those following gluten-free diets, Healthy Mama grew into a vegan and gluten-free restaurant and shop. You can still find those crackers, alongside a massive selection of plant-based snacks, housemade frozen burgers, grab n' go items from the fridge, and unique grocery items.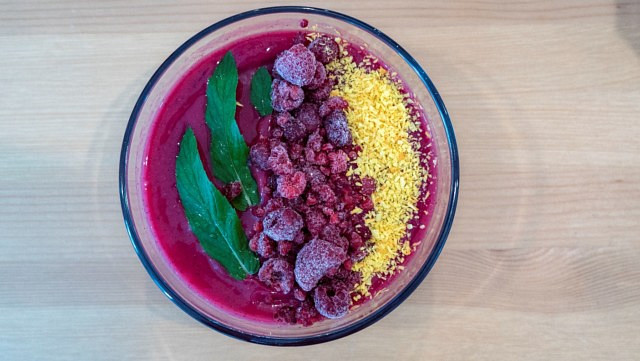 On the menu, you might want to try fan favourites, like the Mac N' Cheese, the Spicy Sushi Bowl, or the Crab Cake Po' Boy. There's also an array of smoothies, smoothie bowls, coffee and tea beverages, wine, beer, cider, and a vegan version of a Caesar. I can personally recommend ordering the Pink Pitaya Bowl, which is a feast for the eyes just as much as it is for the tastebuds. Save room for dessert as Healthy Mama has an entire refrigerated section of sweet treats, including tiramisu, pecan pie, and cookie dough bites.
For Dessert
Speaking of dessert, who could go for a doughnut right about now? Plant Joy offers the fluffiest, most gigantic vegan doughnuts I've ever seen. It all started when baker and owner, Jordynne Ropat, had a craving for vegan doughnuts but couldn't find any in Windsor. So, she baked her own, and now you can enjoy them, too. These doughnuts are perfect for those who don't consume dairy or eggs, and they're actually perfect for everyone. You really can't taste the difference between these doughnuts and their traditional counterparts. I'd dare to say that these ones are even better.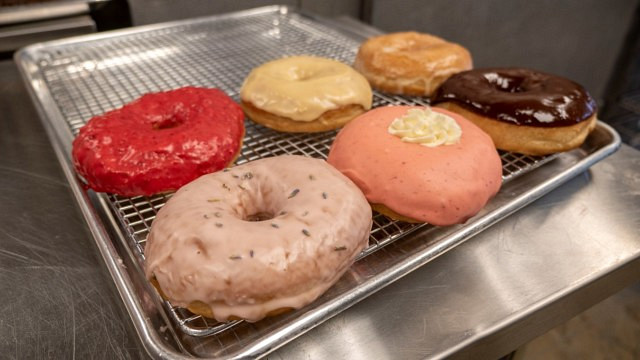 The doughnuts at Plant Joy are kind to people, animals, and the planet. Their ingredients are organic, fair trade, and local wherever possible, and Plant Joy is committed to working with local businesses.
Plant Joy's doughnuts come in a variety of flavours: cinnamon sugar, old fashioned glazed, vanilla frosted, chocolate dip, maple dip, lemon lavender, raspberry frosted, chocolate peanut butter, and strawberries and cream. You can even get your name or any phrase spelled out in doughnuts by placing a special order with Plant Joy. Instead of a birthday cake, why not spell out your loved one's name in doughnuts? Or perhaps you'd like to celebrate a special occasion with doughnuts. The possibilities are endless!
To Cool Off
Feeling the summer heat? Cool off at Maverick's Cold Bar, located at Urban Surf. Whether you're stopping by to go stand-up paddle boarding, attend a fitness class, or you're simply there for the snacks, Maverick's Cold Bar has whatever you're craving. There are healthier options, such as fruit smoothies and smoothie bowls (all dairy-free). Then, there are the slightly sinful options, like vegan soft serve ice cream and chocolate dipped cones. Maverick's also has vegan cookies and coconut based ice cream, so you can have your own ice cream cookie sandwich.
Lauren Yakiwchuk is a travel blogger and content creator at Justin Plus Lauren, based in Mississauga, Ontario. She loves outdoor adventures, discovering nature, and exploring big cities and small towns alike. As a lifelong vegetarian and longtime vegan, she aims to find and share the best plant-based meals around the world.
Sponsored by Tourism Windsor Essex. For more details on Tourism Windsor Essex click their website, or visit them on Facebook, Twitter, or Instagram.
Content Continues Below Local Sponsor Message
Content Continues Below Local Sponsor Message
Content Continues Below Local Sponsor Message