Post Productions Sends In The Clowns For Satire Of North America
Thursday October 8th, 2020, 8:30am
Hello time traveller!!
This article is 1084 days old.
The information listed below is likely outdated and has been preserved for archival purposes.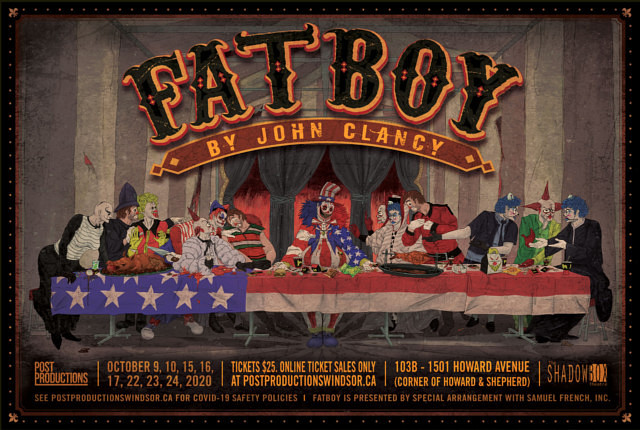 After an unplanned hiatus, a local theatre group is clowning around while taking the stage.
Following a shut down due to the Covid-19 pandemic, Post Productions will soon perform John Clancy's Fat Boy. Hosted at the Shadowbox Theatre (located at 1501 Howard Avenue) starting Friday October 9th, it's especially relevant today.
Featuring clowns and a satirical look at North America, the timing is also not a coincidence.
"I think any reasonable person would agree that there are serious problems with the North American way of life," said director Michael K. Potter. "These problems have existed for a long time and have become exponentially worse in recent years, especially in the United States. When we planned the 2020 season, we knew Fatboy had to be performed in October. After all, it features creepy clowns and the US presidential election circus would be in full swing."
Dreaming of power, a horrific clown named Fat Boy (Joey Wright) and his wife Fudgie (Michelle Legere) live in Squalor. Consuming all they can and killing those who annoy them, Fat Boy is eventually tried for war crimes and uses the experience to give he and his wife positions of power.
Declaring themselves king and queen, both are constantly threatened by betrayal. They also find their new power isn't what it was originally thought to be.
With Joey Ouelette, Nikolas Prsa and Fay Lynn playing supporting characters, Fat Boy serves as a reunion as welll. Almost all cast and crew worked on one or both of the group's shows Equus and The Pillowman, two of Post Productions' most popular.
Things weren't always planned this way however.
"We pre-cast Fatboy more than a year ago," said Potter. " …We thought about who our dream cast might be, which included two people who had been in Korda's production many years ago, [Wright,] David DuChene and [Legere,] who stage managed that production. Our Creative Director, [Lynn,] who was to serve as producer and stage manager for our production, played Fudgie in Korda's version. Then we lost two cast members due to the pandemic; one became anxious and dropped out and [Duchene] is American, trapped behind a closed border. So we had to change plans."
Working together before, collaborating was fun and easy. Pre-production and rehearsals went smoothly, allowing the finished product to feature gags and ideas from cast and crew.
By the time rehearsals began, Windsor was in stage three of reopening. This made things easier to work through and meant everyone could be in the same room as well. Although Potter couldn't make it due to a medical emergency unrelated to Covid-19, Lynn oversaw the first few sessions.
Wearing masks and trying to maintain social distance, only one major change to the show was necessary: Because a plexiglass barrier between the stage and audience is required for singing, a song and dance number was removed with a different bit taking its place.
Despite this, music will still play a big role in the production.
"- Dave Nisbet, who composed the music for our productions of Equus and The Pillowman, returned to compose and record music for Fatboy," said Potter. "As a starting point, I asked him to think of classic American songs like Froggy Went A-Courtin, Dixie, and the work of Sousa but treat them as though Tom Waits was arranging music for a psychotic circus. He ran with it and came up with some really arresting and unique music."
It isn't the only part of the group's veteran production team coming back either. Working in Stratford until the pandemic, Matthew Burgess has returned to design, build and paint sets and props. Paying attention to the smallest details, Potter described his work as "simple and magnificent."
According to the director, it's only one part of the all-star crew.
"Carter Dersch is back as our lighting designer, and with this production he really got to indulge himself," he said. "Once he'd sat through a rehearsal, he was birsting with ideas. Karen Kilbride returned as our costumer too. She created a dozen or so great costumes that really accentuate the weirdness of the world this play takes place in, this fun house version of Earth, and brought it to life."
Preparing while the theatre was closed, Post Productions has kept most things on track. Although rehearsals were temporarily held through Zoom, three to five shows are always in various stages of development. This meant there was still plenty to do during the closure.
As a result, the only changes to the season were actually caused by Potter's medical emergency.
"[Matthew St. Amand's] Negatuniry was set to open on the first weekend of stage 3 in August," he said. "Then [Harold Pinter's] Betrayal would have run in September, followed by Fatboy in October. Unfortunately, I had to have an emergency amputation in August and since i was in both Betrayal and Negatunity, that messed up our plans. We ended up putting Betrayal on hold for now and moving Negatunity to January 2021."
With Covid-19 being a health risk, the group is also taking crowd safety seriously. Starting in March, Potter compiled a list of effective health protocols being used around the world. As new information came out, he repeatedly edited his document to help inform Post Productions' new policies. This resulted in the group ordering 100 disposable masks back in April for patrons to wear in case they forgot their own.
Another change is that the venue has dropped to 25% capacity. Ensuring more room for social distancing, masks are also required at all times by audience members and crew. Performers on stage are the only exceptions.
Beyond this, tickets are now only available online and come with some new rules too.
"Tickets can be purchased in pairs through a link on our website, where you'll also find our Covid-19 health and safety policies," said Potter. "Front of house staff will ensure you're wearing a mask and check your name off a list of ticket holders when you arrive. There are no physical tickets being issued. Tickets are only being sold online to avoid the exchange of cash- and because seating is so limited. Hand sanitizer stations are located throughout the venue, and patrons will be encouraged to use them frequently."
No audience members will be placed next to strangers. Everyone attending will also be admitted group by group and screened for Covid-19 before entering.
Following this play, Post Productions hopes to finish their season strong. Martin McDonagh's The Beauty Queen of Leenane was recently cast and will debut for a three week run in November. After Friday's debut however, Fat Boy will continue with shows on October 10, 15, 16, 17, 22, 23 and 24. Tickets can be purchased online for $25 with doors opening at 7:30 p.m. and all performances beginning at 8 p.m.
Even with protocols in place, Potter knows that people will be leery about attending however.
"i completely understand why some people are nervous about seeing a play," he said. "I'm immunocompromised, chronically ill and still recovering from surgery so I'm nervous too! Honestly and with all seriousness, we don't want anyone to become sick because they've seen a play, especially at our venue. We're working hard to make the experience safe, comfortable, and fun. Seeing a play at The Shadowbox is certainly a lot safer than going out to a restaurant or bar."
Still, the director thinks entertainment is more important than ever right now.
"Do people need to see theatre? No," said Potter. "People DO need entertainment, diversions and art that makes them feel and think. Stories make excellent diversions and when it comes to storytelling, theatre is unique in that it can tell compelling stories so vividly that you feel sucked into their world. You feel the energy in the room. You laugh and gasp and cringe and hold your breath with others who are doing the same thing. There's nothing else like it."
Content Continues Below Local Sponsor Message
Content Continues Below Local Sponsor Message
Content Continues Below Local Sponsor Message