Local Comic Shops Join To Expand Yearly Celebration
Thursday September 10th, 2020
Posted at 6:27pm
Hello time traveller!!

This article is 614 days old.

The information listed below is likely outdated and has been preserved for archival purposes.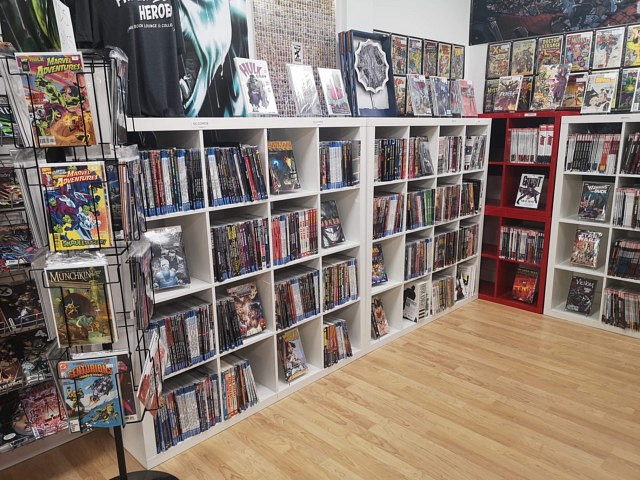 Bigger than the Avengers or Justice League, some Windsor superpowers are teaming up to save an annual event.
While Free Comic Book Day (FCBD) was cancelled in May because of its arch-nemesis Covid-19, something new has risen from the ashes. Joining forces, Cartoon Kingdom (located at 2001 Provincial Road,) Paper Heroes: Comic Book Lounge & Collectibles (located at 2857 Howard Avenue) and Rogues Gallery Comics (located at 327 Chatham Street West) will be hosting Free Comic Book Weekend (FCBW.)
Running from Friday, September 11th to Sunday, September 13th, the celebration serves a few purposes. After learning they'd receive their free comics from Diamond Distributors, Rogues Gallery owner/operator Shawn Cousineau and Paper Heroes owner Scott St. Amour knew they wanted to do something different.
Discussing it with each other, a plan was born to thank customers for their support.
"The idea of free comic book summer (Handing out books for nine consecutive weeks that diamond came up with) just did not feel special enough," said St. Amour. "The idea of the weekend sprung out of our thoughts about having an event but still finding a way to keep the crowds smaller. "
With this decided, they reached out to other shops in the city. After being approached by St. Amour and thinking of the community, Cartoon Kingdom jumped on board and helped complete a new comic book trinity.
Finding strength in numbers, fans can now expect a weekend of sales and free comics at all three locations. In addition to the available titles, Funco has put out a mystery box that includes a pop figure, t-shirt and comic book for $40. Limited edition gallery statues will also be on sale to mark the occasion.
If that wasn't enough however, the weekend falls around a special time for one retailer that's involved.
"Well, it also conveniently lands on Rogues' birthday," said Cousineau. "So we are having a 50% off store-wide sale on everything. We will be raffling off one of every free comic book day comic as well as the Free Comic Book Day pop box for a $1 raffle ticket with proceeds going to the Ronald McDonald House."
All three stores have chosen to support the charity during FCBW. This means that each shop will raise money for the organization in different ways. Paper Heroes is doing so with a raffle for a $100 gift certificate: Tickets are $2 each or three for $5.
Of course, the Howard Ave. store is putting on a huge sale too. This includes 40% off graphic novels, 50% off back issues and sets, 25% off wall books and 30% off all merchandise (statues, toys, collectibles, artwork, pops, supplies etc.) It's so big that they needed extended hours to contain the deals: The store will be open from 10am to 8pm on Friday, 10am to 6pm on Saturday and 10am to 4pm on Sunday.
Rounding out the deals, Cartoon Kingdom has many savings as well. The entire store will be a minimum 20% off the lowest ticketed price, collected editions and trade paperbacks will be 40% off, there will be $2 comics and 10 comics for $10 deals.
Ronald McDonald House donations are also welcome and will go towards a grand prize raffle.
"Each store is putting together a prize pack valued at $150," said Cartoon Kingdom owner/manager Nathaniel St. Pierre. " To enter to win one of the three prizes, people will need to visit all 3 stores and collect a unique sticker or stamp. They will then need to post a picture of the stamps on social media while tagging all 3 stores and use the hashtag #freecomicbookweekend. Additionally, we'll be collecting donations for the Ronald McDonald House of Windsor. Each $1 donation will receive an entry to win the prize pack."
Having so much to offer, it's almost easy to forget the free comics. With this year's Spider-Man title being the most anticipated, there are many books people will be interested in too.
"There are the big name titles featuring the X-men, Spider-Man, Venom and Batman," said St. Pierre. "However there are also great books featuring The Boys, which the hit Amazon series is based on, My Little Pony, Archie, Power Rangers, Donald Duck, Naruto and more. There is definitely something for everyone."
Despite free comics and deals though, safety is what's most important. As the Covid-19 pandemic continues, all three stores have protocols in place to ensure those attending aren't at risk.
Since reopening, Rogues Gallery has enforced all necessary precautions. Adapting to the current way of life, the business has also adopted curbside pick-up, online ordering and delivery. Paper Heroes has done much of the same, marking the floor for social distancing, providing hand sanitizer for customers upon entry, following the mandatory mask bylaw and installing a plexiglass window at the cash register.
Cartoon Kingdom asks anyone who has "even the slightest symptoms" to stay home. Besides requiring people to wear masks, they enforce hand sanitizer upon entry and continuously clean high traffic and high use areas: This includes door handles and their debit machine. Online ordering, free delivery for local orders over $40 and curbside pick-up are also available.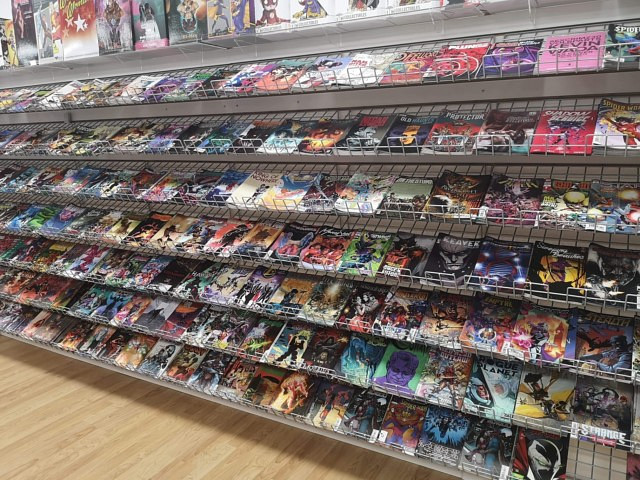 It's with this mindset that each shop is approaching their plans for FCBW.
"The biggest change to planning is to focus on social distancing to ensure everyone can participate in a safe and healthy manner," said St. Pierre. "We now have stricter occupancy limits, which could mean having to line up outside, which we have to think about now."
Being Paper Heroes' biggest day of the year, FCBD's May cancellation had a big impact. While they've since adapted along with Rogues Gallery and Cartoon Kingdom, St. Amour feels that putting on this specific event is a victory for everyone involved.
"Having the event really makes it feel like we have come out the other side of the shutdown and survived," he said. "This event is just a way to celebrate it and try to find some normalcy after everything that has happened."
It also serves to fill a specific void created by the pandemic.
"I feel like families are starved for events that they can do together in a safe environment," said Cousineau. "We've come up with a way to accommodate all levels of COVID comfort with limited people in the shop at one time, a screen to tent outside with some of the titles and a limited amount of product. For the last few hours on Sunday, we intend on handing out bags of pre package comics for curbside pickup for those parents who aren't yet ready to Venture Inn."
Lasting three times longer than FCBD, there are at least a few reasons not to miss out. Unique sales, free books and products are on that list. With proper etiquette suggesting that customers buy something with their free titles however, it's a great way to thank independently owned shops.
"The biggest reason for not missing it is that it will be a great way to support local small businesses, raise some money for a great cause that helps a lot more people locally …and Encourages everyone to read," said St. Pierre. "It's also going to be a great time to pick up some great products at great prices (it's never too early to start Christmas shopping!"