9 New Cases Of COVID-19 In Windsor Essex As Of Wednesday
Wednesday September 16th, 2020
Posted at 9:48am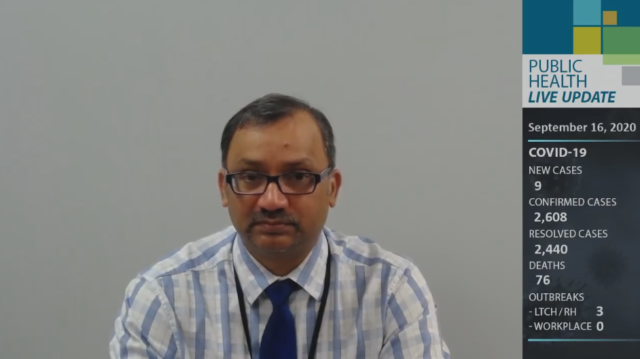 The Windsor Essex County Health Unit has confirmed 9 new cases of COVID-19 as of Wednesday, bringing the local total to 2,608. They say 2,440 people locally have recovered.
Cases increased from 2,599 on Tuesday September 15th to 2,608 on Wednesday September 16th and 85 people are currently self-isolating with COVID-19.
The Health Unit says 1 case is a worker in agri-farm sector, 1 case is travel related, 2 cases are community acquired, 4 cases are close contacts of a confirmed case, and 1 case is still under investigation.
There have been no additional deaths due to COVID-19 as of Wednesday and the local death toll stands at 76.
As of Wednesday, the Health Unit lists one person hospitalized with a confirmed case of COVID-19 in Windsor Essex. Zero hospitalizations of confirmed COVID-19 cases are listed at Windsor Regional Hospital.
Retirement Home Outbreaks
The Health Unit lists three retirement homes under outbreak:
Dolce Vita (Windsor) has 2 staff cases and 4 resident cases
New Beginnings (Leamington) has 7 staff cases and 21 resident cases
Rosewood Erie Glen (Leamington) has 1 staff case
Workplace Outbreaks
As of Wednesday, the Health Unit says there are no workplace outbreaks.
A workplace outbreak is declared when two or more employees test positive for COVID-19 within a reasonable timeline to suspect transmission in the workplace, according to the Health Unit. Officials with the Health Unit have said a workplace will only be named if a threat to the public exists.
New Possible Exposures

The Health Unit is alerting the public to three more possible public COVID-19 exposures as of Wednesday.
The possible exposures took place at various dates between September 3rd and September 9th.
The Health Unit lists locations open to the public where a positive case of COVID-19 worked, visited, or attended during their infectious period when it is determined there was a risk of public exposure, and when the Health Unit is not able to contact everyone who may have been exposed.
Dr. Wajid Ahmed, Medical Officer of Health for Windsor Essex said last week the local exposures listed are not about the businesses themselves but rather are about people who visited places while they were possibly contagious.
"It's not a reflection of how the businesses were performing, it's about the public who visited these facilities," he said. "I just want to re-emphasize it's not a reflection of the business."
The Health Unit says the potential exposures listed are considered low risk, however as a precaution they ask anyone who visited any of the locations on the identified dates to monitor themselves for symptoms of COVID-19 for fourteen days from the date of exposure.
Anyone with symptoms is asked to stay home and take the Health Unit's online self-assessment tool.
You can find the updated list here.