12 New Cases Of COVID-19 In Windsor Essex As Of Tuesday
Tuesday September 1st, 2020
Posted at 9:42am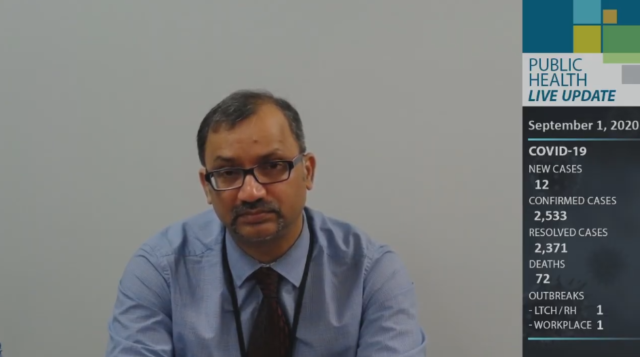 The Windsor Essex County Health Unit has confirmed 12 new cases of COVID-19 as of Tuesday, bringing the local total to 2,533. They say 2,371 people locally have recovered.
Cases increased from 2,521 on Monday August 31st to 2,533 on Tuesday September 1st and 66 people are currently self-isolating with COVID-19.
The Health Unit says 6 case are close contacts of confirmed cases, 1 case is a resident of a retirement home, 4 cases are still being investigated by the Health Unit's nurses, and information was not provided for 1 case.
There have been no additional deaths due to COVID-19 as of Tuesday and the local death toll stands at 72.
As of Tuesday, the Health Unit's website lists 16 people as hospitalized and 2 people in the ICU with confirmed cases of COVID-19 in Windsor Essex and 12 of those hospitalizations are listed at Windsor Regional Hospital.
Dr. Wajid Ahmed, Medical Officer of Health, attributed the recent increase in hospitalizations to the transferring of patients from the retirement home under outbreak to hospitals. He says the patients who have transferred to hospitals were moved due to space limitations within the retirement home.
New Beginnings retirement home in Leamington remains under outbreak with 6 staff cases and 19 resident cases.
Workplace Outbreaks
As of Monday, the Health Unit reported the following workplace under outbreak:
1 manufacturing facility (1 in Windsor)
As of Tuesday, the Health Unit says the following workplace is under outbreak:
1 manufacturing facility (1 in Tecumseh)
A workplace outbreak is declared when two or more employees test positive for COVID-19 within a reasonable timeline to suspect transmission in the workplace, according to the Health Unit. Officials with the Health Unit have said a workplace will only be named if a threat to the public exists.
Health Unit Enforcement Actions
Theresa Marentette, CEO of the Windsor Essex County Health Unit says the Health Unit has completed 123 inspections over the past two weeks related to non-compliance with mandatory mask wearing and not physically distancing on patios.
Marentette says four violation notices were issued to businesses for failure to comply with the mask order.
Public health inspectors also recently followed up on 351 complaints related to COVID-19, Marentette says, resulting in 42 on site inspections during the month of August.