Warden Of Essex Gary McNamara Defends Health Unit After Calls For Mandatory Testing Of Farms
Tuesday June 23rd, 2020, 11:00am
Hello time traveller!!
This article is 1011 days old.
The information listed below is likely outdated and has been preserved for archival purposes.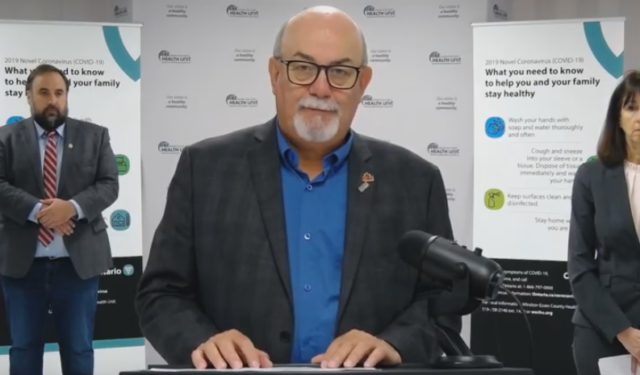 Health Unit Board Chair, Mayor of Tecumseh, and Warden of Essex County Gary McNamara responded Tuesday morning to calls for the Health Unit to make COVID-19 testing of agri-farm workers mandatory and to other criticism of the Health Unit's handling of the COVID-19 pandemic.
"The Health Unit has certainly shouldered the weight of this crisis, and also the blame," McNamara said. "Let us be clear, this is a global pandemic, one that we have not experienced in any of our lifetimes, and we're all learning together, and we should all be in it together."
McNamara said the pandemic requires a response at all levels of leadership and all levels of government.
"Rather than leadership, we are witnessing finger pointing and deflection to our Health Unit that has done nothing than work tirelessly to prepare us and guide us through this pandemic," he said. "We have not had hospitals overrun. We have not had use of arenas as morgues and we continue to have access to supplies, information, and essential services throughout all of this."
McNamara said the messaging of public health that has guided the community through the pandemic.  He said the staff at the Health Unit have been working seven days a week since the end of February and he's concerned for their mental and physical health.
"Instead of pointing fingers we should be thanking them for the work and asking them what they need," he said.
McNamara responded to comments made by Windsor Mayor Drew Dilkens that the Health Unit has not done its part to control the spread at local farms.
"To say the Health Unit has not done their part is simply not true," he said. "The Mayor of Windsor has stated that 'because the Health Unit will not mandate testing they have failed this community.'"
"This is not true," McNamara said. "Testing will not solve this issue. Testing every person in a farm will not get us to Stage 2. The province has stated very clearly that they are using our rates of positives to determine if we move forward."
"Let us be clear again," McNamara said. "Testing will identify more cases, not less, and our rates will continue to increase."
McNamara said individuals in long term care were not required to participate in testing, but that they were encouraged to get tested.
"The authority of the Medical Officer of Health under the Health Protection and Promotion act can not be used in a way to supersede other individual protection laws including the right to privacy and human rights legislation," McNamara said. "We can not solve one crisis by creating another."
McNamara responded to a statement made by Windsor Mayor Drew Dilkens about food safety. McNamara said it's not true that testing will ensure food is safe. "There is currently no evidence — absolutely no evidence — that COVID-19 is transmitted through food," McNamara said.
Responding to a reporter question that he has not been speaking up on behalf of the county, McNamara said he's been having conversations with provincial and federal officials who work with farms to find "common ground" on the issues.
"It's a lot easier to point fingers and deflect blame," McNamara said. "It's counterproductive to put blame on anybody."
"To say that county representatives have not been doing anything, that is absolutely false," he said. "The mayor of Windsor can give me a call anytime."
Content Continues Below Local Sponsor Message
Content Continues Below Local Sponsor Message
Content Continues Below Local Sponsor Message