1 New Death, 9 New Cases Of COVID-19 In Windsor Essex, Saturday, Health Unit Offers Mother's Day Tips
Saturday May 9th, 2020, 1:12pm
Hello time traveller!!
This article is 1052 days old.
The information listed below is likely outdated and has been preserved for archival purposes.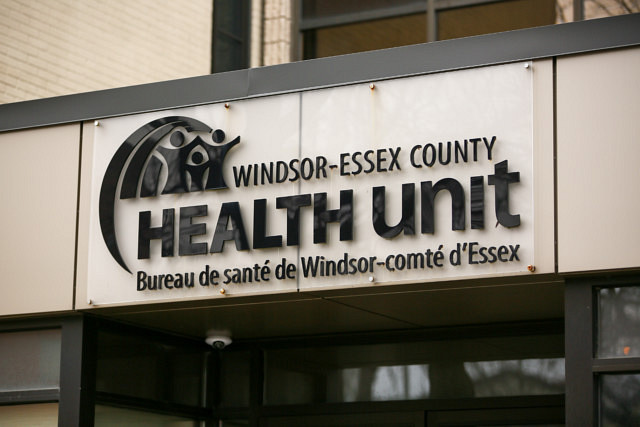 The Windsor Essex County Health Unit has confirmed 9 additional cases of COVID-19 as of Saturday afternoon, bringing the local total to 685. They said 263 people locally have recovered.
Cases increased from 685 on Friday May 8th to 694 on Saturday May 9th.
The Health Unit says there has been one additional death as of Saturday bringing the local death toll to at 59. They say a woman in her nineties from a long-term care facility who was positive for COVID-19 passed away yesterday.
"I would like to share my condolences with the family during this difficult time," said Dr. Wajid Ahmed, Medical Officer of Health.
Of the 59 total, local deaths, the Health Unit says 45 deaths have been residents of long-term care and retirement homes.
The Health Unit says there are 11 total facilities with outbreaks: AMICA, Sun Parlour, Lifetimes on Riverside, Franklin Gardens, Heron Terrace, Country Village Homes, Village at St. Clair, Chartwell Oak Park LaSalle, Berkshire, Chartwell Kingsville Retirement Residence, and Extendicare Southwood Lakes.
As of Saturday afternoon, 10,748 tests have been conducted and 1,797 tests are pending.
The Health Unit is offering tips and guidance for celebrating Mother's Day while maintaining social distancing.
"To help keep our moms healthy and safe, it is important to continue to maintain a physical distance of 2 meters at all times, and to restrict all social gatherings to no more than 5 people," the Health Unit said in a statement. "As difficult as it may be, outside visitors at the home should be avoided or restricted this Mother's Day."
"We hope that everyone is able to enjoy a safe and Happy Mother's Day weekend." said Dr. Ahmed.
The Health Unit's tips for celebrating Mother's Day while keeping a distance:

If you do not live in the same household as your mother or grandmother, you should avoid going inside their home whenever possible and continue to practice physical distancing at all times. If you are required to self-isolate, remember that you cannot leave your home. If you can, consider one of the following to celebrate mom:
Share a Virtual Family Meal– A great way to send your love is by sharing a virtual family meal through technology. If you are not required to self-isolate, cook your Mom's favourite meal at home and deliver it to her doorstep. Make sure to wash your hands before and after preparing or handling the meal. Another great option is to order some food from your Mom's favourite restaurant and have it delivered directly to her door. There are plenty of local restaurants who are offering door-to-door deliveries, as well as curb-side pickup for those not in self-isolation, during the pandemic. Meet your mother and other family members by phone or video chat to share the meal together and celebrate Mom!
Stay Connected– A great way to stay connected during the pandemic is through technology. Call your mom by phone or video-call to tell her how much she means to you!
Celebrate from a Distance – For those not required to self-isolate, make some signs or large Mother's Day cards and celebrate Mom from a distance! Drive by her home or stand at the end of the driveway or on the sidewalk to display the signs that you have made. Call your mom on the phone to speak with her during the celebration or talk to her from a physical distance outside! If you are required to self-isolate, join in on the celebration through video chat, mail your card to Mom if you can, or send her a heartfelt text or email!
Flower Delivery – Flower Delivery services are ready to deliver your mother's favourite bouquet of flowers this Mother's Day. This is a great way to send your love while staying home.
Mail a Card or Thoughtful Letter– You can mail your mother a card to show your love on this Mother's Day. This is a great idea for grandmothers, as many of them are missing their grandchildren and would love some homemade cards! Sending heartfelt messages through hand-written letters is also a thoughtful way to show how much you care about Mom and to let her know that she's in your thoughts, even from a distance!
Have a Virtual Movie or Game Night – Gather your family through an online video chat or phone call and watch your mother's favourite movies together from a distance. Another fun way to celebrate Mom is to play some board games or online family games through video chat!
Attend a Virtual Concert or Museum – Many artists and musicians are making concerts and shows available online for free. Google Arts & Culture has also partnered with over 1,200 museums worldwide to offer online virtual tours! Plan a family virtual visit to a museum here of Mom's choice!
The Health Unit's tips for celebrating Mother's Day while staying home:
If you live in the same household as your mother or grandmother and are not required to self-isolate, there are many activities that you can do as a family to help celebrate Mom while maintaining a physical distance:
Breakfast in Bed– A nice relaxing morning with breakfast in bed may be the well-deserved gift your mother needs. Consider preparing her favourite breakfast or making her coffee just how she likes it! Remember to wash your hands before and after preparing Mom's food!
At Home Spa Day– Plan your mother a well-deserved spa day without leaving the house. Consider using face masks, bubble baths, and other relaxing spa luxuries that will help your mom relax and de-stress.
Backyard Picnic– Since you can't dine out, why not dine in! Make dining at home more exciting by bringing it outdoors. Eating outdoors or setting up a picnic is a great way to make this Mother's Day feel special.
Get Crafty– Mothers with young children love and appreciate homemade cards or gifts. Create something for your mom from the heart.
Family Game or Movie Night– Enjoy a night in as a family by playing your Mom's favourite board games or watching her favourite movies
Take a Trip down Memory Lane– Take a trip down memory lane by going through old family photos or videos! This Mother's Day, you can create new memories by re-visiting some of your past favourite family moments.
Help Out around the House– Give your mom the day off by helping out around the house however you can! Helping with daily chores or yard work can definitely help give your mom a well-deserved break.
Help in the Garden – At a safe distance, help your mother with some weeding or planting and enjoy some time together while keeping a 2 meter distance.
Physical Distancing Walk – Go for a physical distancing walk with your mother this Mother's Day and enjoy some nature! Get some fresh air and have some good conversation. Remember to keep a physical distance of 2 meters between yourself and others not from the same household.
Content Continues Below Local Sponsor Message
Content Continues Below Local Sponsor Message
Content Continues Below Local Sponsor Message