You'll Flipping Love National BlueBerry Pancake Day
Saturday February 1st, 2020
Posted at 11:00am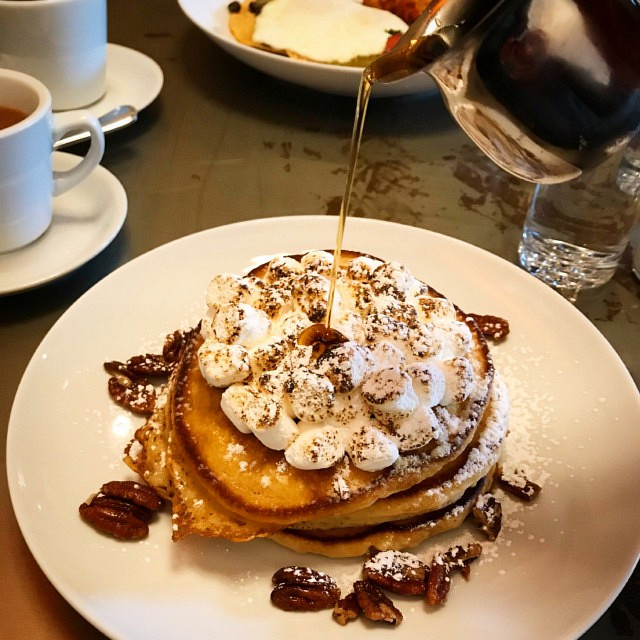 Whether you call 'em pancakes, flapjacks or hotcakes – stacked high or eaten one at a time – January 28th was National Blueberry Pancake Day and we're celebrating all week long at some of Windsor Essex's finest breakfast spots.
Though we love them filled with fresh berries, why not check out some of these great adaptations and have some fun creating twists on the classic pancake! Red Velvet? Yes!! S'mores? But of course!
Stacks Windsor
These red velvet pancakes come served not only with a dollop of whipped cream but a delicious and tart cream cheese frosting as well.  Bring a friend who wants the double chocolate pancake stack and share for a sweet breakfast combo!
The Twisted Apron 
Celebrate Blueberry Pancake day with a plate of fresh and fruity flapjacks drizzled in pure Canadian maple syrup.  Roll up those sleeves because your morning is about to get sticky and delicious!
Toscana
Come hungry because  you're going to want to devour the whole stack of these pancakes! Topped with toasted marshmallows, this is for sure to leave you wanting "s'more!"
https://www.instagram.com/p/B6VtJU3HDJb/?utm_source=ig_embed
Ure's Country Kitchen
These special Banana Pecan pancakes are worth the drive to Ure's Country Kitchen! For the purists there are traditional, blueberry and triple berry pancakes all to be devoured!
Thyme Kitchen
Choosing between thin, stuffed crepes and their pancake counterpart may just be the hardest decision of your breakfast order! If the fluffy variety doesn't make you drool, perhaps a blueberry stuffed crepe may be your best bet!
If these beautiful breakfast favourites have you hungry make sure to celebrate National Pancake Day with your favourite.  Top them with maple syrup or whipped cream, made from scratch or by scratching the box – there's no day better than today to fill your plate or your belly… until Shrove Tuesday of course!
Originally published on Tuesday January 25th, 2020
To read more blogs from Tourism Windsor Essex click here.
Sponsored by Tourism Windsor Essex. For more details on Tourism Windsor Essex click their website, or visit them on Facebook, Twitter, or Instagram.