Rorrie Is Looking For Her Forever Home
Saturday February 29th, 2020
Posted at 12:00pm
Hello time traveller!!

This article is 893 days old.

The information listed below is likely outdated and has been preserved for archival purposes.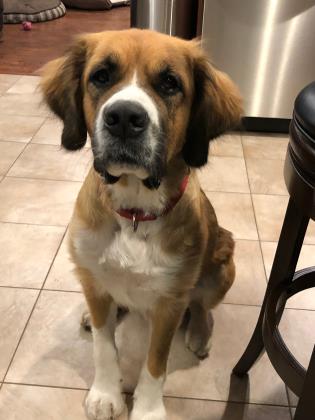 Written by the Windsor-Essex Humane Society:
Rorrie

2 year old

Saint Bernard Mix

Female

I AM IN A FOSTER HOME!! PLEASE READ BELOW FOR INSTRUCTIONS ON HOW TO MEET ME!

Hi, I'm Rorrie! Remember all those cute Saint Bernard puppies last week.. ya I made those! I worked really hard at raising and loving them to be the best dogs they can be! I tried to give them all the nice things I didn't have as a pup. My foster Mum and Dad were really good at helping me with that too! You see, I didn't want them to grow up like me… isolated and afraid. So our Foster Mum and Dad took them places and had people come over to help them learn that strangers aren't so scary. Sadly that wasn't the case for me as a pup… strangers were scary and some people were even mean!

It took me a long time to realize not all people were mean. I was even scared to trust all the people living in my foster home.. but I eventually learned they love me and they wouldn't hurt me! I am so thankful for them for helping me through such a hard but beautiful time, I don't know how I would have done it without them!

But now it's my turn to find my loving, understanding home just like my puppies did!!

I am going to need a very predictable environment with some patient and understanding hands! Once I am comfortable with you I will love and trust you. But I may still have my moments if you come home looking like someone else or have weird items in your hands that might look like a threat. I just can't seem to wrap my head around why a person would walk with a weird stick? I think I heard someone call it a 'cane' but it sure looks like a stick to me! All I keep thinking is I am gonna get hit with it, why else would they be walking around with it?

Anyways…like I said before strangers are scary, so I can be a bit defensive at the beginning. Luckily the key to my heart is food, patience and calmness!

I am really hoping for a home with a confident dog! Maybe this will help me realize people aren't so bad. I know I will always be a reluctant kinda dog so please don't ever expect me to be a social butterfly. Don't get me wrong I will love you and our family but I guess you can say I like being apart of my clique only!
Visit the Humane Society's website to find more information on how to adopt a pet!