Local Theatre Companies Assemble For Family Reunion
Friday January 24th, 2020
Posted at 10:50am
Hello time traveller!!

This article is 684 days old.

The information listed below is likely outdated and has been preserved for archival purposes.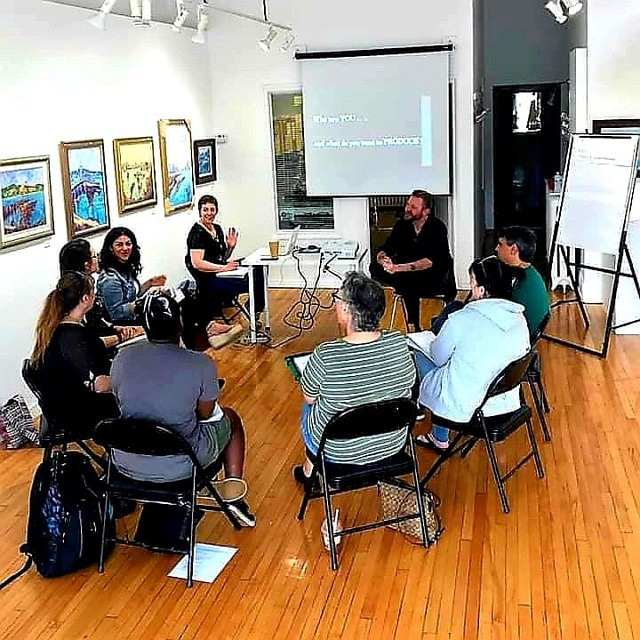 Bringing local theatre groups together, an upcoming event has been created to build community.
Taking place from the Shadowbox Theatre (located at 1501 Howard Avenue) on Saturday, January 25th, Post Productions is working alongside <a href="Arts Council Windsor & Region (ACWR) to facilitate an important networking opportunity. Running from 1pm to 3pm and called a historical first by those involved, they've reached out to 26 local theatre companies to find some common ground.
Although organizers are hopeful, at least one acknowledges some challenges lie ahead however.
"When I became involved in the local theatre scene in 2013, it was abundantly clear that there was a lot of acrimony and not a lot of communication between many of the theatre companies in Windsor-Essex," said Post Productions managing director, Michael K. Potter. "With a few exceptions, they seemed to regard each other as competitors and threats. In some cases people were telling me of grudges between companies that dated back to the 1990s. Soon I discovered that my perception wasn't unique, that it was a well-known problem."
Putting collaboration front and centre as a result, the event will amplify the group's efforts beyond what's been accomplished since it was founded in 2016. Attending as many plays as possible, sharing links for other theatre companies online and even announcing shows that are running before their own performances, the desire isn't lip service either.
With that in mind, Potter began talking to ACWR Director of Public Programs and Advocacy, Julie Tucker. The local organization then approached him at a workshop he was teaching for the annual Art. Work. Workshops series and their partnership evolved from there.
"ACWR had been previously working on networking events for different sectors and we were looking for a partner who was connected to the committee," said Tucker. "Post Productions' community page is a great resource and it showed that they had the same goal of helping the sector thrive in our region. We are small organizations and having strategic partners allows us to do relevant and essential programming with very little resources. I think that our goals and good intentions aligned for the theatre community."
Potter also thought it was good to have a group that existed just outside of this sector of the arts: Being at arm's reach, ACWR wouldn't bring any baggage to the mix.
Searching for common ground, another thought has driven Potter's desire for collaboration as well.
"When I moved to Windsor in 2008 it was my 23rd move," he said. "I've lived in many different places. I was astounded by the vibrancy, size and talent of the arts community in Windsor-Essex generally and the theatre community in particular. It's outstanding. Per capita, Windsor-Essex must be unusual in this respect. There is a real wealth of talent in Windsor-Essex that the rest of the country doesn't know about. Windsor should be a tourist hot-spot BECAUSE of its arts community."
It's partially why Potter feels the networking event is important. With short-term goals of cross-promotion, universal audience growth, cost and stress reduction from resource sharing, he also thinks it's beneficial to be part of something bigger. Long-term, the managing director envisions financial compensation for those working on different productions without needing big city ticket prices. Right now, theatre groups in the area rely more heavily on volunteer labour to make ends meet.
Aside from ending grudges and creating better communication, the event also comes at a crucial time. With the Doug Ford government slashing arts funding, it's more important than ever for local theatre groups to jointly promote what they offer.
"While there is some local arts funding available, it isn't a lot," said Potter. "It's better than nothing of course and I know there are good people in local government who really care about the arts. Municipal money can't make up for what's been lost provincially anyway though. So this is a decisive moment for the theatre community. If we don't get our act together, organize and support each other, companies will fold. I, for one, would hate to lose any of them."
Even so, organizers have tried working with the government to help local arts. It hasn't come without its own set of challenges however.
"ACWR has invited many different provincial organizations to come to our region to showcase granting and other professional development opportunities that are relevant to the theatre community," said Tucker. "This has included Arts Build, Ontario, Arts Council and Media Arts Network of Ontario. Initially, for this event we had budgeted to bring Theatre Ontario. Unfortunately this was not possible because their organisation is no longer operating with staff. If this organisation does close then it is more important than ever to mitigate the loss of support to our theatre committee from this very important organisation that has been in existence for over 40 years. It is important for the arts community to come together to support each other through partnership and resource sharing."
Beyond cross-promotion, diversity is also important. Although staging safe shows is easy, Potter thinks variety is necessary to attract a wider audience too.
"We spend so much times ingesting stories from TV, movies, books, podcasts and theatre," he said. "How do we tap into that natural love of stories to draw more people out to see live theatre? Post Productions has tried various strategies with some success, but we don't want our patrons to just be our patrons. We want them to be patrons of theatre from all sorts of companies, to explore all the kinds of stories and styles and experiences that our theatre company provides. There's a lot of variety out there. There are stories for all types of people. We just have to make them aware of what's available, draw them out and make sure they have a good time."
Helping to put the event together, ACWR also operates a free weekly newsletter and events calendar. Described as the only comprehensive list of events and opportunities in Windsor-Essex, it's continuously updated with the latest from local theatre groups. Their website also provides a calls and auditions page, giving people access to employment and professional development opportunities.
Although many areas can be improved, Potter knows that having the right attitude is key to any success. It's something he hopes will push the community forward.
"The most important change we can make in the theatre community is how we see each other," he said. "It's attitude. Attitude and perception, of course, affect our decisions and behaviours. If we see each other as competitors in a zero-sum game, we all lose. It's destructive and unhelpful. That means we need to think of each company as a member of a larger family – the family succeeds if each individual member of the family succeeds. Then the question becomes, 'How can we help each other?' instead of, 'How can I beat them?'"