Piper Is Still Looking For A Forever Home
Saturday July 27th, 2019
Posted at 1:00pm
Hello time traveller!!

This article is 344 days old.

The information listed below is likely outdated and has been preserved for archival purposes.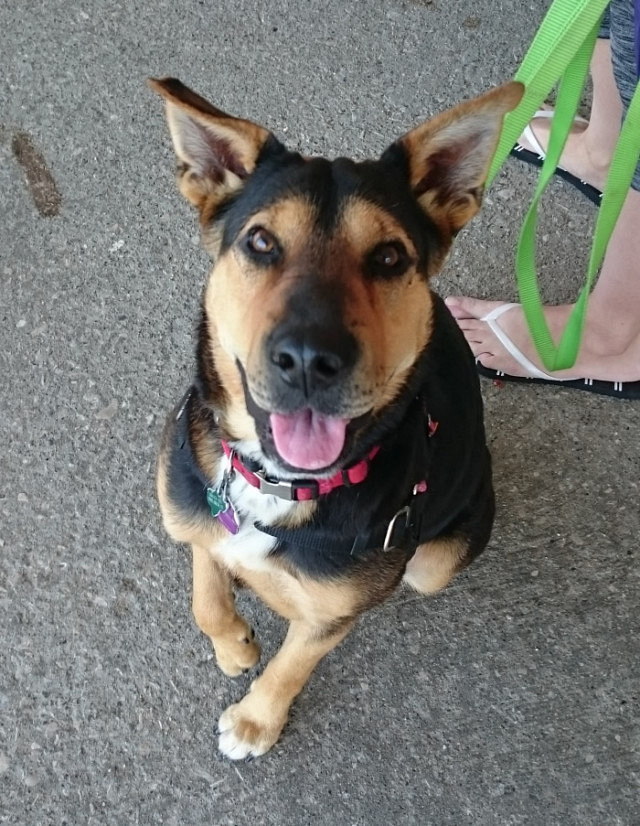 Written by Second Chance Animal Rescue:
Piper

Breed: Sharpei/Rottweiler Mix
DOB: May 15, 2017

Hey ya'll, my name is Piper, I'm a southern gal from Rio Grande Valley, Texas! Let me tell you, I HAD 99 problems but being super cute isn't one of them! I'm kinda surprised that folks haven't been lined up to adopt me because, I think I'm kinda cute, don't you? So I thought I would tell y'all a bit about my plight to get to where I am now. I was abandoned, left to fend for myself, with what I hear them call double eye entropion which left me practically blind, one eye was so bad that it had a hole in it, and I heard them say they might have to remove it, but they put these drops in it to see if it would heal (I took them like a good girl because I didn't want to lose my eye). I used to wander up and down the this highway, hoping and praying for scraps of food that people would sometimes throw out. I was thankful for rainy days; that meant puddles for drinking! One kind soul finally stopped to see if I needed help, she is an angel. My tail, well that's a story in itself, the vet thinks that maybe I was picked up and swung around by the tail and it broke badly. I needed help. One day another angel came back and brought me to a place they called boarding, I was scared, but they said I had to stay there just until I could catch a ride to a place they call a vet clinic, where they said I would get all fixed up and feeling better! This took a little time to get it all to work for me. After about a week, they were eventually able to get some kind people to help transport me to the clinic. I was so grateful for kindness, I never knew that you humans could be kind. I got so much love, so much petting, so many kisses, I was finally safe. My recovery has been a long road, I had eye surgery, but now I can see! I was also treated for a tick borne disease (completely preventable if only someone would have given me monthly preventatives). The nice doctor also fixed my tail, it's a little stubby now, but it feels so much better and it still wags.

Thank you to the kindness of donations, time and help from so many people and my heroes Second Chance Animal Rescue Windsor-Essex. I am now one happy and healthy girl, just one thing is missing…you! I really want my forever home, I have so much love to give you won't believe it! Come and meet me, I am ready for you, please check me out at https://secondchanceanimalrescuewe.wordpress.com/piperdog/.

All dogs available for adoption with Second Chance Animal Rescue Windsor-Essex come fully vaccinated, including lepto, spayed/neutered, microchipped, and heartworm tested (and are on heartworm/flea preventative while in our care). At adoption, adopters receive a 6-week free trial of pet insurance.

Apply to adopt Piper today at: https://secondchanceanimalrescuewe.wordpress.com/adoptdog/

You can meet Piper and all of our adoptable dogs at the SCAR Adoption Event on Sunday, July 28 at Pet Wise Pet Supplies (6000 Tecumseh Rd. E., Windsor).
Visit Second Chance Animal Rescue's website to find more information on how to adopt a pet!