Local Play Puts Greed Against Loyalty
Saturday July 6th, 2019, 10:27am
Hello time traveller!!
This article is 1305 days old.
The information listed below is likely outdated and has been preserved for archival purposes.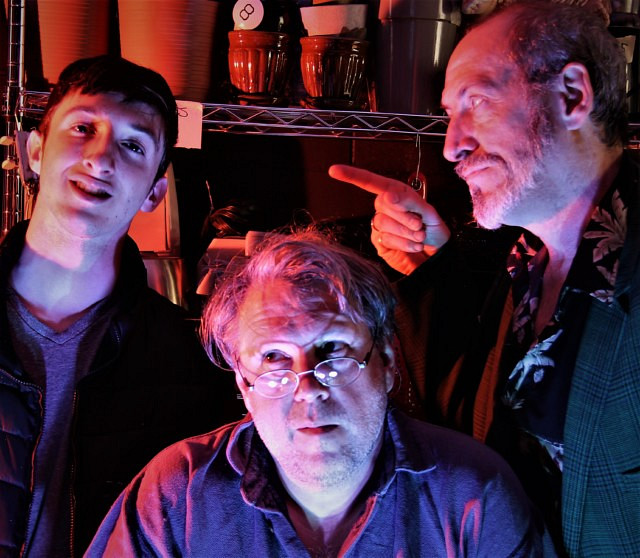 A day after the U.S. celebrated their independence, a local theatre group is exploring the American dream.
Debuting at the Shadowbox Theatre (located at 103B – 1501 Howard Avenue) on Friday, July 5th, Post Productions' presentation of American Buffalo is set for the stage. Starring Joey Ouellette as Don, Mark Lefebvre as Teach and Seamus Tokol as Bobby, the 1975 play will take over the theatre for the month.
Revolving around the three small criminals and aftermath of a heist gone wrong, it's something the theatre company has wanted to do for a while.
"I've admired the script for a long time," said co-director and co-producer, Michael K. Potter. "I'm a fan of [David] Mamet's work, and I think American Buffalo may be his best – even though it was only his second produced script and he was so young when he wrote it. [Co-director and co-producer] Michael O'Reilly raised the possibility of producing it back when we were working on True West, so we've been waiting for the chance since our first season."
Things seemingly fell into place last fall during work for Equus. Three actors wanted to take part, leading organizers to pre-cast the play. Despite this however, prior commitments forced two of them to drop out. Auditions were then held for Teach and Bobby and Now the co-director can't imagine anyone else in the roles.
It also created a unique situation for casting. To figure out the right fit, Ouellette read with and played off of several actors.
"I was lucky enough to have been precast as Donny, he said. "In the audition process, I read with everyone and tried to be reactive,- letting them define me rather than presenting a limited two-dimensional static interpretation. This meant that in every read everything was different, but hopefully it highlighted all the different paths that were possible."
When trying to steal a rare nickel from a coin collector turns into a disaster, strong emotions bubble to the surface. This conflict tests their loyalty to each other and commitment to the American dream. Given the complicated subject matter and interplay between the three actors, getting the right players in place was crucial.
According to Potter, these same elements are also what keep the play relevant.
"American Buffalo will be relevant as long as the 99% are manipulated into thinking they can be the 1%, which is what the American Dream is for," he said. "Canadians, I think, are just as bamboozled by this as Americans are. We're just as beholden to the materialism, consumerism, greed and self-destruction that these dreams of 'making it big' demand. And that means we're just as vulnerable to the belief that we should sacrifice things that actually matter,– friendship and other forms of real human connection – in the pursuit of this delusion."
When it opened 44 years ago, the show changed theatre forever. Between its many nuances and naturalistic dialogue, it also showed that a play could be about normal people with real problems and poetic at the same time.
Because of its many layers however, the script is tricky for actors to master. As evidence of Mamet's work, when they selected his play Oleanna, as their first production, the group put in many hours to get it right: Those involved ran through the entire performance before doors opened every night.
Those same challenges transferred over with American Buffalo as well.
"What I found most intimidating about the play was the language," said Tokol. "I try to challenge myself as an actor when accepting roles in shows. Mamet is so stylized and detailed with his writing that the task to perform his writing can be a little daunting. I really studied the text a lot and I hope it pays off in my performance."
As intimidating as it seemed, rehearsals focused on breaking things down. After character exploration, the remaining time was spent on the show itself.
"We rehearsed for eight or nine weeks, initially focusing on understanding the meaning of everything the characters say and do," said Potter. "We alternated between acts for the first few weeks and as quickly as possible, we switched to running the full show at each rehearsal. That's because the flow, the waxing and waning of energy, during a story is important to us."
From there, the co-directors remained open to suggestions from actors, who brought several ideas to the stage. Those that fit into the big picture were used and worked into the final production.
"For me, I tried to focus on what the words really mean and what the feelings behind it are," said Ouellette. "Why does my character do something? When I had a piece of that, I tried to fit it into the puzzle of what else was going on. As the other characters evolved, I had to remove my piece, figure it out again and put it back in to keep the picture complete."
With everyone as prepared as possible now, several messages are likely to come out of their performances. While some may focus on the American dream and what it means, Potter hopes it results in people experiencing a powerful story. Beyond that, the co-director would be happy if it pushed the audience to do something kind for those they care about.
It's a sentiment that's echoed by one of his actors as well.
"For me, the play isn't about the American dream or money," said Ouellette. "It's true there are two things (business and friendship) and my character usually puts friendship first. When he doesn't, it's always a mistake that turns out badly. Relationships matter most."
Following American Buffalo, Post Productions has more planned for the second half of 2019. The group just entered the second round of their Windsor-Essex Playwriting Contest and will know if they have a winner in about a month. In October their next production will be a double bill, featuring last year's contest co-winners. One is called Autopsy by Alex Monk and the other is A Haunting in E Flat by American Buffalo's own Ouellette: Auditions for both are being held on July 9.
From there, the season will finish with Martin McDonagh's The Pillowman, at the end of November.
Performances of American Buffalo will be held on July 5th, 6th, 11th, 12th, 13th, 18th, 19th and 20th at 8pm with doors opening at 7:30. Tickets can be purchased from Post Productions' website for $25 each or at the door if available.
In terms of the play itself, on of its actors has an ironically Canadian analogy to explain why people should see it.
"It's maple syrup, meaning that all of these characters' lives have been boiled down into this one 24 hour period where they experience everything of meaning to them," said Ouellette. "The highs, the lows, the breakdowns and epiphanies — all happen before your eyes. And it's full of surprises. It's a wild, entertaining ride."
Making it personal, another cast member has a better reason for his friends however.
"Buy tickets in advance to ensure you get to experience this thrill ride," said Lefebvre. "Anybody on my 'friends' list who doesn't come see the play can expect a command performance sometime between midnight and 4 a.m. on a night of my choosing. 'Nuff said."
Content Continues Below Local Sponsor Message
Content Continues Below Local Sponsor Message
Content Continues Below Local Sponsor Message