$45,000 Raised In 24 Hours For Local Woman Fighting For Her Life
Tuesday March 12th, 2019
Posted at 6:46pm
Hello time traveller!!

This article is 159 days old.

The information listed below is likely outdated and has been preserved for archival purposes.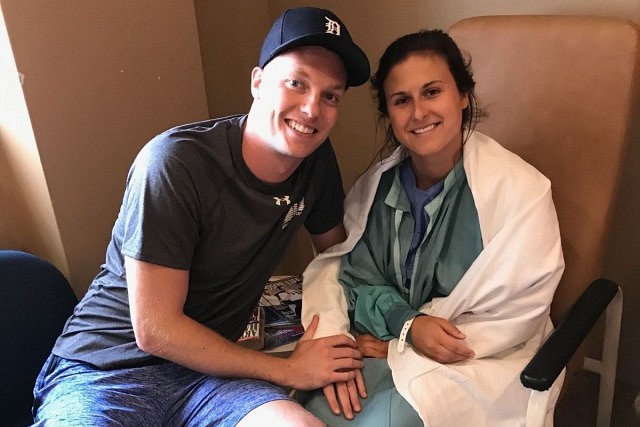 An online fundraiser for a young woman who was diagnosed with a rare form of brain cancer has raised nearly $50,000 in just twenty-four hours.
Maidstone resident Brittney Seville was diagnosed on March 4th with Grade IV of a rare brain cancer known as an Atypical Teratoid Rhabdoid Tumour.
Seville, who underwent numerous surgeries, is currently in critical condition and is fighting for her life in the Intensive Care Unit at Windsor Regional Hospital, according to the GoFundMe page set up for her:
Right now, Brittney and Kyle Flood need your support during Brittney's ongoing battle.

Brittney just celebrated her 25th birthday on February 1st. She is a selfless, adventurous, fun-loving woman who likes nothing more than being surrounded by family and friends. She lives in Maidstone with her loving boyfriend of five years, Kyle, and their fur-son, Leo. Brittney and Kyle moved in together in the summer of 2017 and began building a life together.

A year and a half ago, Brittney started having headaches that she struggled with daily. After implementing a number of lifestyle changes, nothing alleviated her headaches. She advocated for having a CT scan of her brain and a large mass was discovered.

In June, 2018, Brittney underwent a craniotomy to remove her tumour. She bounced back from surgery successfully and the doctors diagnosed her tumour as benign. She greatly improved over the next several months, was pain free, and started to get her life back on track.

On Valentine's Day 2019, Kyle came home from work to find Brittney barely responsive on the floor of their bedroom. He rushed her to the hospital to discover that she had life-threatening hydrocephalus, a buildup of pressure in the skull. On February 15th, neurosurgeons successfully drilled a hole in her skull to alleviate the pressure but found that her tumour had returned and was the cause of the pressure.

Four days later, Brittney had her third brain surgery to remove the tumour again. After the surgery, complications arose and her health quickly deteriorated. She has since been fighting through a serious blood and brain infection, strokes, seizures, and now a diagnosis of Grade IV Brain Cancer.

Her brain has been through so much trauma that she is currently unable to move or breathe on her own but can communicate only with her eyes. Brittney is fighting courageously to improve her health so that she may confront her next opponent, cancer treatment.

After spending the past month in hospital, and most of the previous year recovering, Brittney has been unable to work. Kyle is a hockey referee and substitute teacher and has been scratching and clawing to make ends meet for the both of them. As Brittney's health has deteriorated, Kyle has been unable to work most days as he is spending nearly all of his time in hospital by her side. Unfortunately, the bills have been continuing to add up and this family needs your support.
The Fundraiser is now the number two trending fundraiser on GoFundMe.
To learn more about the fundraiser, visit Brittney's Battle on GoFundMe. Donations will go directly to support Brittney and Kyle.