Take A Look Inside Little Sheep Yarn Boutique, A Place For Crafters Of All Skill Levels
Saturday November 10th, 2018
Posted at 10:30am
Hello time traveller!!

This article is 1076 days old.

The information listed below is likely outdated and has been preserved for archival purposes.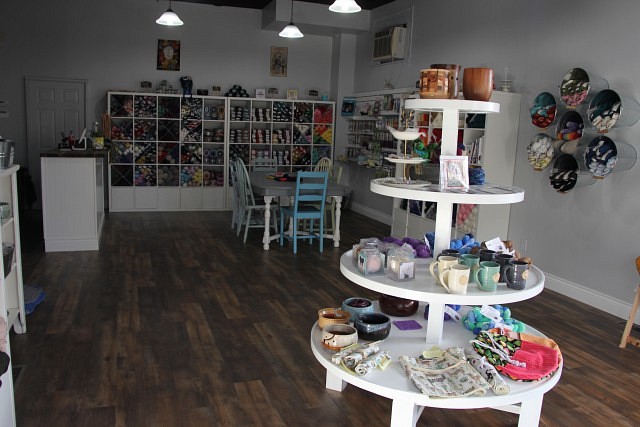 If you love to work with yarn, would love to work better with yarn, or want to try loving to work with yarn, Little Sheep Yarn Boutique is the place to go.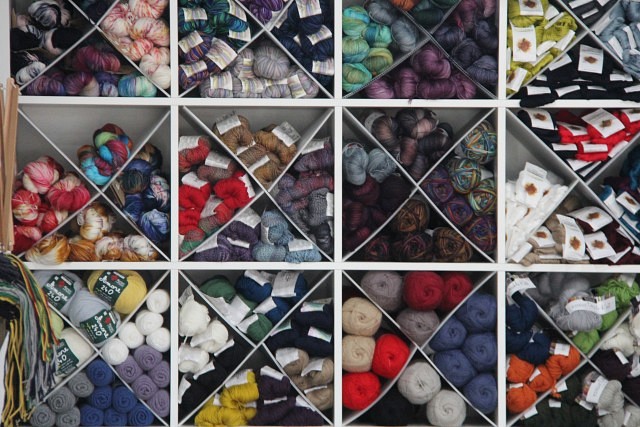 The boutique is a newer face to the Ottawa Street area, with co-owners Andrea Adam and Kate Rosser-Davies having opened up in early August of this year.
Their meeting was nearly meant to be, with the growing business also making a fast-growing friendship as well as business partnership between the two.
"We didn't know each other before opening," Andrea explains. "We were both looking at opening yarn shops individuals and got put together for having similar business plans by the Windsor Essex Small Business Centre. We met up at Slinky's and started the idea together."
Kate goes on saying how they got to know each other during the summer and realized how great of a team they would make. "Thankfully we have a lot in common and ended up getting along very well."
"We ended up being so much in common, it's almost weird," Andrea adds as they both laugh.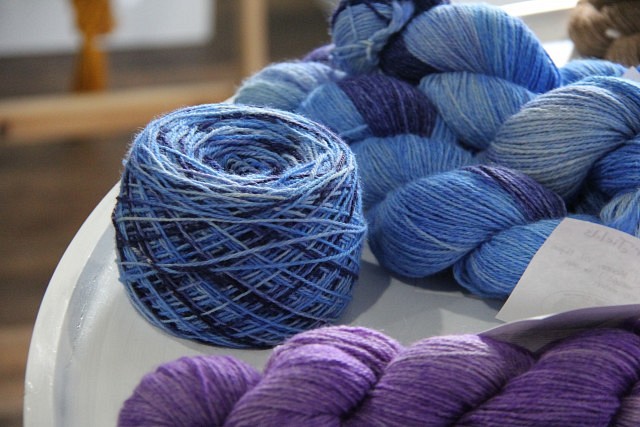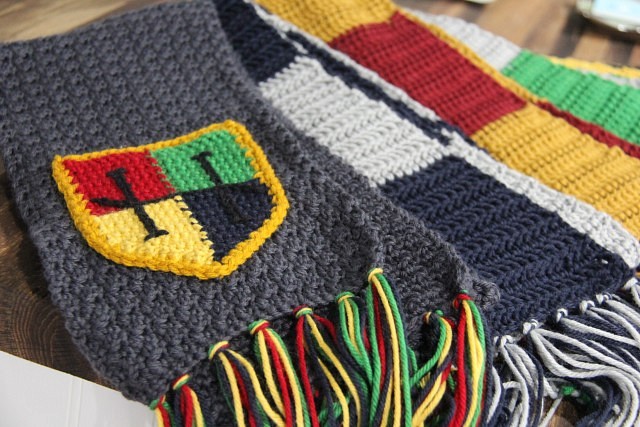 Andrea, a mother of three from Tecumseh, learned how to crochet as a teenager when she wanted to make a gift for her then boyfriend, now husband. "I kept coming across knitting patterns for things I wanted to crochet, so I decided it was time to learn to knit about 5 years ago. My kids even make requests from me, asking for superhero hats like Iron Man and the Hulk."
Kate, who is a Windsor native, learned how to knit in university from a friend after many trials on learning the craft. She had gone to Toronto for schooling and come back, but with a yearning of the yarn stores that were available there. "There just weren't a lot of places to buy a high-quality fibre with a good selection in Windsor before."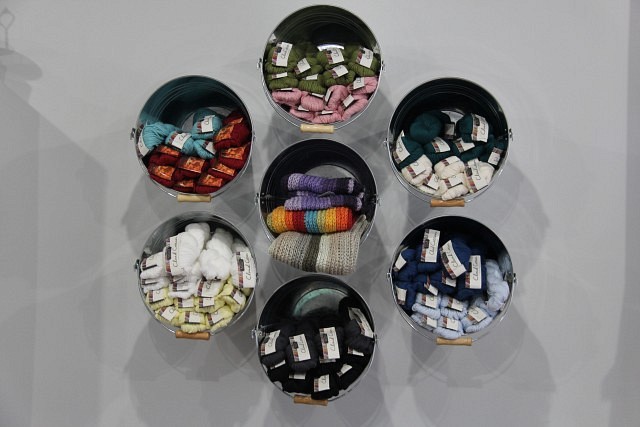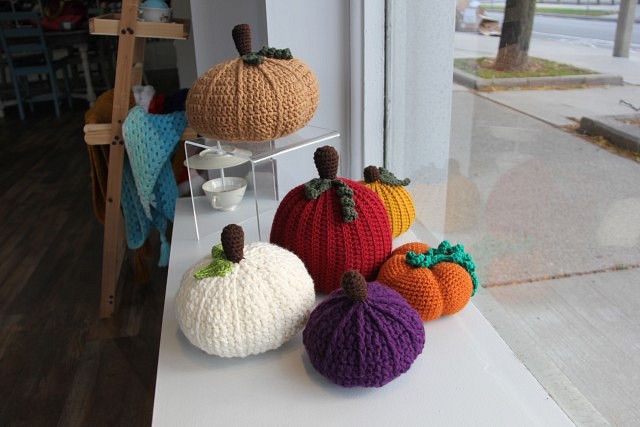 Andrea notes that a great part about their store is not only their great quality of goods and a fine selection of colour and types but the ability to be able to consult other crafts. "It's nice to see the mix-and-match here; there are people who are totally new to the craft and people who have been doing it for years."
Kate mentions that another unique thing about the shop is it is a specialty store. "It's just about yarn here."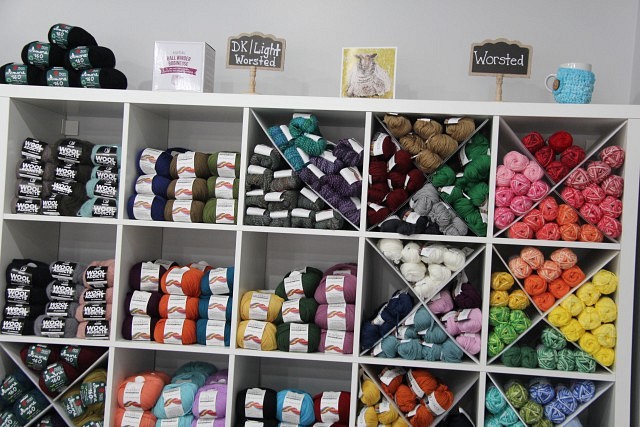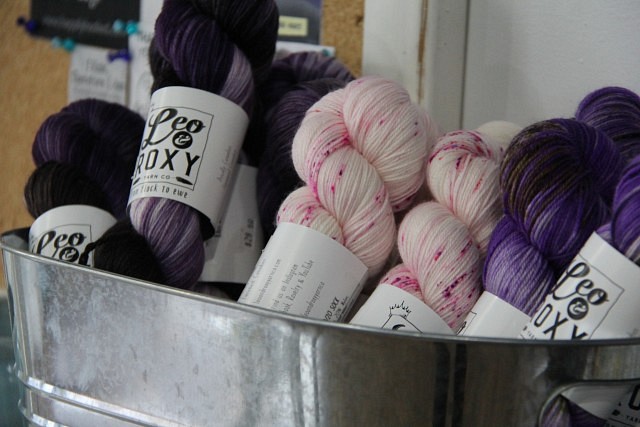 Both Andrea and Kate can crochet as well as knit, but Andrea is the more experienced crocheter and Kate is the more experience knitter. "We call the ability to do both 'bistitchual,'" Kate says with a smile.
"The best part since opening has been meeting all of the people who come in the store," Andrea explains "I'm learning that I am not the only one out there that does both crocheting and knitting. Before I was sort of led to believe that a person did one or the other, so it has been great to talk to people who share the same hobbies as we do."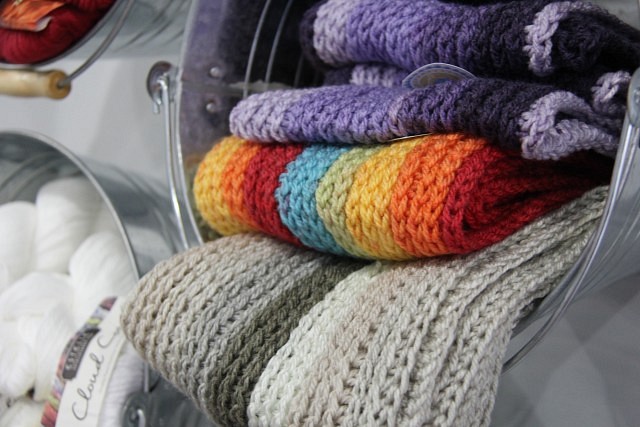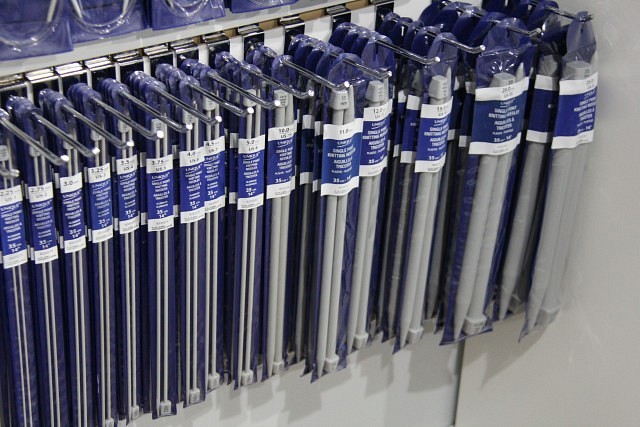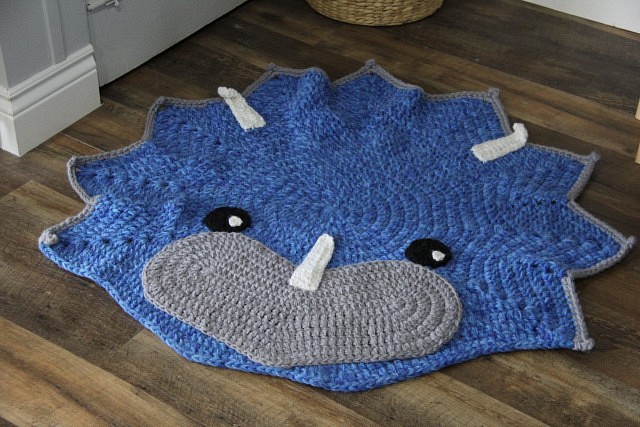 Kate agrees that since opening, she has truly enjoyed the people. "I love getting to know all the people who come to the store and who come out to our social nights," she explains. "I also really love getting new stock in. I'm a real colour and texture person; I just love getting stuck into all the different pallets that are available here."
The store features a lot of variations and cuts the risk of buying online as you can feel the quality in-person. "Yarn is done in batches," Kate explains, "and every batch can vary in texture."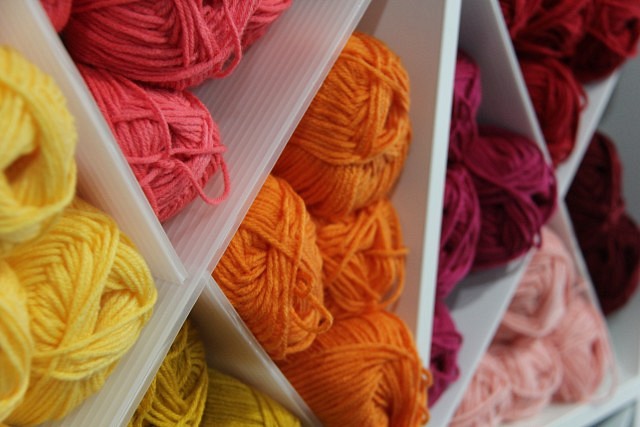 As knitting and crocheting are very textile-based hobbies, being able to see and touch the material in person benefits a crafter greatly so they are getting exactly what they are expecting. Crafters can also pleasantly enjoy the great variety in the store with a great multitude of colours and varieties being available, with the pair always looking for new supplies to bring in more great products.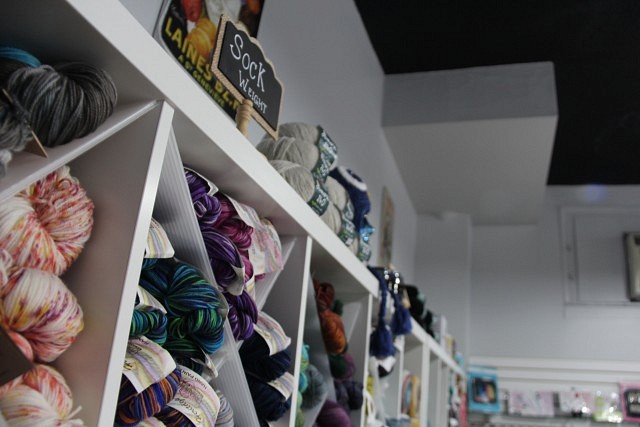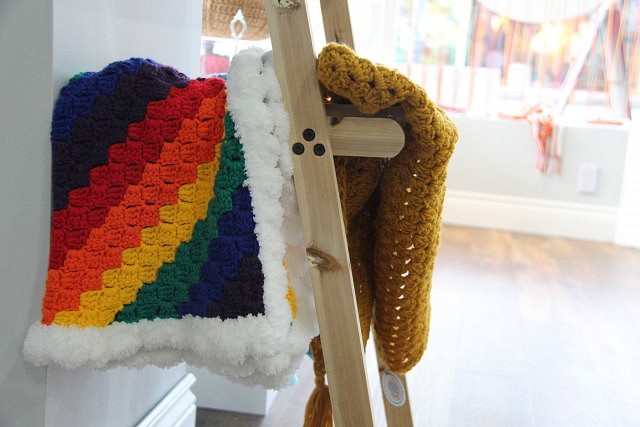 The store tries to specialize in natural fibres. There are some acrylics available, but the two try to focus on obtaining natural fibres with a lot of blended yarns for sale as well. The store is also aiming to develop a sockweight yarn collection as it is popular with indie spinners and yarners.
"We also try to carry as many locally-made products as possible," Andrea explains. "Our yarn bowls are made locally as are our cups, pin cushions, buttons, and yarn-themed greeting cards."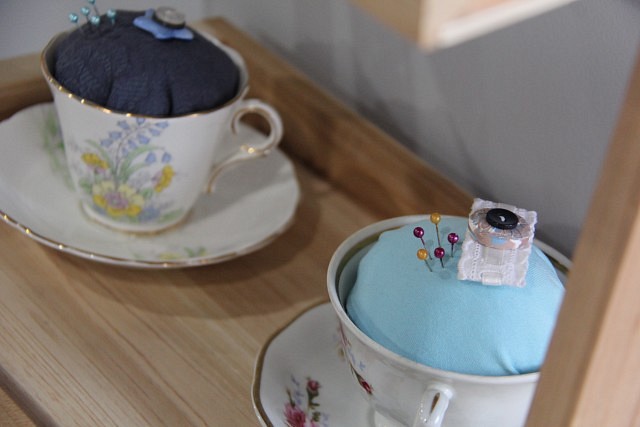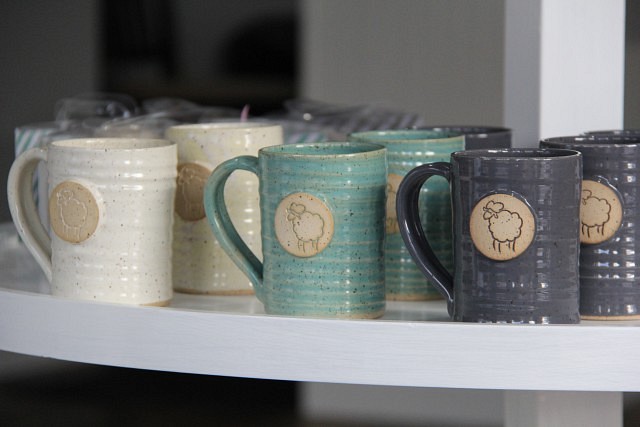 The store also carries a variety of bits and pieces, with hooks, needles and other equipment the owners themselves use and trust and want to and feel comfortable sharing with their customers.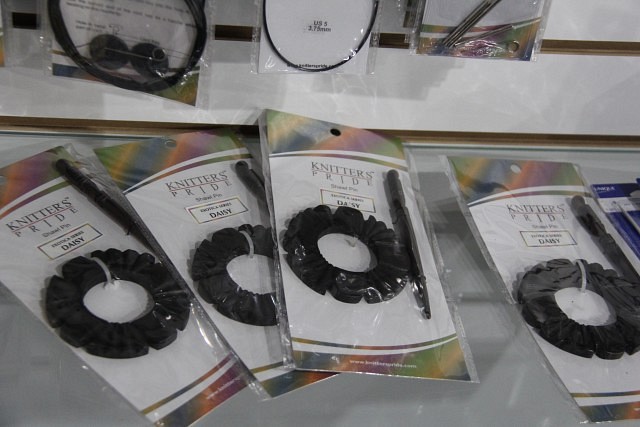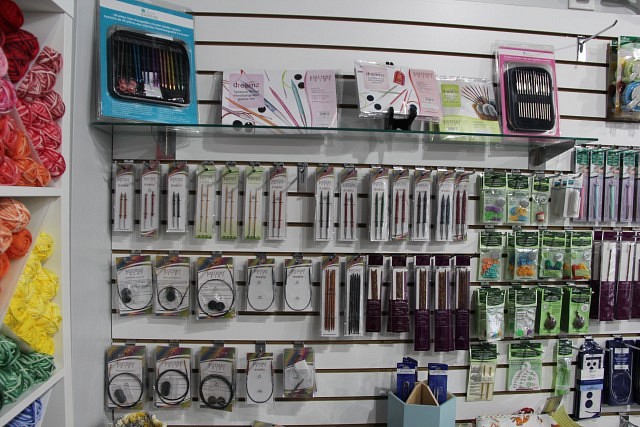 The store also features a "Lending Library" with books that either come from Kate or Andrea's home or has been donated. "There are a lot of pattern books so you can borrow a book and just try it out without having to buy an entire book for a single pattern," Kate explains.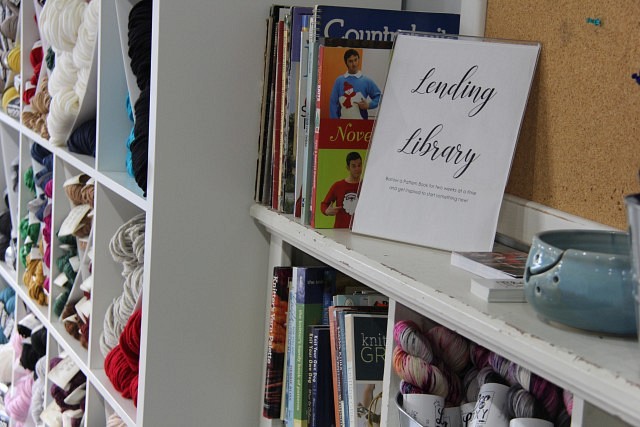 "If there is one thing I want non-crocheters and non-knitters to know is that we would love for people to come and try it out! Don't be intimidated; this is a craft that is within reach for anybody," Kate says. "It is calming and relaxing to do as a hobby; you can't be thinking about other things while crocheting or knitting, you have to be present in what you are doing."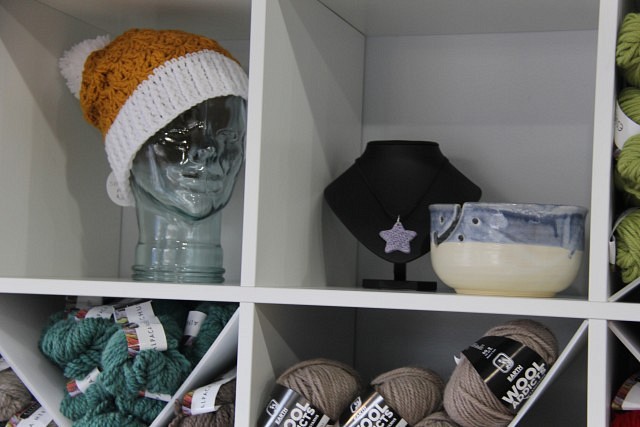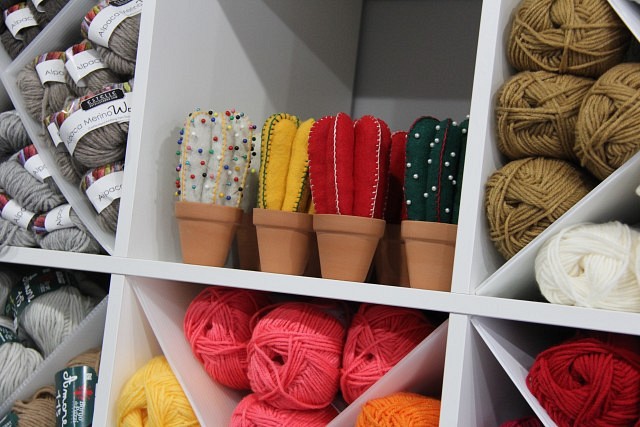 Some wools offered in the store are: sheep's wool, alpaca wool, merino, and cotton. They are looking to add linen and bamboo to the store once they are able to find a good supplier for it.
The store has demonstrations, like one for spinning that has been done recently, as well as workshops for skills such as basic mending. In addition to that, there are classes such as Crochet 101 for beginners to the craft as well as Learn to Knit, needle felting classes, and social events such as Stitching Social and Craft for the Community. Social nights have become something special to the owners with regulars starting to develop, and pupils on occasion bringing snacks to be enjoyed by everyone.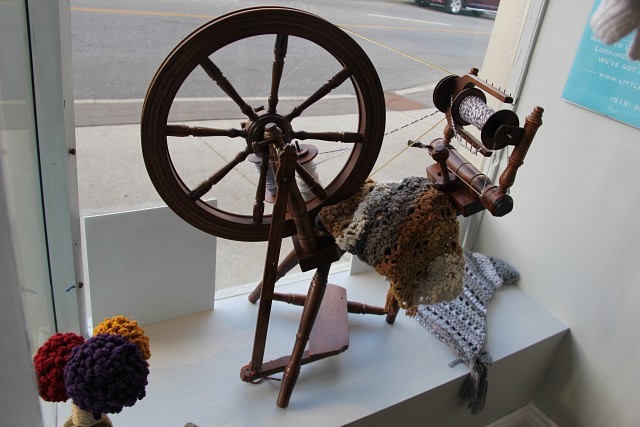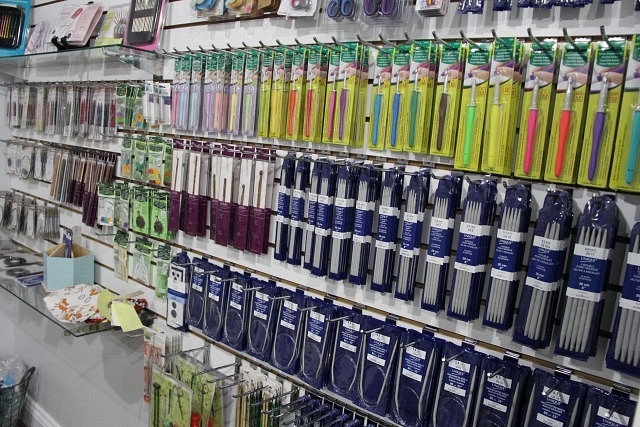 While the pair does on occasion knit finished goods to sell, they are primarily in the business to help their customers learn how to make it themselves.
Learn more about what Little Sheep Yarn Boutique has to offer on their website here, and keep up to date with what they are doing on their Facebook page here.
Visit the shop and take a feel for yourself of the many colours of yarn offered at 1505 Ottawa Street.