Windsor And Essex County Wear Jerseys for Humboldt
Thursday April 12th, 2018
Posted at 4:50pm
Hello time traveller!!

This article is 1094 days old.

The information listed below is likely outdated and has been preserved for archival purposes.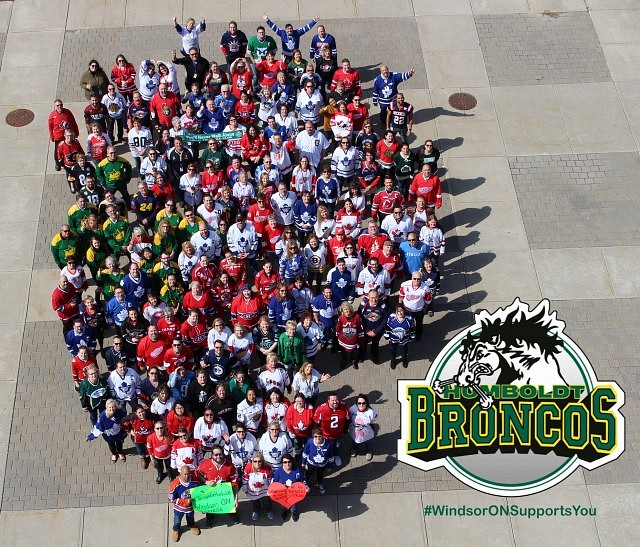 Schools and workplaces across Windsor and Essex County joined all of Canada in wearing jerseys to show support for Humboldt.
Here is juts a sample we found on social media.
From our Training Branch, to our Communication Centre, to our Administrative Support Personnel and beyond – Tremendous participation for #JerseyDay with our Service in support of #HumboltBroncos .
Donations can be made directly to the campaign at:https://t.co/HmcF2NtzfW pic.twitter.com/A7yQe6XSGy

— Windsor Police (@WindsorPolice) April 12, 2018
Thoughts and Prayers for Humboldt. You are not alone! From staff at Town of Tecumseh, Ontario #jerseysforhumboldt #homboldtStrong #homboldtbroncos pic.twitter.com/dwnC2CzXH6

— Town of Tecumseh (@TownofTecumseh) April 12, 2018
#LaSalle, ON supports #HumboldtBroncos #jerseysforhumboldt #humboldtstrong @VollmerComplex pic.twitter.com/XMKTLnPfnN

— Town of LaSalle (@TownofLaSalle) April 12, 2018
We stand with #HumboltBroncos !! pic.twitter.com/NBY3YzCJzb

— LaSalle Police ON (@LaSallePoliceON) April 12, 2018
Town of #LaSalle Councillor Jeff Renaud and Mayor Ken Antaya support #humboldtbroncos #jerserysforhumboldt #humboldtstrong pic.twitter.com/bH0nqGhCwH

— Town of LaSalle (@TownofLaSalle) April 12, 2018
City of Windsor staff observing Jersey Day to support the Humboldt Broncos community. #YQG #HumboldtStrong #WindsorONSupportsYou pic.twitter.com/zeeJsVNRRB

— City of Windsor (@CityWindsorON) April 12, 2018
#HumboldtBroncos our thoughts and prayers are with you all #humboltstrong pic.twitter.com/Hk7lMhRz18

— Town of Amherstburg (@Aburg_TownHall) April 12, 2018
Our Pre-Service Firefighter students are showing their support for the Humboldt Broncos hockey community today 💚💛 #HumboldtStrong #JerseyDay pic.twitter.com/zCv4aGBtaY

— St. Clair SRC (@StClairSRC) April 12, 2018
#amherstburg PWD supports #HumboldtBroncos #humboldtsrong pic.twitter.com/9TyaEgmv8G

— Town of Amherstburg (@Aburg_TownHall) April 12, 2018
Today, our Paramedics show support to the Humboldt Broncos, by wearing green with their uniforms and placing sticks outside their bases. For those looking to help the families, click the link below to donate. #HumboldtStronghttps://t.co/10RmBows23 pic.twitter.com/clegvVsJwZ

— Essex-Windsor EMS (@EssexWindsorEMS) April 12, 2018
SJV Stars are #humboldtstrong. #jerseysforhumbolt pic.twitter.com/OKyTJhgISl

— St. John Vianney (@StJVianney) April 12, 2018
Assumption sending prayers and thoughts to the Humboldt Broncos community @WECDSB @HumboldtBroncos #jerseysforhumboldt #PrayersForHumboldt #HUmboldtStrong 💚💛 pic.twitter.com/U3mwV9pL82

— Assumption H.S (@AssumptionH) April 12, 2018
.@WECDSB is #HumboldtStrong #JerseyForHumboldt #PrayersForHumboldt pic.twitter.com/hYpI5NTEgx

— WECDSB (@WECDSB) April 12, 2018
#humboldtstong pic.twitter.com/qq44Czww5K

— Mme Melanie George (@mmegeorgeTVA) April 12, 2018
All throughout our two campuses today, WRH employees, professional staff and volunteers proudly expressed their support for the victims of the @HumboldtBroncos bus tragedy. #HumboldtStrong #jerserysforhumboldt pic.twitter.com/XdKhaCcMLz

— Windsor Regional (@WRHospital) April 12, 2018
Some hospital staff who needed to wear their uniforms wore gold-green ribbons made by security guard Lise Desmarais so these staff could take part. The green in the ribbons also remind us of #organdonation and the Gift of Life. #HumboldtStrong #JerseysForHumboldt @TrilliumGift pic.twitter.com/8rbK1DsX23

— Windsor Regional (@WRHospital) April 12, 2018
HDGH is #HumboldtStrong #JerseyForHumboldt pic.twitter.com/pbibx9InoY

— Hôtel-Dieu Grace (@HDGHWindsor) April 12, 2018