Post Productions Brings Its Doubt Onstage
Sunday January 28th, 2018
Posted at 10:00am
Hello time traveller!!

This article is 1179 days old.

The information listed below is likely outdated and has been preserved for archival purposes.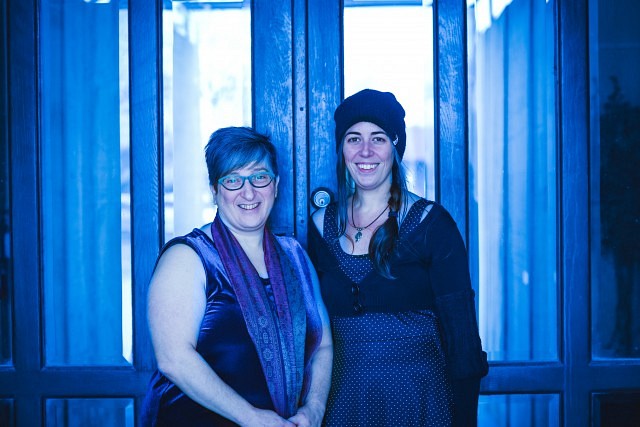 After much construction and 20 weeks of rehearsals, Post Productions is ready for some drama.
Moving into the Shadowbox Theatre, the group is set to make an impact. Having planned a performance of Irish playwright John Patrick's Shanley's Doubt before finding the facility, the play will now open the venue (located at 103B – 1501 Howard Avenue) on Friday, February 2nd.
On a production bucket list for Michael Potter, the change created some challenges.
"When we first scheduled Doubt to open our 2018 season, we didn't know we'd have the Shadowbox Theatre," said Post Productions' managing editor. "We just had no idea that plans would accelerate so quickly. In fact, we'd already made arrangements to produce Doubt at SHO on Monmouth, where we'd staged Oleanna and True West. When we found out during True West that we got the space that would become Shadowbox, we had to re-organize and re-orient ourselves to stage it in a different way."
JoiningPost Productions artistic director Michael O'Reilly and creative director/Doubt producer Fay Lynn, Tova Perlmutter expressed interest in directing the show: From there, it didn't take long to decide it would be a strong way to start 2018.
"When we discussed the 2018 schedule, Doubt struck us as a strong way to open the season," said Potter. "It's bold, accessible, weighty, intense and it offers excellent roles for four actors. Every character gets at least one incredibly powerful scene, which is important to us. We knew great actors would want these roles – and they did! "
Set in 1964, Sister Aloysius suspects Father Flynn of molesting their Parish school's first black student. The situation gets brought into the open, putting the boy's mother and teacher Sister James in the middle.
With many layers, the Pulitzer and Toni award winner will give people lots to digest.
"At a very basic level, Doubt is about the conflict between the human yearning for connection—for love and community—and the possibility that predators will take advantage of this urge," said Perlmutter. "In today's world, I think most of us get confused about when to trust people, when to believe their stories and when healthy boundaries require accountability and yes, judgement of others' behaviour."
Auditions were held on August 30th and rehearsals began in September. Starring Niki Richardson as Sister Aloysius, Eric Branget as Father Flynn, Carla Gyemi as Sister James, and Jennifer Cole as Mrs. Muller, the play is made up of three Windsorites and one actress from Detroit.
With theatre construction ongoing, rehearsals have taken place at The Roast House since mid-September. Gennaro's owner Enzo uses the facility to roast coffee beans and has lent the space to the group since May 2017.
Despite not rehearsing at Shadowbox, the cast has been on point from the start.
"We've had a strong cast since the first rehearsal, and they've only gotten stronger," said Lynn. "The honesty that's coming out of their performances has been captivating and impressive to say the least."
Working with a limited budget, placing the play's nine scenes in their four settings presented another challenge. As a result, set designer Matthew Burgess created a concept to convey physical and mental space. Using shadow, light and material objects provides what Perlmutter describes as "gestures towards the settings."
Although it may sound simple, a lot of work went into the idea.
"[Our set] is currently being constructed by [Burgess] and John Flynn," said Potter. "It's a work of art. Matt created a 1:24 scale model of the set before he started building it. It's a minimalist approach to creating the illusion of the various locations used in the play, a design that uses lines and negative space to let the audience know where the action is happening."
The managing director has also been working on other elements of the show. After getting a Wishlist from Perlmutter, he's been basing the light design off her specifications. Only having a month for construction however, no permanent lights have been installed in the Shadowbox Theatre. This has led the managing director to work with rented lights, a challenge he's enjoyed.
Of course, sound is also important. Thankfully, Potter has had some help with that.
"Sound is a big part of this show, as it was for True West," he said. "[O'Reilly] and I are working together on sound design, again based on [Perlmutter's] vision. In addition to standard sound effects, there are soundscapes being created to bring to life the transitions between locations and to set the mood at the beginning of the play. How do you make people feel like they're in the Bronx in 1964? That creates some exciting challenges."
As if that wasn't enough, a production set in the 60's also needs a specific wardrobe. Because of this,, Esther Van Eek from the University of Windsor's School of Dramatic Arts will partner with the group for the first time. Ensuring everyone expresses themselves in period-appropriate clothing, her attention to detail is crucial to an immersive experience.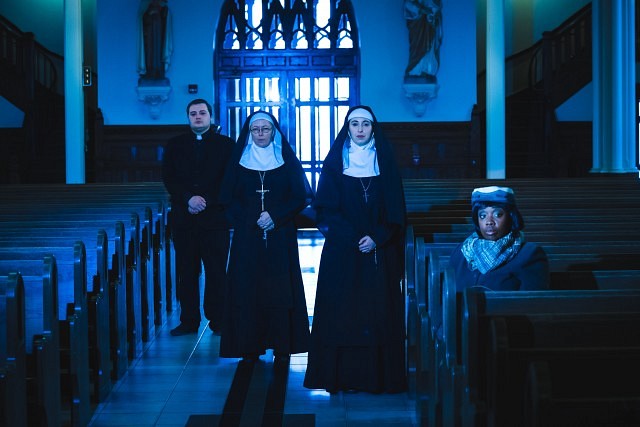 In addition to clothing though, this setting also presented another challenge.
"One interesting technical aspect of this production is that the actors need to convey 1964 Bronx by the way they speak as well as their costumes, the way they hold their bodies, and of course the words they use," said
Perlmutter. "We spent a lot of time working on New York accents and I think the cast's success at it has really helped them develop believable, intense characters."
Putting so much work into the performance, those involved want everyone to be entertained. In addition to showing off their new theatre, Post Productions hopes people keep an open mind.
Although some may jump to conclusions, the producer explains it's not that simple.
"It's easy to look at the summary of this play and draw a conclusion of guilt," said Lynn. "I think it's important to challenge our own biases. It's important to pause and listen to both sides, both perspectives, of any situation where the raw facts are unknown. It's easy to assume the wishes of the playwright, and stage this show according to who's 'right' and who's 'wrong.' It's easy to pick a side and stick to it. It's hard to ask ourselves why we feel so certain. Certainty without evidence does not equal fact beyond doubt."
Performances will take place on February 2nd, 3rd, 8th, 9th, 10th, 15th, 16th, and 17th at 8pm with doors opening at 7:30. While tickets will be available for $20 at the door, those interested are encouraged to buy them online to avoid being turned away by potential sellouts.
For more information on Post Productions' upcoming plays and season passes, people can visit their website or facebook page.