Local Musician Creating Good Vibes With New Album
Friday June 9th, 2017
Posted at 2:53pm
Hello time traveller!!

This article is 1356 days old.

The information listed below is likely outdated and has been preserved for archival purposes.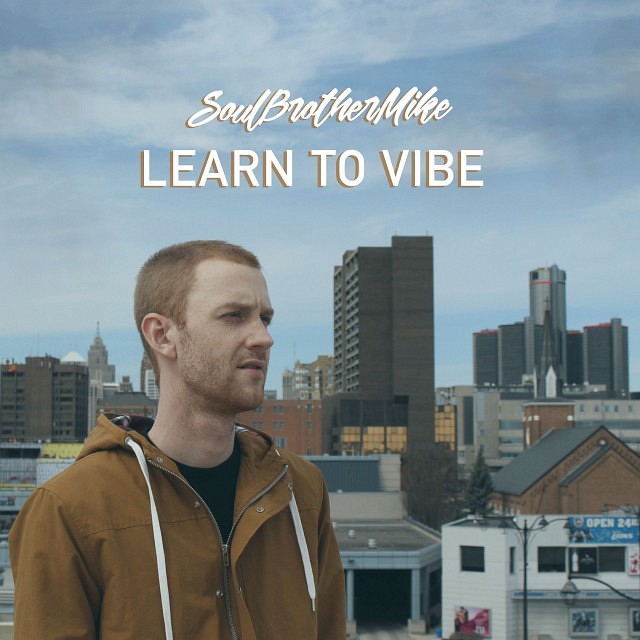 While there isn't a manual on learning to vibe, one local musician has found the blueprint.
Eight years after his last solo release, Soul Brother Mike (real name, Mike Hargreaves) is back in the spotlight. Releasing his album Learn To Vibe last month, the Windsor musician has been promoting the material ever since.
Despite the long hiatus however, Soul Brother Mike has kept himself occupied in the meantime.
"It has been a while since I released an album on CD as a solo artist, but I've been writing and recording music nonstop over the past decade," he said. "I was the main vocalist and songwriter in the band Michou from 2007 to 2012, after which I stepped away from the centre spotlight and took on the role of songwriter, arranger, bass guitar player and back up singer in the Walkervilles."
Beginning his career as a lead vocalist, the transition back to the forefront has felt natural to the musician. Hargreaves is flattered by the reception he's received so far and enjoying the freedom he's gained by producing the record himself.
Even though it's more work, he actually felt quite confident about the process.
"I have co-produced all of my previous albums and have learned some incredible techniques from some A-list producers like Grammy-award winner Gordon Williams (Amy Winehouse and Lauryn Hill,) Gordie Johnson of Big Sugar and Eric Ratz (Metric and Billy Talent,) along the way" said the musician. "I've always been involved in the arrangement of all aspects of my music from drums to vocals and felt comfortable composing everything. The most difficult part was engineering and mixing the album, but modern technology has made it fairly simple for amateur engineers to get a decent sound. I'm very happy with the final product."
The end result is a collection of songs that shuffles through several styles. While feeling contemporary, soul and R&B are at the core of the record. Hints of blues, funk and jazz also influence the nine tracks as well.
Another big part of the album is guest musician Kelly Hoppe from Big Sugar. Playing the trumpet and saxophone on Only In Love, What's The Deal and Sticky Love, Hargreaves considered the contribution from his friend to be an honour.
"[Hoppe] has been a mentor to me, and having him be a part of my album was an honour," he said. "Our conversations about music get incredibly deep and there have only been a few people in my life willing to go into that kind of depth with me. His knowledge of blues music and soul music is rich with historical perspective and although I've kept my sound on this release relatively contemporary, he shares my passion for some of the more obscure roots of soul music that have influenced the heart of my songwriting."
The two first met during Soul Brother Mike's time in the Walkervilles. Needing a saxophone player after Katie Moore left for a teaching position, the two hit it off. Soon after, Hargreaves started charting horns for him to play on their Texas album, Return Of The Cool/Soul Bros.
Both musicians have been close ever since.
"I'm proud to now have him as one of my closest friends, and we even play trumpet together recreationally when we have the time," said Soul Brother Mike. "We both believe that developing a musical ability is a good in and of itself. It's that attitude that defines our relationship and drives us to become better musicians."
Looking to make a mark with his work, Hargreaves hopes listeners connect with his positive messages while promoting creativity. Putting a lot of detail into the music and experimenting during the album sessions, he wants both casual listeners and musicians alike to take something away from their experience with the record.
Beyond that, the artist wants to share something he feels is important to our culture.
"It's also my goal to represent soul music in Canada," said Hargreaves. "Soul music has been successfully and creatively developed in the US and UK, but there is lots of room for Canadians to contribute to the conversation."
Speaking of contributing to the conversation, Soul Brother Mike will celebrate the release of his album this weekend. Taking place at Villains Beastro (256 Pelissier Street) on Saturday, June 10th, doors will open for the special show at 7pm and admission is $10.
"I'll be playing with a band that includes Kelly Hoppe on sax, Keith Wilkinson on bass, Taylor Unis on drums, Brendan Scott Friel and Crissi Cochrane singing backup vocals," said Hargreaves. "[Friel] will also be playing an opening set."
Those wanting to buy a copy of Learn To Vibe can do so at the concert or find the album at Dr Disc (471 Ouelette Avenue,) Soul Brother Mike's website, on iTunes, Spotify, and everywhere digital music is streamed or sold.
In addition to his music, Soul Brother Mike co-hosts the Get Collected podcast with his wife Cochrane. The two promote their performances on the show and also talk about music, poetry and politics. They share their latest work as well, including unreleased tunes and songs exclusive to the podcast.
Those interested in checking out their podcast can do so on Soundcloud, Soul Brother Mike's website and Apple podcasts. Two short episodes are released weekly on Tuesdays and Thursdays.