Video Shot On Boblo Island Goes To Dark And Beautiful Places
Monday April 17th, 2017
Posted at 4:31pm
Hello time traveller!!

This article is 1416 days old.

The information listed below is likely outdated and has been preserved for archival purposes.
From death row to suicide, one local director came home to capture some beauty in darkness.
Growing up in Amherstburg, Gavin Michael Booth is no stranger to Boblo Island. As a child, he had a season's pass to the amusement park and his dad's company held family picnics there annually.
Now in adulthood, the director returned to film a music video for SYML's Where's My Love? Given its subject matter, this trip to the island represented something much different for Booth.
"The concept is simple," he said. "We meet a young woman walking through a field and entering the woods. As the video progresses, she begins to shed her possessions and eventually her clothing too, preparing to take her own life. It is dark yet I think beautiful at the same time to be with someone at such a crucial and intimate place in their emotional struggle."
The director first met SYML (which is Welsh for "simple") in the Grand Cayman Islands during another collaboration. The singer for Seattle-based Barcelona, whose real name is Brian Fennell, was in the studio co-writing songs with Third Eye Blind. When the artist mentioned needing a video for this song, Booth pitched his idea.
It was a concept he had for a long time. Inspired by the lyric "there's beauty in the breakdown" in Let Go by Frou Frou, the director wasn't able to use his idea until now. Amazingly, Booth's vision for the video was untouched and actually benefitted from the time: With advances in technology, he was able to take several overhead shots with a drone — the only way to do so 10-years-ago would've been to use a helicopter.
With easier ways to shoot, Booth knew where he could make his vision a reality from there.
"Having access to a boat, I can't deny having taken the trip over to explore the island several times," he said. "I knew that the majority of the island has been untouched for years and would work perfect as the remote forest setting the video required. The woods are virtually untouched. You don't find litter and you get a real sense that our character has walked out into the middle of nowhere, far from society's eyes. I really wanted her isolation to grow as the video builds but at the same time have a constant visual reminder that help is not on the way."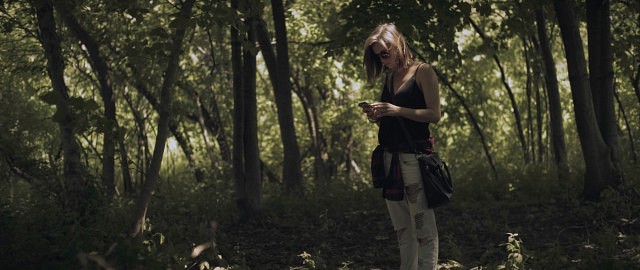 To focus on Windsor-born actress Tanya Bevan emotions, the camera was kept on her during the clip. Using a steady cam, most shots remain square on the subject as she moves through the woods to meet her ultimate fate. The end result showcases someone's raw emotions at a dark time and contrasts them with the nature they're surrounded by.
Aside from being a perfect location visually, there were other benefits to the island. Booth was already filming another four videos that week and wanted to do this one with the same crew — most notably cinematographer Karl Janisse. Needing a shoreline or lake beach and having a level of nudity in the video, the location also provided more privacy and comfort for Beven's.
As far as the video itself, Booth admits that his mind ventures to some dark places at times.
"My brain lives in a dark place a lot when it comes to ideas so darker subject matter is always lurking," he said. "I'm fascinated by stories at are a little more raw. Filmmaking that isn't as polished or traditionally plotted. Music videos like this, shot like a short film offer me the opportunity to play with those raw emotions, raw characters often. I'm an incredibly happy person but for whatever reason I'm drawn to this kind of darker feeling material."
Since being posted on youtube, Booth's video for Where's My Love? has received over half a million views. SYML has also signed a music deal with Nettwerk.
Check out the video here.