Help Shima Find A Home
Saturday February 18th, 2017
Posted at 1:00pm

Hello time traveller!!

This article is 520 days old.

The information listed below is likely outdated and has been preserved for archival purposes.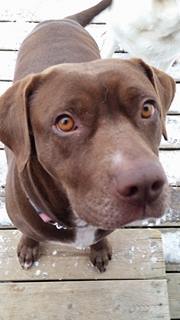 Written by Second Chance Animal Rescue:
Hi my name is Shima. They named me that because it means "Mother" and I am a mother to many, many babies which is what I thought I was supposed to be doing in my life. Then, one day, my owner took me away from my babies and brought me to a place that had a lot of other dogs. It was loud and scary and I heard the other dogs call it a high kill shelter… whatever that means. All I knew was that I missed my babies and I worried about them because I still had milk for them and I wanted to feed them.

I also heard the other dogs say that when the shelter gets too full, some dogs go for walks and never come back. I asked them where they go and the other dogs said they get put to sleep. I didn't want to die, I wanted to live, but who would want a dog who has been used over and over for breeding? I am a sweet and gentle girl, don't I deserve a loving forever home too?

One day someone came to my kennel and put a rope around my neck and took me for the walk. I thought that this was it, I thought my life was over, I thought about my babies and I hoped that they were in loving homes. I wished I could have a loving home, but I guess it wasn't meant to be. I walked slowly beside the man who had the rope and I gave him a kiss and told him it wasn't his fault. When we walked through a door everyone was happy and cheering and I couldn't understand why. They said that I had been saved and I would soon be getting a forever home of my own. Wow, my very own loving forever home? I was happy but a little scared because I didn't know where I was going, but everyone was so nice. They put me into a van and brought me to a place they called a boarding kennel where they treated me great and said that I was going to be a Canadian Girl (whatever than means)! I didn't care, I was just happy to be alive!

Then they took me to a place called the vets and took some blood. That's when we found out that I had something called heartworm. YUCK, I certainly didn't want worms in me! Now I had to stay here longer to get treatment before I could travel, so they brought me back to the kennel. When I started to feel sick they rushed me back to the vet's office again where they found I had a bad case of kennel cough which had to be treated before they could treat the heartworm (gosh, that meant even more time until my journey could begin). I must admit, they took really good care of me while I was sick.

Everything was new to me here… I got to sleep inside and had a soft blanket – I didn't need to dig holes to find a spot to keep warm or try to find a place to keep out of the rain – it was really nice. They even brought me into the office to keep me calm while I had my treatment for heartworm.

After I got the poison injections to kill the worms I was ready to travel they put me on what they call a transport and I headed for this place called The Great White North! They told me it was cold there but when I arrived it was actually warm and I met some really nice people who have been taking good care of me. I currently live with my foster-sister who has taught me many neat things. She welcomed me into her home and we have become really great friends. Although I wasn't too sure about things at first – I didn't know that I could sleep on a bed or a couch (they're my two favorite places to sleep!) and I love to steal my foster mommy's spot whenever I can and snuggle with her. My foster-sister doesn't mind cos we take turns LOL!

Just my luck, I started to feel sick one day but my foster mommy noticed and rushed me to the vet's office. That's when they decided that I would need to be spayed earlier than was intended because I developed Pyometra (an infection in my uterus that could have become serious if not treated right away) after my heartworm treatment so they made the decision that I should be spayed right. They gave me an injection and I felt sleepy but my foster mommy stayed with me and assured me that everything would be ok. I fell asleep and when I woke up my foster mommy was still there telling me everything would be ok, but I felt weird. I heard them talking about having to cut me two times because I had a really big umbilical hernia that needed to be removed. Again, they said that I would be ok and that I would just need a little longer to recover. My foster mommy took me home and has been taking wonderful care of me.

Guess what? I have now fully recovered from my surgery, have tested negative for heartworm and I feel like a whole new doggy! It has almost been one whole year since Second Chance Animal Rescue pulled me from a high kill shelter the day that I was to be put to sleep. The people there saved my life three times and I will always be very grateful to them for that but, I am now ready to find my forever family who will love me and take care of me everyone else along my journey has.

I am looking for a family who is home more often than not as I do get nervous when nobody is home. If you have another dog like my foster mom does I am very cool with that because I LOVE to play with dogs about my own size (some bigger dogs do intimidate me but, with proper introductions, I would be ok). I have come to enjoy these things they call stuffies (they remind me of my babies) and I would love it if you could get me LOTS of them! I enjoy walks very much and my foster mom says that I am great on leash! I have lived with cats at my foster mommy's house… they are cool but sometimes I fixate on them and my foster mom will remind to leave them and I snap out it and lay down because I know it's wrong to chase the kitties. Oh yeah, one more thing, I would love if you would throw balls… the more the better and I promise to bring them back each time! But most of all I just want LOVE and attention. If you can give me this then I promise I will be your very best friend!

Thank you for reading my story.

Love Shima!

Shima is available for adoption through Second Chance Animal Rescue. Her adoption fee includes up-to-date vaccinations, deworming, flea treatment, neuter and microchip (and everything above!). If you're interested in making Shima part of your fur-ever family, please submit your adoption application at www.scarescue.org. Please note that Shima's future family must have a fully fenced yard because those rabbits and squirrels like to tease me and don't doubt for one second that I can't catch them (LOL!!) and, If you do not have another dog to keep her company during the day (she cannot be left alone for more than three hours) we would prefer to place her in a home with a retired couple who has the extra time to spend with her on daily basis.
Visit Second Chance Animal Rescue's website to find more information on how to adopt a pet!