Exposure To Tobacco Smoke Listed As Common Factor As Remington Park Cancer Cluster Report Released
Tuesday September 6th, 2016
Posted at 10:46am
Hello time traveller!!

This article is 1790 days old.

The information listed below is likely outdated and has been preserved for archival purposes.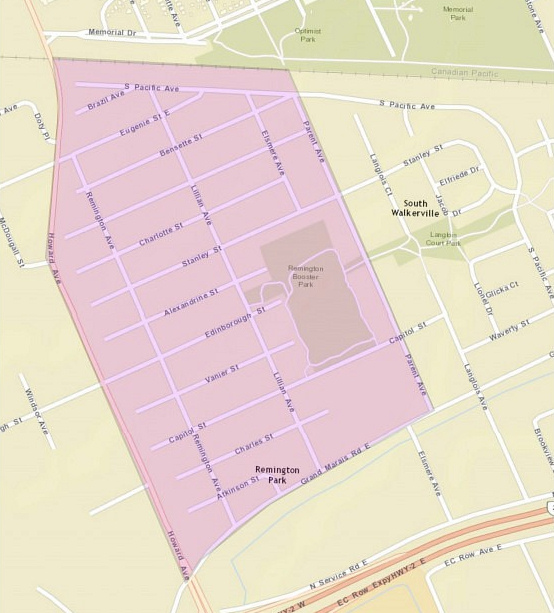 The Windsor-Essex County Health Unit has released its report on the Remington Park Cancer Cluster investigation and the common risk factor identified among all surveyed individuals was exposure to tobacco smoke.
Officials studied the 'cancer cluster' located in a part of Remington Park in Windsor after the rate of new lung cancer cases between 2000 and 2009 was 2.2 times greater than the Ontario rate. Other forms of cancer were not above the provincial average.
Information that led to the study came from Cancer Care Ontario which, according to the report, identified 24 individuals that met the case definition of "a person diagnosed with primary lung cancer between 2000 and 2009 while living in one of the four dissemination areas in the Remington Park area."
The report says due to privacy legislation it was not possible for Cancer Care Ontario to provide additional information to the Health Unit about the cases.
The Health Unit then developed a media plan including newspaper and radio interviews, and an online community survey to identify possible participants for the study.
In total, says between June, 2015 and January, 2016, 12 individuals (or their next of kin) identified themselves and were confirmed as meeting the case definition.
The Health Unit met with 12 people or their next of kin to find common exposures that could explain the lung cancer cluster.
The study's key findings were:
Lung cancer takes at least 10 years to develop after first exposure. It often takes 20-25 years. For this group, the earliest exposure could have begun in 1951 with the latest period ending in 1999.
The 12 people in this study were mostly male (10 male and 2 female) and their age at diagnosis ranged from 40 to 83 years. The average age at diagnosis was 62 years.
Family history is a risk factor for lung cancer and 3 people (25%) in this study had a family member (mother, father or sibling) with a previous diagnosis of lung cancer.
No data are available on residential radon levels for the 12 people in this study.
Job-related exposure may be relevant for 11 people (92%). Four worked in manufacturing, five in construction, two in transportation, two in metals, and one in pulp and paper.
Five people had hobbies that could increase their risk of lung cancer, including: car repair, woodworking (mostly hard wood), gardening, and arc welding.
Ten people or their next of kin had environmental concerns related to at least one of their previous homes. Air pollution from nearby industry, motor vehicle traffic, and rail transportation were concerns shared.
All 12 people in this study were exposed to first-hand or second-hand tobacco smoke. Nine (75%) were daily smokers ranging from a few cigarettes to two packs a day. Two (17%) were occasional smokers and the one non-smoker had lived in a home with a smoker.
In conclusion, the report said tobacco smoke was the only lung cancer carcinogen that all 12 people were exposed to.
Other risk factors were present, according to the report, but not consistent among all people.
The report says due to the difficulties and complexities associated with cancer cluster investigations, "most investigations are not able to accurately determine any specific cause."
A town hall is being held this Thursday, September 8th from 6:30pm to 9pm at the Optimist Community Centre so that the public can ask questions and participate.
You can read the full report on the Health Unit's website.