Local Company Raising Funds For First-Ever Braille 3D Printer
Saturday June 25th, 2016
Posted at 8:30am
Hello time traveller!!

This article is 1951 days old.

The information listed below is likely outdated and has been preserved for archival purposes.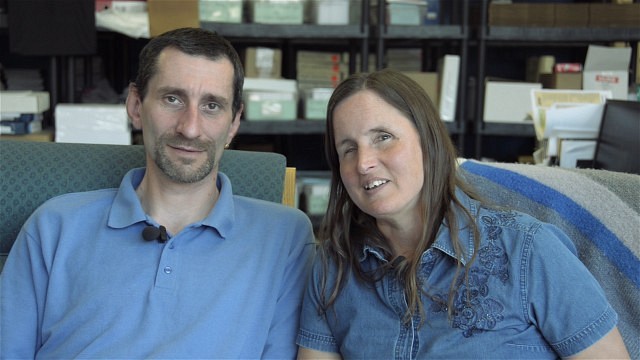 Spanning several countries, one business is adding another dimension to its next chapter.
Starting in Britain with her husband Emmanuel before coming home, Windsor-born Rebecca Blaevoet has been busy. Running Tactile Vision Graphics together, a company specializing in braille and graphic design production, the two have expanded greatly from operating off of two six-year-old computers.
"We seem to start every big task with a great idea and no capital," joked 48-year-old Rebecca. "We figured we could start our British company with our ancient computers; my husband designed our first website and I began transcribing braille using my old clunker of an embosser. Gradually, organically, we acquired braille embossers, we invested in a machine that produces tactile graphics and began to produce in volume. I think the myth is that you need state-of-the-art hardware in order for a business to succeed. Granted, it makes things easier, but ultimately, if you're not willing to put long hours in, it doesn't matter how much of a bank loan you took out, the business will fail."
Sticking to that philosophy, the entrepreneurs never buy anything they can't afford. Not wanting investors to control what they do, Rebecca and Emmanuel have fully dedicated themselves but feel the trade-off is worth it.
As such, their latest project is another example of being properly funded before making an investment. Looking to create braille content consistently, the pair have been trying to find a 3D printer that can handle the job.
After searching far and wide however, they've realized that no such thing exists.
"Blind people have had to put up with limited or poor-quality alternate formats for years and years," said Rebecca. "When the idea of 3D printing started to surface at blindness trade shows, my husband seized the opportunity to begin testing the idea of producing braille. We were so excited to see the MakerBot produce dots! They were little cylinders, not the right size, but hey, they were dots. Braille traditionally is produced by hammers punching dots into paper. Those dots are traditionally grouped into cells of six, two across and three down. The dots are rounded and are at a height where they can be easily felt, but not so high that they obstruct your fingers from tracking over them."
Although it's possible to print braille with current 3D printer technology, inconsistent results would make it unreadable to the blind: Poor quality can make the difference between easily reading text and getting confused almost instantly.
"That's the thing about braille," Rebecca continued. "It must be of a specific size so your fingers can feel an entire cell as they track across a line in a smooth motion. If braille is too small, too tightly compressed, the dots too shallow, it takes an inordinate amount of time to decipher it. We have tested several different 3D printing technologies and found all these things problematic: dots too small, too shallow, too close together, not the right shape. They might be too pointy, too jagged, too square."
Not letting that stand in their way, Rebecca and Emmanuel have taken to Indiegogo and started a crowd-funding campaign. If they are successful, the owners of Tactile Vision Graphics are set to get the first braille 3D printer built themselves.
Raising $1,151 of $15,000 with 11 days left as of this writing, a lot of support is needed. Still, reaching their goal would mean easier access to different materials for the blind.
It's a far cry from when Rebecca first started her education in the 70's. While the library was well-stocked with braille titles at the school for the blind in Brantford, it wasn't always the case elsewhere. Students were expected to take whatever they got, no matter the quality.
"We somehow grew up internalizing that any access to information was better than nothing," she said. "I have had to unlearn the notion of being grateful for any exceptional provision, the notion that if there were mistakes in the graphics, we shouldn't complain because someone worked hard to produce them at all. This was of course never articulated, just implied. We knew how long it took to glue strings, rice Krispies and sand paper to pieces of paper and then melt sheets of plastic over them to form a mould. If it was wrong, you'd have to start from scratch. This attitude prevails to this day. Children in school are sometimes made to feel that they are lucky if their teachers know braille because it's difficult to learn and a niche population uses it."
Blind at birth, Rebecca is no stranger to the format either. In addition to learning it herself, she's also taught braille to others. Even so, Rebecca didn't follow this path until taking a few detours first: After graduating from high school, she travelled to Ottawa and majored in Russian and Slavic studies.
Oddly enough, a lack of braille material influenced her life there too.
"I started with the goal of becoming a translator but the head of the translation department actively discouraged me from attempting it, insisting that there was no accessible material and that I wouldn't have a chance," said Rebecca. "Astonishingly, I believed her! I studied Russian in the mid-80s and of course there was little material in braille. I collaborated with my sighted classmates, we studied together and I think all of us benefited from the collaboration. We aced the courses."
Despite overcoming many challenges and finding success, she eventually ended up at a crossroads. Turning 27 and not wanting to pursue the career options based on her degree, Rebecca began looking at a different path.
"I was starting to conclude that like it or not, blindness was a card I'd been dealt and I could play it or hold it," she said. "I was starting to feel that I should be somehow giving back, being a pretty lucky person. I was having lunch with the former librarian from the school for the blind and she suggested I have a look at a college programme which trains vision rehabilitation teachers for the blind. It was August, 1994, the course started September 5, I went down to the college and registered that day."
After completing the program, Rebecca was offered four different jobs. With Visa complications preventing her from working in Montana, she took on temporary contracts in Owen Sound and with the Canadian National Institute for the Blind (CNIB) in Windsor. After leaving to join an Orthodox women's monastery in California (she admits it's a long story,) Rebecca moved back to Canada and returned to the field of support for the blind five years later.
Assisting mostly working-age people in downtown Toronto, the vision rehabilitation teacher joined Balance for Blind Adults. Wanting to help people at a younger age, she then taught at the school for the blind in Brantford.
Everything led up to meeting her future husband in 2009. Having been introduced by a friend that summer, Rebecca and Emmanuel were engaged By Christmas that year, moved to Britain and got married the following spring.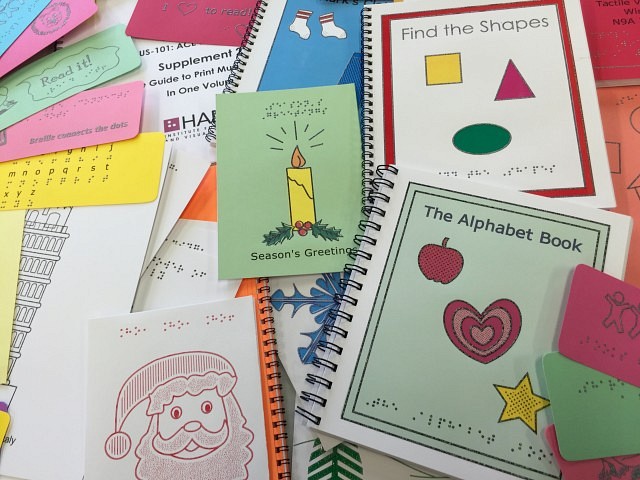 While some challenges arose from this, they also planted the seeds for her current adventure.
"When I got married and moved to Britain, the British government not only forbade me from working but even from doing volunteer work, positing that I would potentially be taking jobs away from Brits," said Rebecca. "I had to wait till my residency visa came through. In the meantime, my husband and I talked about starting a company. I wanted to specialize in language translation as I spoke French, Spanish, Russian and Welsh. We explored the market and realized that we would be competing against Google Translate and overseas sub-contractors who operate for fractions of a penny per word. He said: "Why don't you specialize in braille?" I said "Are you nuts? No one BUYS braille!"
Emmanuel then explained that new legislation had been passed, forcing companies and public sector organizations to provide materials in accessible formats. After confirming it for herself, Rebecca started to see how specializing in braille could be profitable. Even so, her past experiences with the format and perceptions around it left her feeling skeptical.
Moving past these fears, she soon realized her expertise was a benefit. Using their two six-year-old computers, Rebecca's knowledge and a website designed by Emmanuel, they began receiving orders from theatres, career centres, blindness organizations and museums.
They also made a connection that brought things full circle for Rebecca.
"I called up a Canadian company which produced tactile graphics and asked if they wanted a UK distributor," she said. "They did, so We began advertising the greeting cards, maps and children's books from Tactile Vision Inc. on our British website. We also got orders for greeting cards in Japanese braille, brochures in multilingual braille and study books for church Bible studies."
Eventually the owners of Tactile Vision Incorporated decided to retire. Wanting people who understood and valued their techniques to continue the work, Rebecca and Emmanuel were offered the business. After sorting out the details, signing the papers and selling their home, the two entrepreneurs moved back to Canada.
Now in Windsor once again, Rebecca and her husband continue to enjoy success. As they move forward with their crowd-funding campaign, the former vision rehabilitation teacher acknowledges that being here is a better fit as well.
"I think North America is more open to the idea of entrepreneurship than Britain is," she said. "I also believe that having a Canadian accent is a possible detriment when working in Britain. It's the first question and the great preoccupation. So being back in Canada means I don't have to answer questions about my origins, at least, not to the same extent. My husband has to, though, every day. He's from France."
When all is said and done however, Rebecca is happy to be home.
"I think, too, as you get older, the value of roots increases," she concluded. "My family is originally from Windsor and there's something so wholesome about growing where you were planted. Maybe we all have a native soil. Maybe we flourish best there. I don't know. I certainly believe that moving back to Windsor was the best business decision we have ever made and one of the best life decisions, too."
Anyone looking to donate to Tactile Vision Graphics' crowd-funding campaign can visit their Indiegogo page. The company can also be found on facebook and at their own website.