Most Wonderful Time Of Year Arrives Early For Comic Book Fans
Saturday November 28th, 2015
Posted at 10:45am
Hello time traveller!!

This article is 1997 days old.

The information listed below is likely outdated and has been preserved for archival purposes.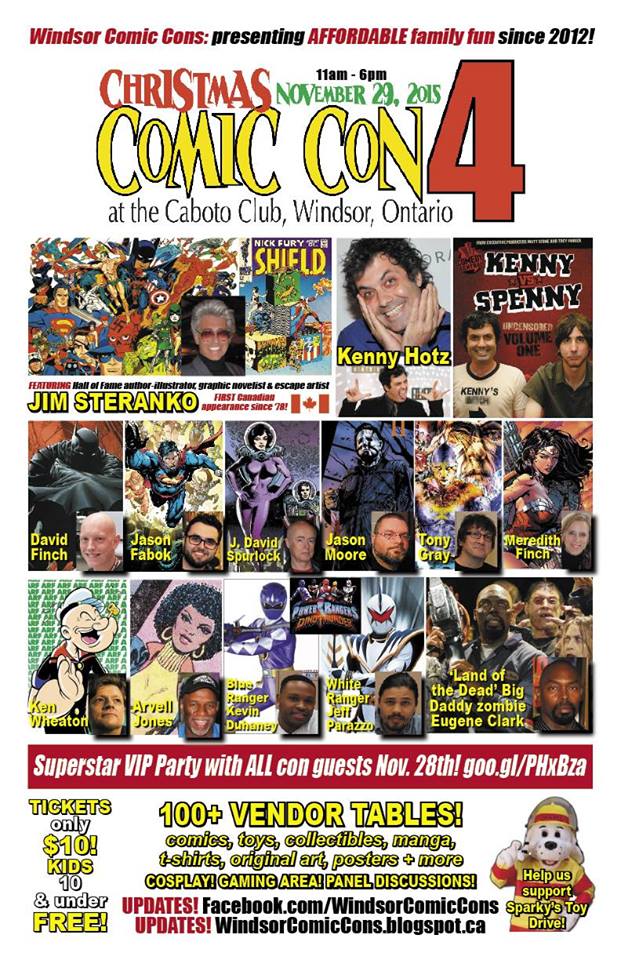 Christmas is coming just a little bit earlier than usual for local comic book fans this year.
Taking place a weekend earlier than usual, the fourth annual Christmas Comic Con (C3-4) is looking to be its biggest show ever. With over 100 vendors from far and wide, the November 29th event will have the Caboto Club jam packed.
With plenty of options available for Christmas shopping, the only hard part will be deciding whether or not to keep the gifts for yourself.
"This is easily our biggest show ever," said C3-4 organizer Mike Michalski. "With more than 130 tables of comic books, collectibles, toys, anime, manga, posters, DVDs, collectors VHS – even silent auctions on majestic framed photos where 75% of the proceeds will help support Sparky's Toy Drive. We also have a jam-packed artists alley, unique jewelry, watches – all with a superhero or movie theme. This show is going to be incredible."
Not simply a comic book shopping mall, there are also plenty of guests for people of all ages. From those with interests in comics to other forms of entertainment, C3-4 has everyone covered.
Speaking of covers, it's what's between them that made this year's guest of honour so famous. a legend in the industry, Jim Steranko will be on hand to talk about his groundbreaking work.
"I think we've added some great, unique guests – including Hall of Fame artist and true comic book icon, Jim Steranko," said Michalski. "He changed the game in the 60s with his work on S.H.I.E.L.D., opening up the medium to things like Op Art, Pop Art – even wordless panels. He's a true legend who hasn't appeared in Canada for 40 years. We couldn't be happier to present him to comic book and art fans throughout Southern Ontario."
Acknowledging the history of the medium, the convention also highlights contemporary creators from the area. Returning to the fold are artists Jason Fabok (Justice League,) David Finch (Wonder Woman) and writer Meredith Finch (Wonder Woman.) Fabok in particular only appears at three conventions a year and, being creators on two of DC Comics' flagship titles, they are all highly in demand.
Joining this talented roster are Tony Gray (artist/writer of GlassMonkey Studios' Tales of the Incredible Conduit,) Jason Moore (inker for Batman Haunted Gotham, The Incredible Hulk,) legendary comic creator Arvell Jones (All-Star Squadron, Marvel Premiere,) Ken Wheaton (Popeye, Futurama, The Simpsons) and J. David Spurlock (Vanguard publisher, comics historian.)
Branching off from comics slightly, the event will have people from TV and film. For adults, Kenny Vs Spenny star Kenny Hotz will make his first official convention appearance — one that's sure to have everyone talking by the end of it.
""Kenny Hotz is a wild card – and by wild, I mean his outlandish persona – that we know will really resonate with many of his rabid fans," said Michalski. "This is his first advertised comic con appearance, having done a cameo at Tony Gray's booth at the most-recent Fan Expo – where he was mobbed. This is recommended for adults only, as Kenny's style is, well, if you've ever seen an episode of 'Kenny VS Spenny' you can fill in the blank."
For horror fans, Eugene Clark will be in attendance and have a panel. Playing "Big Daddy" zombie in George Romero's Land Of The Dead, the actor is excited to meet fans and continue celebrating the 10th anniversary of the film.
Children won't be left out in the cold however. Beyond this year's new addition of Enchanted Adventure Parties' Kids Zone, Two stars of Mighty Morphin' Power Rangers Dino Thunder will make C3-4 a great experience.
"For the youngsters, we have brought back both Power Rangers from our Summer show, just because they were so popular," said Michalski. "Kids love meeting the Blue and White Ranger: Both Kevin Duhaney and Jeff Parazzo are so great with the fans. Don't miss your chance to meet two costumed heroes, and two even nicer guys."
Of course, it wouldn't be a comic convention without some cosplay too. Continuing the annual tradition, C3-4 will have a cosplay contest. Hosted by AM 800/CTV's Arms Bumanlag, prizes will be handed out for the top costumes.
Those not competing can also visit photo booths from Photo Hut instead. Located on the main stage until 4 p.m., you can get your picture taken with a Star Wars, superhero or villain background for $5. Prints are available instantly so people can even bring them home to use as Christmas card photos.
If these attractions weren't enough, Michalski also added a few more into the mix.
"We'll also have a full working Dalek roaming the convention for Dr. Who fans, "he said. " Darth Vader and two stormtroopers from Zap Zone and the 501st legion will be on hand, as well as Carla Homicide offering Homicidal Haircuts! Ever go to a con and wanna clean up? Now you can – if you dare! Dr. Stevil will brave the blade of the GlassMonkey Studios' villainess first… you won't wanna miss it! Lastly – we also have the Nomad Ghostbusters appearing, a non-profit authentically clad spirit-chasing group that vows to keep the con clean from all things that go boo in the night."
C3-4 admission is $10 but to promote literacy for children, those 10 and under get in free. The convention starts at 11 a.m. with doors closing at 6 p.m.
After working with the Coboto Club to put on Super Summer Comic Con in August, Michalski is looking forward to hosting his biggest event at the venue. Thanks to staff, the organizer says he'll continue delivering for fans of the convention.
"We're very much looking forward to working with the incredible staff at the Caboto Club again," he said. They're easily the most-professional and well-organized staff I have ever worked with. Our Christmas Comic Con is the highlight of our year, as well as the highlight of all southern Ontario shows. It's the original and the best – the fans tell us so! It's very rewarding to hear that. We do it for them!"
For more information about C3-4, including a VIP Party at GlassMonkey Studios tonight, those interested can visit their event page on facebook.