Social Media Gets Horrific In Live Short Film
Friday October 30th, 2015, 8:41pm
Hello time traveller!!
This article is 2953 days old.
The information listed below is likely outdated and has been preserved for archival purposes.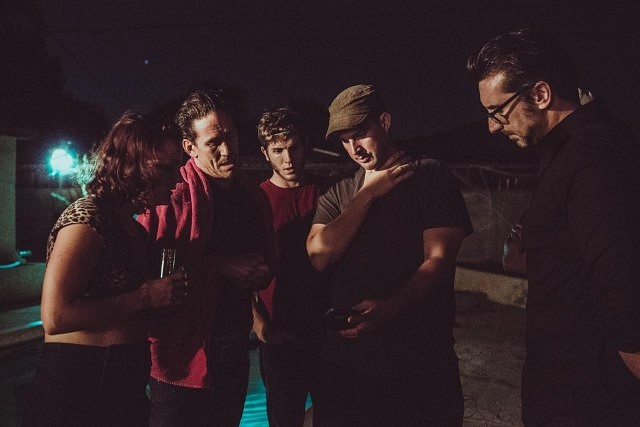 Continuing a nearly-annual tradition, a local director unveiled his latest nightmare last night.
After last year's world premiere of The Scarehouse and music video for Emma-Lee's Shadow Of A Ghost two years before that, Gavin Michael Booth has created a new monster. Born from an idea he had after using Periscope, Fifteen is a live short film that played out over social media.
"The short film Fifteen is the world's first live horror movie," said Booth. "We used Twitter's new Periscope app that let's anyone with a smartphone turn their phone's camera into a broadcast signal. Basically it's like FaceTime or Skype but you can share your live video with the entire world. Fifteen takes place through the smartphone of a serial killer who has decided to broadcast his murders, giving the police 15 minutes to try and catch him before he kills. It is a sick, interactive game he his playing with viewers watching and the police each night. The set up for the film is that he has killed several times before and the police are urging viewers to tune in and try to see if they recognize the neighbourhood, the house he's breaking into, the potential victims he's chosen before it is too late."
Encouraged by his manager Gina Rugolo to purpose the project, Booth then approached Blumhouse Productions. Famous for creating such found-footage horror films as Paranormal Activity and Unfriended, which takes place on a Skype hangout session, the director felt they would be receptive to his idea: It turns out his hunch was correct.
"I've had support from Ryan Turek from the moment I pitched the idea," said Booth. " Ryan is the Director of Development at the company. I previously had met with Blumhouse and bumped into Ryan socially a few times …the two of us developed a full story outline for the film and it was off to the races. We decided right before Halloween would be ideal and October 29th became our date to go live."
As the director focused on creative aspects of the film, Blumhouse provided the support he needed to get it off the ground. Turek gave Booth casting options, marketing ideas and different publicity angles for the project. Advice was plentiful and being associated with the Blumhouse brand ensured a wide audience would be able to experience Booth's vision.
Still, that doesn't mean the production didn't face some challenges. Being such a unique idea, it presented some unique issues that also had to be addressed along the way.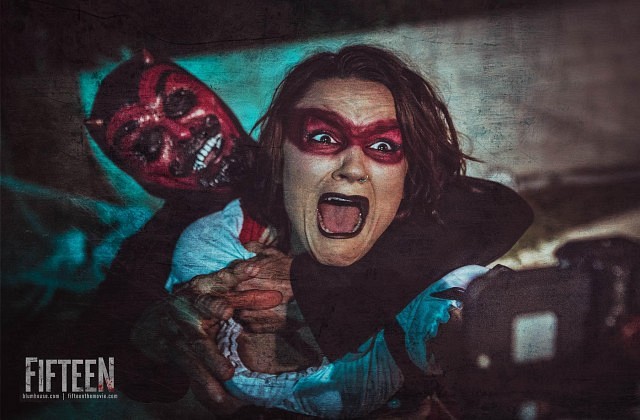 "I've always wanted to do a super long take film or film scene a la Birdman so I was excited to get started on this," said Booth. "The challenge is massive because anything can go wrong. There are real-time stunts, real-time special effects, the camera man IS the actor. So much can go wrong and my responsibility is to captain the ship through rehearsals, working out every little kink until the entire team is a well oiled machine. In many ways it resembles live theatre more than filmmaking."
Beyond lots of preparation, there were also elements out of everyone's control. Broadcasting with an app over social media, having their video connection drop out was a major possibility. All involved had to master Periscope to ensure they could tell a convincing story and it was done on a small budget. This meant few bells and whistles, casting actors who were collaborative, rehearsing long days and nights, giving fresh ideas, working in a chaotic situation and short schedule: No one ever said that being a social media serial killer was easy, after all.
Even lighting the shoot took special consideration. With the camera (a smart phone in this case) can move 360 degrees, light stands and cables can't be showing on set. Because of this, practical lighting and lamps were used as much as possible.
Although these obstacles complicated things, they also removed some second-guessing as well.
"There's still acting, camera framing, stunts etc," said Booth. "Where this is really different is, since it is live, you don't have post-production – no editing, no adding of sound effects, no adding in background music. What you see is what you get. So if we wanted music or sound effects, even as simple as a phone ringing, it all has to be done live. The pros are that you have to commit very much to every decision you make because you can't take it back or do another take or alter it later."
When all was said and done, the biggest detriment to the short film was its actual success. Many believed the video was real, prompting calls to police and several reports to twitter. Although it was supposed to be made available on Blumhouse's periscope page after the initial broadcast, these circumstances led to the video being flagged and temporarily taken down.
Needless to say, Booth was delighted by the news and praised his cast. Even though he wishes they could've had more rehearsal time, the director credits much of Fifteen's success to them.
"If we had more time we could have been more elaborate,"," he said. "It really came down to casting and we picked the right people that would work hard, never tire and deliver the goods. When you call action on a live project – it lives or dies on their performance, it is fully in their hands at that point. Having Neil Napier (Helix, 19-2, 300,) Hannah Kat Jones (Disney TV, American's Next Top Model,) Alastair James (Faster) and Sarah Booth (The Scarehouse, Helix) brought us so much to work with talent wise. Having their contributions to bettering the script and making this live and breathe is fantastic."
As usual, Booth is keeping busy. After directing two short films, Orange Lipstick and Bloodshed, he'll be working on a few more Third Eye Blind music videos in the coming months. As if that wasn't enough, the director is also on the verge of announcing what his next feature film will be.
Those who missed Fifteen live can watch it for a limited time at Blumhouse's Periscope page or permanently on youtube. It's also available on the short film's official site, which has more on making the film, the cast and crew.
Content Continues Below Local Sponsor Message
Content Continues Below Local Sponsor Message
Content Continues Below Local Sponsor Message