Summer Heats Up For Local Comic Book Readers
Friday July 3rd, 2015, 8:10am
Hello time traveller!!
This article is 2714 days old.
The information listed below is likely outdated and has been preserved for archival purposes.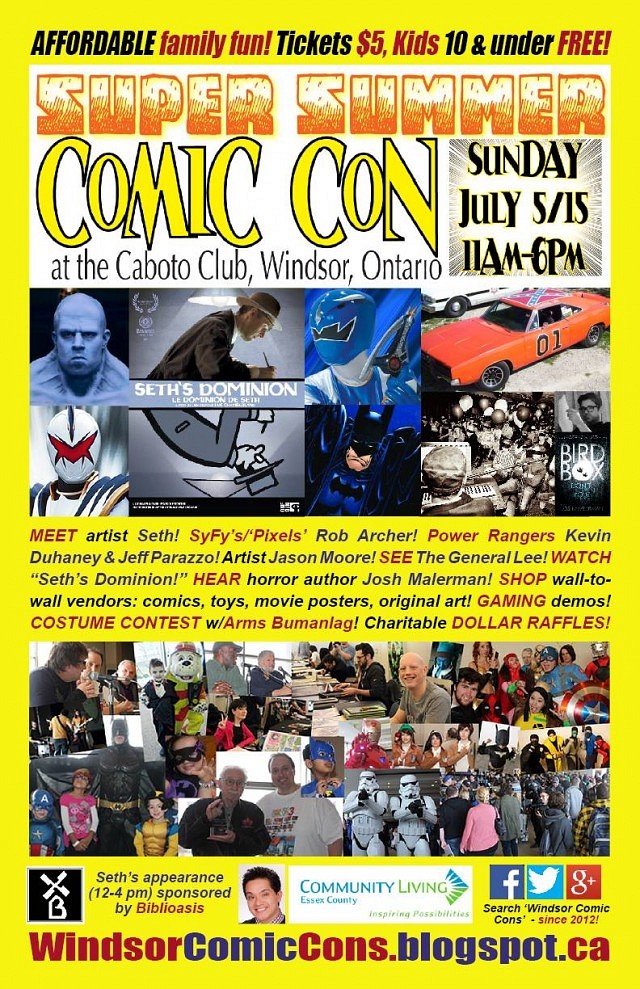 With school out until September, a local convention is promoting literature in a different way.
Hosted by Windsor Comic Cons, Super Summer Comic Con 2 is set to satisfy fans of all ages. Moving into their new venue at the Caboto Club located at 2175 Parent Avenue, event organizer Mike Michalski hopes people will continue to support the homegrown convention.
Targeting young readers, the price is right for families looking to have some fun.
"Admission for children 10 and under at any show presented by Windsor Comic Cons is always free," he said. "I founded this company in 2012 with the intent of promoting literacy through comic books, as the medium played a large role in my development while growing up, including my eventual career of more than 20-years as a writer. Beyond that, regular admission is only $5. Windsor Comic Cons is proud to present affordable family entertainment, run by a born-and-bred Windsorite, for Windsorites, all of southern Ontario and Michigan fans."
Although the organizer hopes to attract young readers, there's something for everyone at the event: For example, it wouldn't be a Windsor Comic Cons show if they didn't have some special guests to entertain those in attendance.
"We have an outstanding lineup of talent to present to our audience, including stars from the comic book world, television and film," said Michalski. "This includes a rare convention appearance by multi-award winning artist Seth, who will also be hosting two screenings of the new National Film Board of Canada feature, "Seth's Dominion" – winner of the grand prize at the recent Ottawa International Animation Film Festival."
The award-winning illustrator will take questions from the audience after both screenings of his live-action/animated feature. Signing books and meeting fans in between, Seth's appearance isn't something that happens often either.
"This is truly a rare treat – as, simply put, Seth does not do many comic cons," said Michalski. "We're honoured he agreed to work with Windsor Comic Cons, with a tip of the cap to local bookstore Biblioasis for helping out with a sponsorship."
Known for his roles in Showcase/SyFy shows Lost Girls and Defiance, Rob Archer is another part of the entertainment. The actor, also appearing in Adam Sandler's Pixels, will be hard to miss. Standing at 6'6″ and weighing 285 lbs., the man has also been featured in Kick Ass 2 and Bulletproof Monk.
Two Mighty Morphin' Power Rangers have been announced as well. Both from Power Ranger Dino Thunder, Blue Ranger Kevin Duhaney and White Ranger Jeff Parazzo are set to greet fans of the show.
Special guests extend into the comic book medium as well. Veteran artist Jason Moore, known for his work on DC Comics' Batman: Haunted Gotham, Marvel Comics' Incredible Hulk and Spider-Man: Osborn Journals, is making his first Canadian convention appearance. He's also done such horror titles as Realm of the Dead, Halloween; Book of Revelation and more.
Speaking of which, a rising star of the genre is coming to scare some conventioneers as well. Author Josh Malerman will feature his debut novel, BIRD BOX, a book in development for the big screen at Universal Studios.
Be warned however, his appearance and book readings are far from ordinary.
"[Malerman] will offer two live readings from this book – with one major caveat," said Michalski. "As per his characters in the book, all participants are blindfolded, as they experience the untold terror of a twenty mile trip downriver in a rowboat by a woman and her two small children, all the while being followed by something terrifying — something that must not be seen."
Making use of the Caboto Club's larger space, one major attraction is even taking place outside. Actor Paul Harrington and the Canadian Dukes will have a display in the venue's parking lot, including the General Lee itself. In addition to the orange 1969 Dodge Charger, several vehicles from the show will be on hand alongside the Canadian Dukes Travelling Museum.
Beyond these unique attractions, many of Windsor Comic Cons' staples will be featured as well. This includes a massive vendors area where fans can find exactly what they're looking for and much more.
Of course, those same fans are large part of this conventions character too.
"We're proud to offer a sold-out show, offering wall-to-wall vendors selling everything from comic books, toys and collectibles to gaming supplies with live demos to rare horror and science fiction posters and original art of all shapes and sizes," said Michalski. "Not to mention all the great cosplayers, some of whom work all year to get ready for our shows. It truly is a feast for the eyes and the imagination at every Windsor Comic Cons event."
Those who work hard enough on their costumes will also be rewarded. AM 800/CTV Windsor's Arms Bumanlag is hosting a cosplay costume contest, where participants can win some great prizes for their efforts.
Continuing a tradition of helping local charities, a portion of the event's dollar raffles will benefit Community Living Windsor Essex. While Michalski works with Sparky's Toy Drive for his Christmas Comic Con, he's also contributed to the downtown mission and WE care For Kids in the past. Prizes donated by Jason Russell helped with this aspect of the convention once again.
If that still isn't enough though, Super Summer Comic Con will be proceeded by a unique party the night before.
"We are also hosting a fantastic VIP PARTY on Saturday night, July 4th, at GlassMonkey Studios (1378 Ottawa Street, upper Unit,)" said Michalski. "This will feature not only three of our very special guests (Seth, Rob Archer and Kevin Duhaney,) but also a one-of-a-kind 'Comic Book Legends Original Art Show.' This features actual pieces from a who's who of comic book history, including John Romita Sr., Steve Ditko, Curt Swan, Jerry Robinson, John Buscema, Gene Colan and many more."
Tickets for this event are $25. Sponsored by Walkerville Brewery, it will also feature catering by The DragonFly Sushi Bar for those in attendance. VIP tickets can be purchased in person at Biblioasis. Those who prefer buying tickets online can do so by contacting Michalski at [email protected].
Despite only being a few weeks into summer, planning is already underway for Christmas Comic Con 4 (C3-4.) Taking place on November 29th, Windsor Comic Cons has several guests lined-up for their next event at the Caboto Club.
This includes hometown talent such as DC artists David Finch and Jason Fabok along with writer Meredith Finch. Land Of The Dead actor Eugene Clark will also be joined by Kenny Vs Spenny star/South Park writer Kenny Hotz — the latter making his first ever comic convention appearance. Vendors interested in the November convention are asked to contact Michalski by e-mail at [email protected] for booking information.
Although Windsor Comic Cons has expanded a lot in the last two and a half years, the organizer acknowledges it couldn't have been done without local fans. Starting from humble beginnings, Michalski is proud of what his original idea has become.
"Windsor Comic Cons began as a one-off event, something I thought would be fun to present to the area – which had gone without such a show for more than 22 years," he said. "The support at that initial event and subsequent shows has been amazing. I am honored to be the torch-bearer for the area in presenting the best in affordable family fun – now twice a year. All my returning attendees, vendors, volunteers and guests are like one big family to me. We're all in this together."
Content Continues Below Local Sponsor Message
Content Continues Below Local Sponsor Message
Content Continues Below Local Sponsor Message