Amherstburg Setting For 1920's Film
Monday June 1st, 2015
Posted at 4:44pm
Hello time traveller!!

This article is 2685 days old.

The information listed below is likely outdated and has been preserved for archival purposes.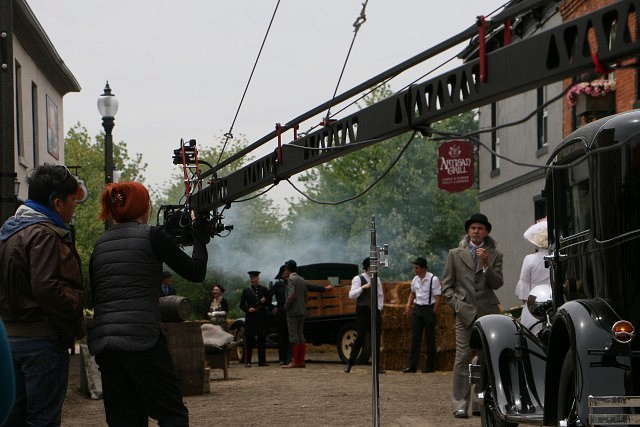 On a small one-way street in Amherstburg where an auto shop, a few hair salons and an Italian restaurant work quietly during the daytime hours, a crew of people came in and converted the 21st century street into a 1920's film set.
"Stillwater," a short film about the prohibition era in Windsor during the 1920's, has taken over half a block of Murray St. in Amherstburg. In just 24 hours, the team transformed the asphalt surface with loose dirt, flower boxes and window panels to create the perfect setting for their prohibition era film.
23-year-old University of Windsor graduate Brian Khan is producing the film alongside his professor Min Bae who is directing. He said to be able to come together with students he's worked with in school and to produce a film such as this in Amherstburg, Lasalle and Windsor shows the amount of talent here that's homegrown.
"What we've done is, we've taken real characters who existed in Windsor in the 1920's an created a story intertwining their actual history," said Khan.
The story of "Stillwater," written by screenwriter Maria Cusumano, is based on Bertha Thomas and Pastor Spracklin. Thomas was one of the few women who, in the prohibition era, owned a Speakeasy called the Edgewater Inn. During the time of prohibition, the sale of alcohol was illegal and so a Speakeasy was an underground bar.
Spracklin, on the other hand, was a man who, during the day, was promoting the temperance movement, which supported the prohibition of alcohol. According to Khan however, at night he was actually operating his own rum running business.
"These two characters are entrepreneurs really but they had their own rivalry, they were competing for the same territory," said Khan. "Our story actually takes place in Windsor and it starts when Jackson, who's a young man living there at the time, finds himself in between this rival war and he has to come out of it with a happy ending."
Danielle Gadishaw, first assistant art director, said transforming the street to follow the vision of director Bae has been magical. Gadishaw, also 23, is a recent graduate from the communication, media and film program at the University of Windsor and came down from Toronto just for this project.
"Once they secured the street … it was then having to change it from its' modern status with air conditioners and satellites and all kinds of other lovely things into 1920," said Gadishaw. "We built flower boxes to hide the air conditioners, we put up window panes to hide the modern stickers in the windows and a whole lot had to be done in the effort of de-modernizing it."
Gadishaw said everything audiences will see in the film is "movie magic," and has her feeling like a magician.
Director Bae has been working in the film industry since 1994 and has been teaching at the School of Creative Arts at the University of Windsor since 2003. He said with so many movies from the United States about prohibition, but none based in Windsor, was his inspiration for the idea of the film.
"I've never seen a Canadian perspective so that's why I really wanted to make this piece. Especially since this is where I live, so I wanted to make a story about Windsor," said Bae. "As a professor, I kind of worked with [the students] in the class, but it's my film they are helping me to work on it and it's an awesome feeling."
During the latter half of the week, the crew will be working in the old Kin Folk restaurant on Richmond St. in Amherstburg, which will be converted into Thomas's Speakeasy. The entire shoot will last just 10 days, ending at the Canadian Club Brand centre in Windsor where they will be using the original Hiram Walker's office as Thomas's office.
Khan said the goal is to have the movie done by the end of the summer so the group can submit it to film festivals.
If you can't wait that long to see the film however, there will be a fundraiser June 30 at Walkerville Brewery at 6 p.m. to raise money for production costs of "Stillwater." For more information, visit their Facebook page.