In Tweets: Robots Battle It Out In Windsor
Saturday April 4th, 2015, 7:59pm
Hello time traveller!!
This article is 3096 days old.
The information listed below is likely outdated and has been preserved for archival purposes.
The second annual Windsor-Essex Great Lakes Regional robotics tournament brought 52 teams from Canada and US together at the St. Denis Centre this weekend.
The event challenged high-school aged kids to face off using recycling and pool noodle throwing robots.
Here are some tweets from the largest robot battle in the area.
Success! Noodle Mayor Dilkens & Human Mayor @drewdilkens together at last. #NoodleBomb #WEGLR pic.twitter.com/7Z2PwnlbL3

— Windsor-Essex FIRST (@FIRSTRoboticsWE) April 3, 2015
BREAKING: @4525FRC reveals FRC Trading Card Game #omgrobots #weglr pic.twitter.com/jeAYiKx4cz

— Windsor-Essex FIRST (@FIRSTRoboticsWE) April 2, 2015
Amazing watching all of the teams @FIRSTRoboticsWE ! So many different approaches to one challenge #recyclerush #WEGLR

— Inverse Paradox (@frc1325) April 3, 2015
Still full of energy after a long day. #WEGLR @CANFIRST pic.twitter.com/8hTyVahxWp

— Jeremy PHAN (@JPTN) April 3, 2015
@jaytoner Just one of many amazing robots at #WEGLR pic.twitter.com/JxmtUSStKq

— Yvonne Pilon (@YvonnePilon) April 3, 2015
RT Reidaepus_Rex: Opening day of #WEGLR :) #100happydays day78 #omgrobots pic.twitter.com/ImjYcZdPM6

— #omgrobots (@omgrobots_rt) April 3, 2015
Wishing @sabrerobotics Success this weekend! #SabreBytes #OMGrobots @FIRSTRoboticsWE pic.twitter.com/Fc6Oz92l8P #WEGLR Go 772 Who?! @ideahiveWE

— innovation2learn (@i2Learn) April 3, 2015
#WEGLR #omgrobots pic.twitter.com/eYX4yzlraA

— ThunderStamps 4907 (@Thunder_Stamps) April 3, 2015
Mayor @drewdilkens @saif2 and Councillor Ed Sleiman are ready for Day 1 at #WEGLR! Thank you for joining us pic.twitter.com/D3m5bAbprq

— Windsor-Essex FIRST (@FIRSTRoboticsWE) April 3, 2015
Great spirit from @BealRobot at @CANFIRST @FIRSTRoboticsWE #omgrobots #WEGLR pic.twitter.com/iuKS8lSCMp

— ML Lister Santavy (@MLListerSantavy) April 3, 2015
Safety first! Making sure our mentor (& team founder) @jptn doesn't hurt himself again! @CANFIRST #WEGLR pic.twitter.com/mOVGQ4i6an

— Warp 7 (@FRC865) April 3, 2015
On the field! Let's go #Team865! @CANFIRST #WEGLR Watch live at http://t.co/zp4cQUqDNF pic.twitter.com/qnZ7KyZWJm

— Warp 7 (@FRC865) April 3, 2015
Come on out to the @UWindsor St. Dennis Centre to be apart of this amazing atmosphere!! #WEGLR pic.twitter.com/FMKoFfH1Cl

— Windsor-Essex FIRST (@FIRSTRoboticsWE) April 3, 2015
Visit two of our sponsors at their booths now at #WEGLR! Thank you Valiant and @StClairCollege for SUPPORTING #FIRST pic.twitter.com/RaMxzYunZ2

— Windsor-Essex FIRST (@FIRSTRoboticsWE) April 3, 2015
Great crowd, great event! #OMGrobots! Awesome job @UWindsor @FIRSTRoboticsWE @CityWindsorON @WEtechAlliance #WEGLR pic.twitter.com/gu5HJYaIc3

— Insp. Brendan Dodd (@InspBrendanDodd) April 3, 2015
RT jjohn352: #frc5033 getting ready for next match #WEGLR #omgrobots pic.twitter.com/tcEsR4yKII

— #omgrobots (@omgrobots_rt) April 3, 2015
Video games meet robotics #robotmeme #WEGLR pic.twitter.com/3YNHG1umUa

— Windsor-Essex FIRST (@FIRSTRoboticsWE) April 3, 2015
"I want to emphasize on the young people here doing engineering" Dr. Tom Murad from @SiemensCanada #WEGLR #FirstRobotics

— Windsor-Essex FIRST (@FIRSTRoboticsWE) April 3, 2015
#WEGLR pic.twitter.com/IVozZ5M3sr

— Knight Vision (@frc4940) April 4, 2015
Come get jiggy with the #stiltguy here all day at #WEGLR! pic.twitter.com/AyCS7p43gN

— Windsor-Essex FIRST (@FIRSTRoboticsWE) April 4, 2015
Just arrived @CANFIRST @FIRSTRoboticsWE , the air is electric. #omgrobots #WEGLR pic.twitter.com/uU8B7nQnUC

— ML Lister Santavy (@MLListerSantavy) April 3, 2015
This is simply amazing. @FIRSTRoboticsWE @AssumptionH #WEGLR #omgrobots #YQG pic.twitter.com/chcxkdna2r

— Fabio Costante (@FabioCostante) April 3, 2015
@frc1114 @FIRSTRoboticsWE watching from Michigan good luck to all teams competing TODAY! #WEGLR #FIRSTinmichigan pic.twitter.com/i79w4YSAFF

— mark (@Mew2011Mark) April 4, 2015
@FRC3175 lights up the crowd with their team spirit! #WEGLR pic.twitter.com/HboV2FeL0O

— Windsor-Essex FIRST (@FIRSTRoboticsWE) April 4, 2015
Hey @iamwill how about a retweet for the largest FRC regional in Canada!! #WEGLR pic.twitter.com/f9wD1OROUZ

— Windsor-Essex FIRST (@FIRSTRoboticsWE) April 4, 2015
Teams getting ready to enter the field for round 2 of semis #WEGLR #OMGrobots #OMGteams pic.twitter.com/YOIIl52okJ

— Windsor-Essex FIRST (@FIRSTRoboticsWE) April 4, 2015
@frc4903 MASSEY in the FINALS @ Windsor Essex great lakes robotics regional @FIRSTRoboticsWE #weglr pic.twitter.com/fG2OXPZbdw

— Irek Kusmierczyk (@Irek_K) April 4, 2015
https://twitter.com/frc865/status/584485308974104577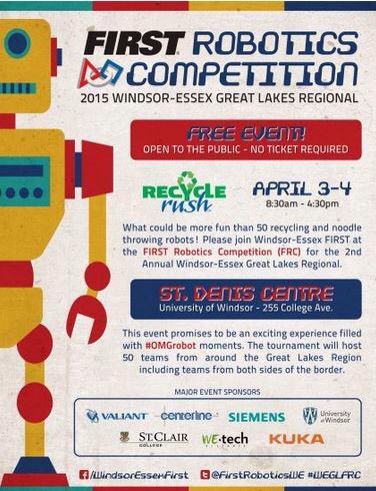 Content Continues Below Local Sponsor Message
Content Continues Below Local Sponsor Message
Content Continues Below Local Sponsor Message