Local Film Scares Up Soundtrack & DVD Release
Thursday February 26th, 2015
Posted at 1:00pm
Hello time traveller!!

This article is 2397 days old.

The information listed below is likely outdated and has been preserved for archival purposes.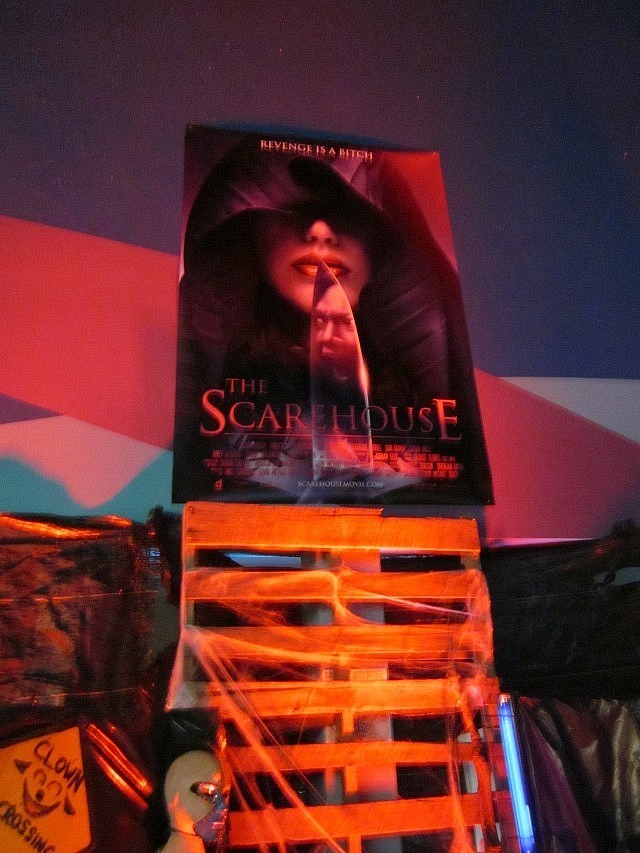 Horror-lovers can now own a piece of local history and turn their home into a Scarehouse.
On Tuesday, February 17, The Scarehouse's scope grew even larger. Released on DVD nation-wide, pre-orders for the locally-produced film's soundtrack also began ahead of its March 3rd iTunes release.
Despite pirating after its Video On Demand (VOD) and digital launch, signs are still promising.
"We've been blessed with many people emailing or writing us on Facebook expressing that they enjoyed the film," said co-writer/director Gavin Michael Booth. "That is a good feeling. I DO have numbers that we were in the top ten torrented movies the first week of release and for better or worse, you can now find the film in many subtitled languages on more pirating sites than I've ever known to exist."
Remaining positive, he does admit illegal sharing can hurt the film. With independent movies, money is mostly made through home sales due to limited theatre screenings. As a result, The Scarehouse's profitability relies more heavily on VOD, digital and DVD sales.
It can also have an impact on what the film-maker, cast and crew get paid.
"It is a strange time we live in for media," said Booth. ""You want everyone to buy your hard work but at the same time, the glass is half full because people are watching your film. Hopefully if they like it they will find it on DVD or Blu-Ray or tell other movie fans about it. Think about it for a moment – our little film shot downtown Windsor is being watched in Pakistan, Russia, Vietnam, Portugal, the UK. All over the place people are writing and saying they've seen the film. Now I know that is from torrenting and other pirate sites but hey… the whole world is checking out a piece of filmmaking make by a lot of local Windsorites. That can't count for nothing."
Positivity hasn't been exclusive to the internet either. Having toured the film at different festivals, fans everywhere have been supportive. The Scarehouse even won for Best Feature at the New York City Horror Film festival.
These screenings also helped Booth reconnect with his childhood. After The Scarehouse was shown, he was congratulated by editor of Fangoria magazine, Tony Timpone. Still owning old issues he'd read in his youth, Booth was excited. Since then, the magazine has written a spotlight article on the film. Timpone also sent "a really nice note" to the film's distributor, said Booth.
Being so well-received, it's hard imagining the movie playing out any other way. Still, The Scarehouse could've been very different if its original plot hadn't been changed.
"Originally the film was going to be about a fraternity and not a sorority," said Booth. "It was essentially going to be mostly male actors. However, in early discussions with our distributor regarding possible sequel directions – one suggestion I had was to flip the gender. Everyone almost shouted, 'No, that's the FIRST MOVIE!'"
It's one of many decisions that happened organically along the way. While penning the script, Booth bounced several ideas off his wife and actress/producer Sarah. As she provided some ideas that excited Gavin, he asked her to co-write the film with him.
The end result produced some interesting moments for the two.
"It was less a group of writing sessions and more so an ongoing conversation over a week while doing our regular daily routines," said Sarah. "We'd be grocery shopping and discussing what sort of corrosive material would eat flesh the fastest or could a corset's boning withdrawn the tension of the winch. You know, normal everyday married life conversations."
While not finding one part of the process more rewarding than an other, Sarah acknowledges that focusing strictly on acting provides less stress. Still, she takes more pride when there's something to do behind the camera.
Even so, there were some things the actress had to step away from.
"Gavin edited the film and we have a home office,"  said Sarah. "I couldn't escape his nitpicking of one frame less? One frame more? This angle or that angle. You hear the same line of dialogue stop and start over and over. It can be a little maddening. You watch so many cuts and make so many notes. I had to leave the house sometimes while he worked on it."
Part of setting the right tone for the film also came with selecting music. Acting as some of the final touches, Gavin was lucky enough to call on some help from his friends. Having directed so many music videos and documentaries, picking songs for his soundtrack was easy: All he had to do was look through his mp3 player.
Many artists are also from Windsor, allowing Gavin to continue promoting synergy between local film and music. Treating his selections like sharing tunes on facebook, the director had two goals.
"Music drives the mood of the film," he said. "It helps amplify the unsettling scenes, it pulls out the dramatic conflict the two protagonists are moving through. With the song selection, since the film has scenes in a club, scenes at a party and even rock music being played occasionally inside the haunted house I had two goals: The first was to find fun and upbeat music to contrast the rest of the film, which can get fairly morbid at times. The second was to call on Windsor music and musicians I've directed music videos for."
Finding bands through soundtracks in the 80s and 90s, Gavin is excited to expose others. Knowing that people around the world could connect with artists they may never have heard of, he feels they're a lost art. as declining sales push music to a singles market again, many movies don't bother releasing a soundtrack, a notable exception being Guardians Of The Galaxy.
Beyond that, soundtracks can also highlight some unsung heroes from the production.
"Music is a character in any film," said Gavin. "With Scarehouse I owe so much to composer Adrian Ellis. He isn't just a super talented musician but he is someone on the film who went above and beyond constantly to make the score the best he could with limited resources. For example, a track from the end of the film, 'I'll Miss You [Finale,]' he somehow miraculously managed to get a orchestra string section in Prague to record for free! The track is epic and seals the end of the film so beautifully."
With the movie officially out on home media and a U.S. DVD release coming, promotion will kick into overdrive. A video for ClassX's closing-credits song Only Human, directed by Gavin himself, will be released shortly.
It's only the start and the film-maker hopes word of mouth spreads.
"There are a few contests coming up, bonus material online, the music video I mentioned earlier," he said. "In Windsor we would like to get the few remaining video rental stores to spotlight the locally made film. These days we really call upon social media – asking people who have seen the film to help spread awareness through their Facebook or Twitter or Instagram pages."
Those interested in Sarah's latest work can see her on SyFY Network's Helix as Olivia. She also produceed a music video last month for Gavin Slate, who has a song featured in The Scarehouse.
Until March 3, soundtrack pre-orders are half price at $5. As for the film itself, the DVD is available at Wal-Mart and HMV nation-wide along with Amazon.ca. This is besides digital services like iTunes, Google Play, Microsoft Xbox, and Youtube rentals which are also available in the United States. VOD platforms in Canada include Rogers, Bell, and Shaw on demand. The film is available on Cineplex.ca as well.
For more news related to The Scarehouse, people can follow its a href="http://www.scarehousemovie.com">website or facebook page.