John Millson Releases Campaign Contributor List
Thursday October 16th, 2014
Posted at 5:04pm
Hello time traveller!!

This article is 1961 days old.

The information listed below is likely outdated and has been preserved for archival purposes.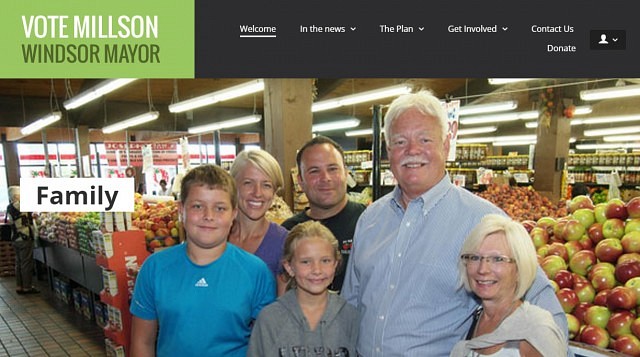 Mayoral Candidate John Millson has released the list of those who have contributed to his campaign to be elected to Mayor of Windsor.
Donations as of October 16th total $89,599.
1156664 Ont Royal Quality homes $750.00
2035594 Ontario Ltd. $750.00
2185801 Ont. Ltd. $750.00
2234637 Ont. Ltd $250.00
2337764 Ontario Inc. $750.00
Accurate Manufacturing $750.00
Adam Stratton $100.00
Aimee Dearing $500.00
Alexandru Constantin $100.00
Alita Schiller $750.00
Ann Wong $250.00
Antoine Greige $300.00
Architectural Design Ass. Architect $750.00
Barry Fowler $250.00
Bello Metal Recycle $750.00
Bill Wrye $250.00
Brad Dewitt $750.00
Brad Joseph $750.00
Brian Schwab $750.00
Canadian Machine Tool $750.00
Carl Bernat $500.00
Carmgar Ltd. $200.00
Carolyn Gray $250.00
Catherine Strosberg $500.00
Chantal Parenteau $50.00
Charlene Gagnon $750.00
Chris Kruba $750.00
Christos Spirou Medicine $500.00
Cobraco Inc. $750.00
CUPE Local 82 $750.00
CUPE Local 543 $750.00
Daniel Topp $500.00
Danielle Piccioni $750.00
Danzig Enterprises $200.00
Dave Cooke $250.00
David Mady $750.00
Dean Zalev $750.00
Dennis Rocheleau $750.00
Diffenbacher North America $750.00
Don Hearn & Sons $750.00
Don Hearn Inc. $750.00
Dr. Wonham $250.00
Eleanor Finn $50.00
Elizabeth Astbury $750.00
Enterprise Mold $750.00
Erika Deslippe $100.00
Erika Deslippe $250.00
EW Metal Works $750.00
Flexible Industrial Solutions $750.00
Frank Abbruzzese $500.00
Frank Moceri Holdings $250.00
Frank Tedesco $750.00
Fred Quenneville $500.00
Freeds $250.00
Galatti Cheese $250.00
Galatti Cheese $250.00
Garth Little $250.00
Giancarlo Dimaio $100.00
Gino Lomazzo $100.00
Gregory Heil $25.00
Hasan Bahcheli $750.00
Hyatt Lassaline LLP $750.00
Ironworker Local 700 $750.00
Jacqueline Rice $750.00
James Wilson $100.00
Jason Soulliere $25.00
Jay Strosberg $500.00
Jeff Slopen $250.00
Jim Shaban $250.00
Joan Avram $100.00
Jody Joseph $750.00
John Holland $250.00
John Millson $25,000.00
Josephine Toldo $750.00
Ken Knapp Ford Sales $100.00
Kim Little $200.00
L.S.Walker Machine Tool $750.00
Laura Joy $750.00
Lee Avram $75.00
LTW Tool Inc. $750.00
Maden Industrial Ltd. $750.00
Mara Riccardi $250.00
Marc Godin $100.00
Margaret Joseph $750.00
Mark Etherington $250.00
Martin Solcz $500.00
McCulloch Land Development $250.00
Michael Solcz $500.00
Mikhail Holdings $750.00
Mrs. Kim Spirou $250.00
Naples Pizza Ltd. $750.00
Pam Rocheleau $750.00
Patricia Simone $100.00
Patrick Soulliere $25.00
Paul Charbonneau $50.00
Paul Martin $700.00
Penalty Box $750.00
Peter Savoni Prof. Corp $500.00
Poirier Electric $750.00
Ralph Scase $100.00
ReMax Captial Inc. $750.00
Remmcor $750.00
Ron Nugent $100.00
Rosati $750.00
Ruth McFarlene $150.00
Sandy's Riverside Grill $250.00
Sharon Strosberg $500.00
Shawn Dearing $500.00
Southwestern Manufacturing $750.00
Spirou & Associates $250.00
Sr & Ed Management $250.00
SRS Group Ltd. $750.00
Sutts, Stroberg $500.00
Tamara Stomp $250.00
Terrance Loebach $200.00
The Design Centre $250.00
The Lighting Boutique $200.00
Timberland General Contractors $750.00
Tony Lomascolo $100.00
TOS America (1998) Inc. $750.00
Tuscany Oaks Ltd. $750.00
Ultimate Manufactured Systems $750.00
Unifor Local 200 $750.00
Unifor Local 444 $750.00
Vella Pharmacy $750.00
Vito's Pizzeria $750.00
Wayne Joseph $750.00
Werner Keller $99.00
William Sasso $500.00
Windsor Chrysler $750.00
Windsor Professional Fire Fighters Association $750.00
Woodstock Raceway $750.00
Yousssef Gereige $500.00