Students, Community Take To Twitter Over UWindsor Profs Strike
Monday September 15th, 2014
Posted at 1:38pm
Hello time traveller!!

This article is 2599 days old.

The information listed below is likely outdated and has been preserved for archival purposes.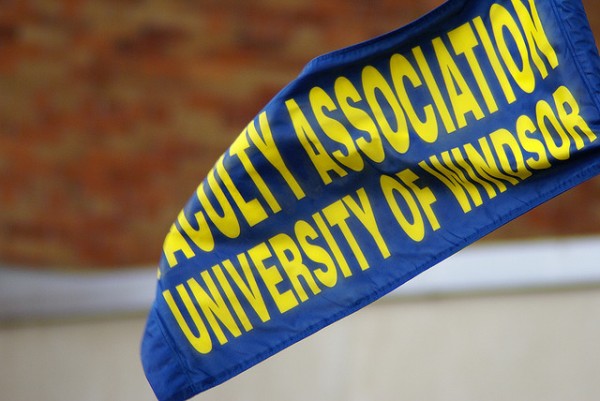 University of Windsor students, staff and community members are sharing their thoughts about the Windsor University Faculty Association strike on Twitter.
The one day strike will end at 10pm, Monday, but rotating morning and afternoon strikes are likely throughout the month of September.
WUFA says they'll inform the public by 11:30pm the night before a morning rotating strike, or 7am on the day of an afternoon rotating strike.
The union plans a full strike starting October 1st if a settlement is not reached.
Warning: Some tweets may contain inappropriate language
I wonder if @UWindsor ever gets tired of going on strike.

— Sam (@_SamJoy) September 15, 2014
Somewhere between Greed & Greed is the reason that @UWindsor faculty or support staff go on strike every other year! Time to smarten up!

— Daniel Mendonca (@dmendonca89) September 15, 2014
Profs are going on strike.. #woofuckinghoo #fuckthisshit #uwindsor

— Alana (@Alanabanananana) September 12, 2014
RT if it's time #Wildebot got back to the bargaining table so we can sort this #strike shit out @UWindsor #ulose #uwin

— Allison Cadwallader (@amcadwallader) September 12, 2014
wonder what'll happen if I miss my first midterm on October 1st because of the strike #uwindsor

— Paige Goertzen (@PaigeDormouse) September 12, 2014
Monday strike for @_Wufa UWindsor faculty. Hope this brings the University back to the table. Someone bring a WOOF-A dog please.

— Claire (@Claire_Mumme) September 12, 2014
@UWindsor is playing hardball with this strike stuff!

— Shontal Cargill (@preppyscientist) September 12, 2014
I respect what WUFA is fighting for, but I really don't want them to go on strike and have us lose our fall reading week

— Yucca A. (@yalbano8) September 12, 2014
University on strike tomorrow what better way to celebrateor mourn then with 100 dollar bottles of goose at level… http://t.co/eDbBswK5j2

— Level3Windsor (@Level3Windsor) September 15, 2014
Uwindsor students should be on strike because Erie Hall is always -5 degrees

— Luke Foster (@lukefoster777) September 12, 2014
nice long weekend due to these cancelled classes and labs #uwindsorstrike

— Adnan Alrashed (@AlrashedAdnan) September 12, 2014
Watching Monsters University because why not, University of Windsor is on strike so I may as well do something educational

— Bradley Marentette (@BradMarentette) September 15, 2014
@UWindsor your inability to go a year without a strike or some sort of class interruptions makes me seriously NOT want to apply #GrowUpUofW

— HeyMandie (@heymandie) September 12, 2014
No class on Monday due to the Strike! Thanks UWindsor!

— Chris Reynolds (@Reynoldo21) September 13, 2014
@UWindsor going on strike Monday but I bet you they will still hand out parking tickets #WindsorProblems

— Windsor Problems (@WindsorIssues) September 13, 2014
I hope to God Uwindsor figures out their strike situation before October.

— Yendis Pan (@lifeasSid) September 15, 2014
Upsetting to see #WUFA on strike today over a game of political chess. University should be about higher education. #uwindsor settle.

— Liam Price (@Liam_E_Price) September 15, 2014
Thankful for the uwindsor strike

— hassan farhat (@hassanfarhat21) September 15, 2014
@Windsorfaculty on STRIKE today. #Uwindsor needs to bargain a collective agreement NOT impose terms & conditions! #onpoli #cdnpse #wufa

— TUFA (@trentfaculty) September 15, 2014
There's an excel document with more profs listed at this link. How can they justify a strike? #WUFA http://t.co/ZWagIiRwTa

— Dale DiCiocco (@DaleDiciocco) September 15, 2014
I feel like Uwindsor goes on strike more than it doesn't… #notagoodratio

— Saraa Moir (@MoirSara) September 15, 2014