St. Clair Mediaplex Prepares Students For 21st Century Workplace
Monday July 7th, 2014
Posted at 8:00pm
Hello time traveller!!

This article is 2667 days old.

The information listed below is likely outdated and has been preserved for archival purposes.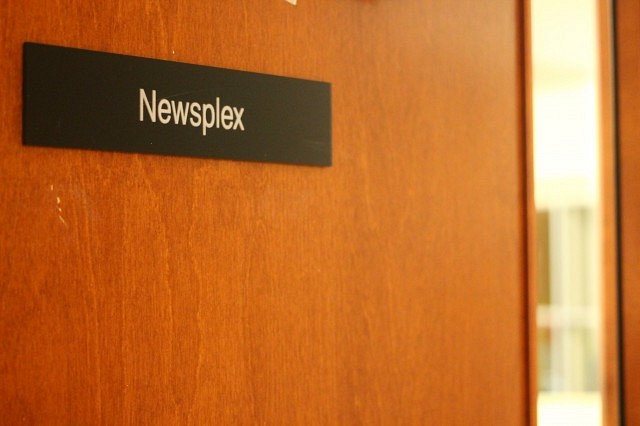 "State of the art, there is no where else in North America that you're going to get a facility that is better than here at The Mediaplex."
Veronique Mandal ensures the level of education students receive at St. Clair College's Mediaplex often exceeds the provincial standards. She believes most people have yet to fathom what goes on under their roof.
The Mediaplex is exactly as it was named – a media based building, emphasizing and specializing in media based education. Journalism, Media Convergence and Public Relations are the only three programs offered in the news-centered establishment, and Mandal said they are still accepting applicants for each of those programs. Until there is a note on the website that says they are closed, Mandal encourages everyone who is interested to apply through registrars office, or forward her any questions they may have to her e-mail posted on the website.
Journalism is a large focus at The Mediaplex. They offer a two-year diploma and students who graduate from that program will have received a comprehensive journalism education, encompassing every media platform from television, to radio, to print and even digital print. Mandal said students will receive a state-of-the-art curriculum delivered out of what she believes to be the most state-of-the-art journalism facility in North America.
The Mediaplex has also added Media Convergence to their building, which is a one-year graduate program.
"If you have a two year journalism diploma, if you've graduated from a communications program at a University, or if you've been in the media in any capacity for five years or more, you're eligible to come in to this program," said Mandal. "We also will look at people who have been in complimentary programs. Perhaps it's advertising or marketing, or sometimes if you have a history degree but you've been involved in some way in the technical side of media. So while we wouldn't take someone straight out of high school, the parameters for older adults are a little bit broader."
In Media Convergence, the students receive a very polished version of all the journalism platforms. Mandal believes a two-year diploma just isn't enough anymore to become a very polished journalist, as they have so much to learn. It's also very hard to catch up in this graduate program if a student misses just one class.
Newsrooms have become lean and while they used to be able to take a student and train them for a period of months, this is no longer the case. Editors don't want someone who has not been polished, because they have no one and no time to teach them the ropes.
"The person who goes in the newsroom now has to hit the road running and they are looking at these third year programs as places to hire from because the third year is really a very highly polished year," said Mandal. "You have professors who concentrate on the good writing, you have other professors who concentrate on the television production and they take it to a different level."
In almost every institute in some form, there is also a Public Relations position. A person who deals with journalism from an opposite perspective, but a PR specialist must have a thorough understanding of journalism. At The Mediaplex, Mandal said they offer a two year diploma where they are taught all the necessary skills to enter a position where they will be able to take promotional videos, take photos and blog as well as tweet and write press releases and so much more.
According to Mandal, the highlight of all of these programs is the smaller class sizes. While The Mediaplex used to encompass larger classes, Mandal has found it's difficult to give students the hands on training they need when you only have two or three minutes to devote to each student. The Mediaplex has made a conscious effort to ensure their class sizes are around 20, and if that means offering the same class three times a week, that is what Mandal and her staff are willing to do for their students.
"When people come in here they're blown away by the quality of the curriculum and the absolutely amazing facility that we have," said Mandal. "Any student who wants to be competitive in this business should really beat a path to our door."
St. Clair is still accepting applicants for September. For more information, visit the college's website.