Local Lawyer An Overnight Success After 30 Years
Saturday July 12th, 2014, 1:00pm
Hello time traveller!!
This article is 3434 days old.
The information listed below is likely outdated and has been preserved for archival purposes.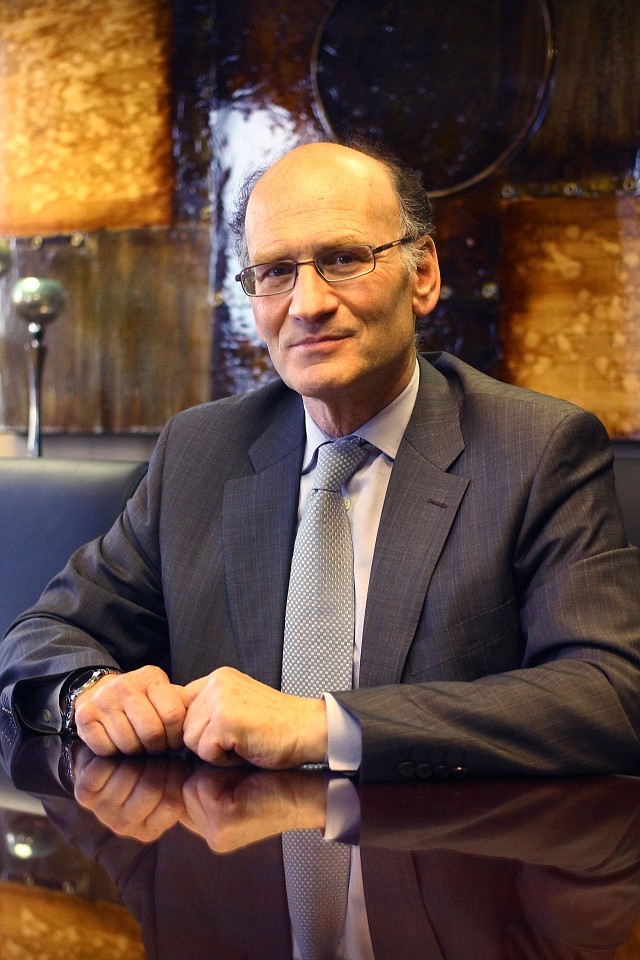 Hard work and determination — those are the focal points of success, according to local lawyer Will Goldstein.
Goldstein is a lawyer at Goldstein Debiase Manzocco, a Windsor law firm which specializes in injury law. Goldstein said the firm has been in its present form since 1992, when he became a partner.
"There was a fellow who was about my age and he was practicing corporate law at the firm with two partners who were more than 75 years old," said Goldstein. "The firm was looking for some younger lawyers who would carry on the practice and I and my friend, Eddy Manzocco, joined the firm."
Goldstein said the law firm represents folks who have been injured in accidents, or who have been denied insurance or pension benefits. They focus on personal injury law and insurance work.
Goldstein graduated from law school at the University of Windsor in 1983. He did undergraduate studies in commerce, and other areas of interest before he found a passion for law.
"When I applied to law school, Windsor actually had a much more involved process than some other schools." said Goldstein. "You had to write an essay. You were asked about your interests and had to indicate why you believed that you should be considered for entrance to the law school.  I stated that when I was growing up, there were always discussions at the dinner table—current events and everything else. And they were lively discussions. Some people might describe them as arguments instead of discussions, and I figured that I could put my dinner-table experience to good use by becoming a lawyer."
And so, he did.
His partner, Michael Debiase, graduated from the University of Windsor Law School the same year as Goldstein. While they did not know very much about one another in law school, Goldstein said that they came to know each other through building the firm.  Goldstein Debiase Manzocco has developed over the last 22 years and it is solidly established as one of the leading personal injury law firms in southwestern Ontario.
Goldstein emphasized that he practices in a "firm," not just a collection of independent contractors.
"It's a nice group of people and the good thing about being in a firm is that we talk to each other about our cases," said Goldstein. "If someone has a problem, or needs to bounce an idea off someone else, he or she goes to another person's office and talks about it. We often talk about day-to-day issues in addition to discussions about particular cases."
Goldstein said that the law is a very good profession. On most days, it is rewarding because you can help people and make things better for them. As with every job, however, there are some days that are stressful, but Goldstein says that practicing law with talented colleagues means that you can "brainstorm" and solve problems collectively.
"When we resolve cases for clients, we ask them to complete a survey in order to give us feedback, and let us know what they think about the services that we provided. What kind of job we performed," said Goldstein. "The responses have been very positive. I think the key is not just the fact that we are very competent, but also that we are privileged to have really great staff here. It's not just that we do a good job, we have nice people who work with our clients and I think that's one of the reasons we get such good feedback."
Goldstein has also been passing on his law expertise to law students at the University of Windsor for more than 10 years, teaching a course called Civil Trial Advocacy. Goldstein often jokes with his students, telling them that the practice of law consists of "short periods of joy and happiness interspersed with many moments of abject fear and loathing." However, he is quick to state that his quip could not be further from the truth. He said that the fact is, that law is a very interesting profession, and it is ever-changing. It is not a profession that one should enter with the idea of making lots of money just by putting your framed degree on your office wall.
Instead, being a lawyer is being a problem solver and if you have the skills to solve others problems, you may find that financial success will follow.
"It's a rewarding profession," Goldstein said. "And I also tell the kids in law school that even if you never practice law after you obtain a law degree, you will develop a skill set that will enable you to do crossword puzzles that you would have never been able to complete before you studied law. There are some three and four letter Latin words that you would never know unless you attended at a law school."
The defining thing about Goldstein's firm is that although many injury lawyers obtain some clients through advertising, as does his firm, a significant percentage of his clients are referred by health professionals, former clients and people in the insurance industry. Goldstein said that this indicates the trust that others have in his firm particularly from those who his firm has assisted in the past and from experts who treat injured people or who have to deal with injured persons' claims.
Goldstein said the lawyers and staff at his firm are competent and caring. Clients are not just "cases". They are recognized as injured people who need assistance, and the key is to obtain the best result for that particular client, regardless of the size of the case or the amount of money involved.
"Despite what some members of the public may think, getting a law license is not going to bring instant riches," said Goldstein. "I am an overnight success after 30 years. I have been doing this for a long time and I am fortunate to enjoy what I do. I have a very talented partner in Mike Debiase, great associates in Colleen Caza, and Monica Pathak, good clients, and great staff."
Moving forward, Goldstein said no one at his firm is planning to retire in the foreseeable future.
"The firm does not necessarily need to expand, but we have an ability to do that if we find the right candidate," said Goldstein. "We have the room and we have the work and the right people to assist us."
Content Continues Below Local Sponsor Message
Content Continues Below Local Sponsor Message
Content Continues Below Local Sponsor Message