Free Program Rewards Local Shoppers
Monday June 16th, 2014
Posted at 2:00pm
Hello time traveller!!

This article is 2680 days old.

The information listed below is likely outdated and has been preserved for archival purposes.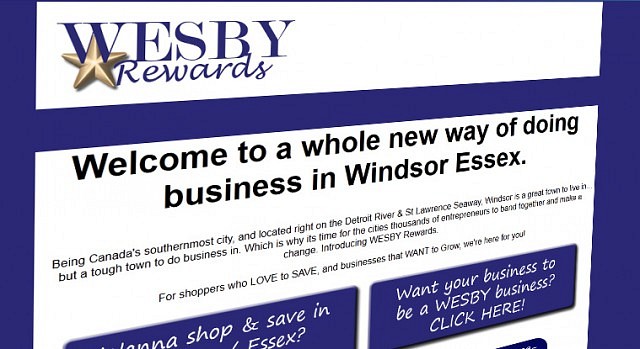 As Windsor's jobless rate rises and stores close, one entrepreneur is fighting back with loyalty.
Having gone through turbulent times, Funatics-owner Rebecca Wolfe knows what challenges face city business-owners. After moving here and bringing her own services, it wasn't long until she was forced to make a tough decision. While the DJ has since adapted and recovered, it was a big blow that forced her to look at things differently.
"I've been a successful entrepreneur for many many years now," said Wolfe. "Owning a business seemed natural and easy to me, until I moved to Windsor. I grew my first business across Canada over the past 10 years, but shortly after moving to the area, I had to make a very difficult decision to close it. At the time I was talking to a few other business owners who have all done the same thing at least once here — It's heartbreaking. While I was planning on opening a new business, I decided to do a lot of market research — find out why so many businesses Big and Small are failing in Windsor/Essex. What I discovered was a lack of customer loyalty."
Not blaming anyone for seeking better deals, Wolfe acknowledges that they're often across the border. While beneficial to consumers, it leaves business-owners empty-handed and is bad for Windsor's economy. Looking to fix the problem however, she researched customer loyalty and a few things became obvious.
Although box stores, large chains and popular brands can afford to provide loyalty rewards, it's nearly impossible for small businesses. With advertising costs making it hard to let people know they're open, a lot of establishments fight a losing battle from the start.
After learning this information, Wolfe re-prioritized her goals: Now she's determined to create an organization that will help small businesses compete on more of a level playing-field. The end result is WESBY Rewards, a free way to save money by shopping in Windsor/Essex County.
"Shoppers can find their WESBY card at any of our participating businesses, it's free,"said Wolfe. "that was one thing I learned while researching, shoppers don't want to pay for their discounts any more… frankly I don't blame them. ALl of the businesses come up with their own discounts, which is great for the business owner and consumer, because it means variety. All the consumer has to do is show their WESBY card when making a purchase and they'll save money for shopping local."
Customers are only one half of the equation though. Knowing that businesses have to sign on for these rewards to work, Wolfe made it easy for them as well. At $17 a month, WESBY membership includes a listing in their printed and online shopping guides, which also provides customers a description of the business. Beyond this exposure, establishments choose a discount they can offer WESBY shoppers and share their website address or facebook page to engage with consumers online. Shopping guides contain a QR code on the back, enabling people to scan it and pull up WESBY's site on their smart phones. The group's facebook page is also available for businesses to post photos, videos and sales for free.
Coupling that with exclusivity and Wolfe thinks it's a good investment for all involved.
"First of all, it's incredibly cheap, " she said. "There aren't many mediums out there that allow you to advertise for only $17 a month. This means theres very little risk to it as well. It's also great because you know whether or not the program is working for you since shoppers show you their card every time. We also offer exclusivity. There's a lot of home, wedding and baby shows in windsor. Not only are they usually hundreds or thousands of dollars for a business to participate in for one weekend, they're also filled with your competition. WESBY limits the number of businesses in each category… for example: no more than 7 hair salons or 7 pizza parlors or 7 mechanics can be listed from across all of Windsor/Essex at the same time. We also have a distance radius guarantee… so If a clothing store signs up, no other clothing stores within 1 km radius can sign-up."
Being a first-come first-serve system, there's no room for hesitation. Even so, Wolfe has met some challenges while trying to get different stores on board. Many owners have already signed-on for similar rewards programs with the main difference being that customers pay for a card. It's something they now regret, as Wolfe says few have seen a return on their investments — mainly due to customers not paying extra for rewards. Despite her program being structured differently, these businesses can't afford to join WESBY now as a result.
Not unlike the wedding industry, Wolfe must contend with those taking advantage of others too. Several years ago, a con-artist came to the area and claimed to be launching a program similar to WESBY Rewards. Instead of helping local business however, those who bought-in lost upwards of $2,000. While it would take close to 10 years to lose as much money with WESBY, the experience has left several business-owners reluctant to take part in such a program again.
Still, Wolfe has learned a lot from meeting with so many people. Several businesses signed-up to WESBY Rewards early and feedback has been encouraging.
"I offered a lower sign-up price for businesses that signed-up before our launch on June 1," said Wolfe. "Those businesses were able to sign-up for $13 a month because they saw the potential WESBY has. I've heard from a lot of businesses who asked me to come back when the program has been up and running for a year, which gives me hope we'll continue to grow. We managed to launch with 12 different businesses, a variety too, such as Dressed By an Olive in Tecumseh, or Community Chiropractic, Exclusive Clothing, High Jinks, True Fitness and more."
Other than keeping money in customers' pockets, Wolfe thinks free rewards are important. While shoppers benefit from these savings, their loyalty to the area also helps the community and its economy become stronger. She hopes that WESBY can grow and find new ways to get businesses off the ground too. This could include bulk advertising rates in the future or, more importantly for shoppers, bigger giveaways and discounts.
Either way, Wolfe is committed to making Windsor/Essex a better place to do business
"You know, one of the saddest moments for me during this process was when i was out introducing myself and WESBY to local businesses," she said. "I'd walk up to a store that looked to be open but get close and see it was empty. Store after store, it was all the same — so many businesses closed down. It hurts our city in so many different ways. I'm hoping as WESBY grows, more and more people will shop local. This means hundreds of our businesses will not only survive but thrive, creating jobs. Tax money will be brought in locally, instead of over the border. We can create a circle of success here in Windsor, building jobs, finding unique and beautiful items while shopping and spending less money on gas to get across to the states, reducing our carbon foot print. There really is no downside. It just takes a few passionate business owners and shoppers to get the WESBY momentum going."
For more on rewards and which stores are part of the group, Those interested can visit WESBY's website. While there, visitors can sign-up to their e-mail list and receive extra coupons — all information submitted is kept confidential. During the summer, WESBY will also give away $50 gift cards to one of their businesses for every 50 facebook likes. Following their page will be the best way to stay on top of last second savings and giveaways as well.