Students Line The Hallways Of Suzuki Public School With Eco Art
Wednesday May 7th, 2014
Posted at 9:55pm
Hello time traveller!!

This article is 2723 days old.

The information listed below is likely outdated and has been preserved for archival purposes.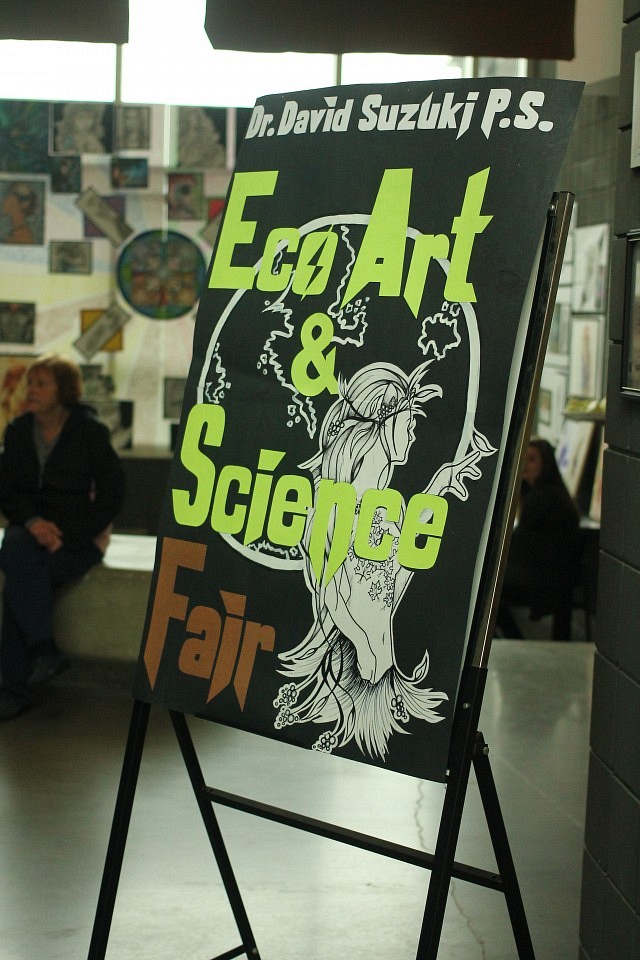 Art, science and true personality lined the walls of Dr. David Suzuki Public School, Wednesday evening, as students came together to put on an Eco Art and Science Fair.
Dr. David Suzuki Public School is an "eco school," according to the teachers, which is where the entire theme for the fair came from. The event brought out hundreds of family and friends, and smiles lined the halls as students showed their artwork to their parents and friends.
Katie Kaltika, grade eight teacher at the school, runs and after school Creative Collective alongside Stefanie Zaccagnini, a fellow grade eight teacher at the school. Kaltika has been running art clubs for 10 years and Creative Collectives for five years, however this is her first year as a teacher at Dr. David Suzuki.
In the Creative Collective, not only do the students have the opportunity to express themselves through their artwork but also to gain constructive feedback on the work they produce. Kaltika and Zaccagnini meet with the students once a week and give them the tools to brainstorm as a group and bounce ideas off of one another as to how they can use their tools to create great work. They said while it isn't like formal art lessons, it's an open studio for the students which is a lot of fun for them.
"Today's art and science fair is a school wide effort celebrating environmentalism, obviously that's the theme at Dr. David Suzuki," said Kaltika. "They've had the theme to work with eco art all year but the way they've interpreted that theme is different depending on the student."
The idea of the Creative Collective, grades six, seven and eight, has always been 'come play, come create', according to Kaltika. The entire group is a free-for-all and every year it ends with a grand finale.
Kaltika said Jan Fairall, the principal at Dr. David Suzuki, supported her love for the arts and her want to instill arts on the children.
"Being an artist myself, and someone who loved art so much through school, it's really about bringing students together with other artists," said Kaltika. "For me it's really about celebrating the work the students are doing, teaching them how to launch their own show, how to put their work out there. More than anything, I think art is about exhibition and being able to show your work and providing them with the opportunity to be a part of their first real art show is what it's about."
Kaltika's goal is to bring the students together as a collective group of artists, because even as an adult she looks for that in the city.
16 members of the Creative Collective were involved in showing art, and each individual class created artwork and put them outside of their classrooms to celebrate environmentalism. The school also showcased a science fair in the gymnasium, carrying the eco theme in to the student projects.
"I think the collective has allowed them to form relationships with each other as artists," said Zaccagnini. "Having many things in common and I think that they have become inspired by one another and you can see certain aspects of work from one artist has inspired and influenced another."
Zaccagnini said Kaltika has been an "excellent supporter" for the other teachers in the school who may not have known much about art prior to the show. She was able to make suggestions on how to incorporate different age groups and how to celebrate the arts in their own classrooms.
One of the students who stood out for the artistic teaching duo was Corinne Garrett, a grade eight student at Dr. David Suzuki. According to Zaccagnini and Kaltika, Garrett "eat, sleeps and breathes art," and has transformed over the course of the school year.
"It's very overwhelming and something different because I've never really done something like this before but it's exciting at the same time," said Garrett. "I feel like I've really grown as an artist since I've met her (Kaltika), I've gotten in to painting and doing a lot more different stuff."
In the gymnasium, David Vial, a fifth grade teacher at the school, saw his brain child to come to life in a different way.
"I always wanted to do a science fair or eco fair for the school and the principal thought it would be a good idea to just combine the two events together and that way, you're basically showcasing the students art capabilities and their science abilities," said Vail. "I love science, so if I could do science all the time that would be great but this is really great, the kids have done a wonderful job at how they've presented their ideas about the environment."
Any students who wanted to partake in the eco fair were welcomed by Vial. While he assisted the students occasionally after school, Vial said the students did the majority of the work on their own at home.
The Eco Art and Science Fair wraps up National Youth Arts Week with a bang. Kaltika and Zaccagnini said they hope to continue to instill art in their students because they will only continue to evolve in their abilities. They have 12 eighth grade students moving on to the Walkerville Creative Centre for the Arts Program next year.
"Watching them from the first meeting we had together to now," said Zaccagnini. "You can see how much those artists have developed and how much better they have become."