Local Business Strategist Puts Leaders On The Right Path
Thursday May 8th, 2014
Posted at 3:30pm
Hello time traveller!!

This article is 2723 days old.

The information listed below is likely outdated and has been preserved for archival purposes.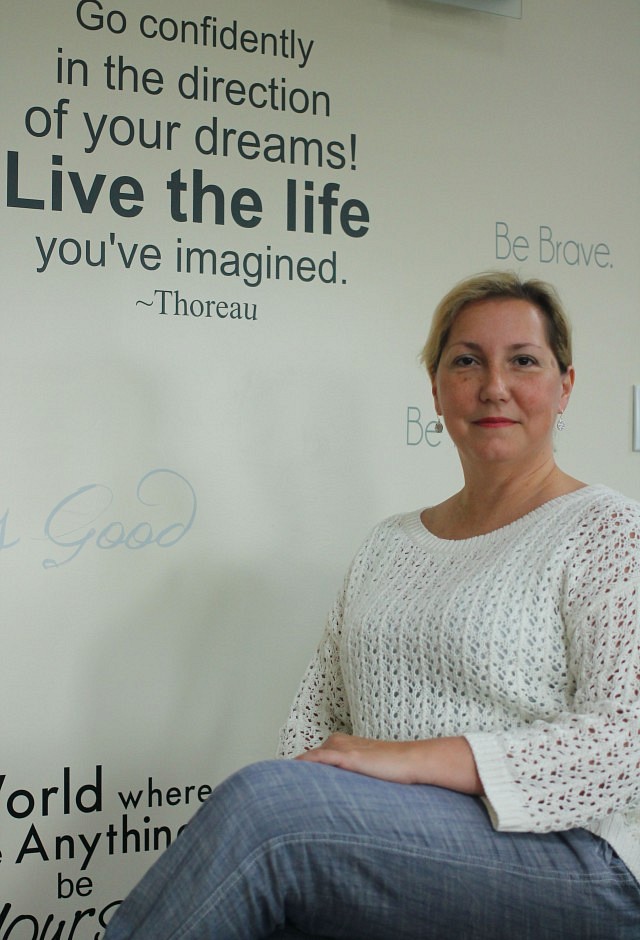 Sometimes it takes a drastic change to put someone on a path they should have been on all along.
This holds true for Windsor area business strategist and coach, Lora Crestan. Crestan is a 45-year-old mother, born and raised in Windsor.
As a young woman, she obtained a degree in retail management and said she gained more of a love for the people aspect of the job, not so much the buying and selling. As interesting as she found it, it wasn't where her passion was. This is where her career really began to take off.
"I loved seeing people grow and progress so I've always been a coach by nature," said Crestan. "Asking a lot of questions, letting people figure out issues for themselves, helping them just be better at who they are and what they do, letting them make mistakes and letting them move forward."
Since her beginning in retail management, Crestan moved her way through the ranks, obtaining job experience in an array of different fields from scooping ice cream to cutting fabric, even selling shoes. Crestan opened Gap Kids Stores, went over to the WalMart chain and ran stores within the area, assisted in opening the Leamington location and then proceeded to move up the ranks in WalMart's Sam's Club division and home office in Mississauga. It was at this point in 2002 when Crestan began to understand business development, growth and management. She began serious coaching at this time, taking groups of officials and coaching them on how to talk with their clients and how to help them drive the businesses forward.
When the Sam's Club division of WalMart was eliminated around 2008, Crestan took her passion in to her own hands and began her business.
"There was an opportunity for me to be working in a different way that I could spend more time doing things with my kids the way I wanted to," said Crestan. "I couldn't be in an earlier part of their lives, this has been totally precious to me and I wouldn't change any second of it for the world. It's nice to be available when they need me and it's also nice that they understand that it's time that I have to get work done and I do."
Crestan describes her home-based entrepreneur opportunity as a way for not only her to help businesses in the area, but also to teach her family. She said her boys can see that there is more than just traditional work, and it definitely doesn't have to be something that makes you miserable. Work can be something that makes you happy, and that's what Crestan aims to instill on her boys.
"I work with all kinds of different clients, mostly in senior levels in their organizations, that are looking to build leadership skills within themselves, but also to build leadership skills within their teams," said Crestan.
Crestan approaches her business from a variety of angles, from private coaching sessions to facilitation, which means doing workshops with people and their teams, as well as doing mastermind team sessions. Mastermind team sessions involve four or five different business leaders working on all of their individual businesses at once. Crestan said the point of a mastermind team is to get more minds working on situations to solve problems in new innovative ways that are "so much more fun."
This year, Crestan will be producing her fifth annual Leadercast event at Imagine Theatres in Lakeshore. She said Leadercast is a full day simulcast event, the idea of which came out of Atlanta from a company called Giant Impact. When Leadercast is hosted in Atlanta, they have nearly 5,000 people in attendance in a football stadium sized arena. Crestan said while their attendance is still small, they are planning to double the attendance of last year.
The theme of Leadercast this year is Beyond You and they're focusing on the whole goal of the organization – to the build leaders worth following. Reaching beyond you means reaching beyond your leadership skills to help others become better leaders. Not only will local leaders be present, but international leaders as well such as Archbishop Desmond Tuto from South Africa. Crestan said the idea is that we all have a safety circle that we live, work and breathe in, but we need to learn how to lead within that circle.
Crestan said when she was sitting with a long-term client of hers going over where they've been in the last year and where they have to go, seeing her client realize how much her business had improved was an amazing moment. Those are the moments, Crestan says, she lives for.
"It's not necessarily dollars and cents, believe me I didn't do this to become rich because you don't do that," said Crestan. "I did this because I love to see those light bulbs go off. I love to see people go 'oh my gosh I can do that,' or all of a sudden they just shifted their way of thinking."
It was this personality that set Crestan apart from many other business leaders in Windsor, allowing her to reach the top three nominees for the Business Excellence Awards' Professional of the Year award.
"Having been in business for only five years, it was an amazing and humbling experience to be nominated as finalist, because I know there was lots of other people too," said Crestan. "But to get to that finalist piece with Margaret Corio, who I know has done a zillion things in this world, and Peter Hrastovec who I know has a huge reputation, I was like 'wow, that's pretty neat,' it was really, really nice. I couldn't believe it. It almost leaves you speechless, me who talks all the time."
Coming up, Crestan is aiming to launch a not-for-profit organization called Lab for Leaders in the summer season. While Crestan will touch on it at Leadercast, she is going to focus on her kick-off throughout the summer through to September. Crestan firmly believes there are so many tools and resources they can use to build leaders in the community and said it isn't always necessarily about competing with other people and organizations but giving people more tools, space and resources they can use to test out their roles.
In five years, Crestan wants to take what she's doing and make it bigger, tenfold. She aims to take her masterminds teams and create a VIP team to go on weekend retreats where they can merge business and brainstorming, with fun and learning.
"I get to do what I love every day, and every time I didn't love what I was doing, or I didn't feel it was truly authentically me, I changed jobs," said Crestan. "I think it's just a matter of realizing that I wasn't happy and why on earth are you here if you're not happy? And happy doesn't mean it's all sun and flowers and everything is beautiful, but it means I'm happy, I'm being challenged, I'm growing, I'm changing things around me and I'm helping people move forward. To me, if I can help one person every day then I've done my job."