Comic Convention Poised To Spread Holiday Cheer Again
Thursday November 28th, 2013, 12:30pm
Hello time traveller!!
This article is 3410 days old.
The information listed below is likely outdated and has been preserved for archival purposes.
As Christmas approaches, it'll soon be easy to find someone dressed in red, among other colours.
While Santa can be found just about everywhere these days, a swarm of superheroes is set to descend upon Downtown Windsor. After A Merry Christmas Comic Con's success at the Legion Branch 594 hall last year (they drew over 1,400 attendees) the event is back and expanding.
Despite its growth, the December 1st convention is still cheap: Christmas Comic Con 2 (C3-2) has an admission fee of $5 and those 10-years-old or younger get in free. Moving to the St. Clair Centre for the Arts, there will also be more room for vendors to provide something for everyone.
"This year we are happy to offer attendees more than 100 tables of merchandise, that's more than three times as much as last year," said event organizer, Michael Michalski. "With everything from comic books and manga to toys and collectibles to original comic book art and related-crafts of all sorts for sale, there's truly something for everyone. We'll literally have tens of thousands of comics to suit both the high-end collectors and bargain-hunters alike, too, along with items such as custom Lego builders; anime-related material; posters and prints; and much more. It's too much to list, really."
Along with Windsor's Comic Book Syndicate, Talent from the comic book industry making their second convention appearances include: Artist Jason Fabok (Detective Comics,) Tony Gray (Tales of the Incredible Conduit) Johnny D (Vampirella) and April Fawler (Apes in the Woods.)
If that wasn't enough, Michalski has worked hard to ensure that C3-2 will have even more talent on hand. Although he received a letter of rejection from the notoriously reclusive Spider-Man and Doctor Strange co-creator, Steve Ditko, it didn't stop him from recruiting some great talent.
"We're very proud to present a truly world class lineup of artists," said Michalski. "This includes Essex County's own David Finch (Batman the Dark Knight, JLA), Montreal's Yanick Paquette (Swamp Thing, Wonder Woman and others), Detroit's Keith Pollard (Marvel Comics legend who worked on Spider-Man, Fantastic Four and Thor) and Arvell Jones (All-Star Squadron)."
All guests will be meeting fans and signing books or prints during the convention. Finch and Desjardins will also take part in a "sketch-off," where both artists will draw something on-site and fans can bid on the end results. All proceeds raised from the auction will go to charity. Guest panels and discussions will be held with guests, moderated by retired Essex county teacher and founder of the Windsor-Essex County Comic Collector's Club (WECCCC) Roy G. James.
Two special performances are set to boldly go where none have gone before. Star Trek: The Band will bring their show to C3-2, playing along to Star Trek cartoons on the big screen. Cosplayers also have something to look forward to: There will be a contest for best costume again and it'll be on a full stage for better visibility this year. As Michalski puts it, "my show is like Halloween and Christmas all rolled into one."
Art and colouring contests have been added — the latter for kids. The biggest superhero of the holidays, jolly St. Nick himself, is even set to make an appearance. At the end of the day, children are the fans Michalski hopes to influence the most.
"I'd like to see mainstream interest translate into more sales of the books themselves," he said. "I think the movies have encouraged the culture, but these corporations that now own Marvel and DC are more interested in concentrating on the flicks and merchandising. They haven't done much to promote the actual books in the mainstream. This is why I do my shows and write and work for GlassMonkey Studios – to get more people reading the comics themselves, especially children. If we don't get children reading comic books, the medium will die. It's that simple. I encourage all parents to bring their kids to my show. Get them hooked on reading and art – no batteries required."
Michalski has made great efforts in ensuring out-of-towners are taken care of this year as well. Working closely with Downtown Windsor's Quality Suites, guests can reserve a two-room hotel suite for $95 a night by using the promo code COMICCON. Being just minutes away from the convention, guests will be able to get into C3-2 with ease.
As if that weren't exciting enough, there's even more for hardcore fans. Limited edition t-shirts will be sold for $15 and C3-2's main raffle comes with one big prize: A $250 shopping spree at southwestern Ontario's biggest comic book and collectables shop, Heroes Comics in London. On top of that, the lucky winner will receive a VIA Rail gift certificate to pay for their trip. Tickets will be available at the registration/souvenir area inside the convention hall for $5 or three for $10.
For those not willing to test their luck though, a V.I.P. package has also been offered.
"Our V.I.P. pass is also such a great deal," said Michalski. "For only $25 – in addition to convention admission and a limited-edition print – purchasers will be able to attend our official after-party at GlassMonkey Studios on nearby Ottawa Street, where Yanick, Jason, Tony, Johnny and April will also be appearing beginning at 8 p.m. This VIP affair is limited to 100 people, so it will offer fans a real intimate and relaxed atmosphere to interact with these talented artists. GlassMonkey Studios will also be exhibiting one of the finest original comic book art shows you'll see anywhere in the world that night, with pieces from some of the most-legendary names in the history of the medium, including John Romita Sr., Gene Colan, Curt Swan, Jerry Robinson, Dan De Carlo, Dean Young, Russ Heath, Jim Raymond, Darwyn Cooke, Jay Fabok, Tony Gray, Jeff Lemire, Ruben Yandoc, Johnny D, April Fawler and more."
Conventioneers will have access to full concessions at C3-2, thanks to the staff at the St. Clair Centre for the Arts. Food, drinks and alcohol for older comic book fans will be available, along with several tables to sit, relax, and watch cartoons between events. C3-2 and Glass Monkey Studios will also be collecting unwrapped toys for Sparky's Toy Drive, which provides toys for kids in houses that can't afford them.
Comic book fan or not, Michalski maintains that the event is great fun for all Windsorites. Being so unique, he's proud to showcase what the city and venue have to offer.
"I think any time you can move an event of this sort into a downtown core, it only benefits the city," said Michalski. "Downtown is the heart of Windsor. The St. Clair Centre for the Arts is a world class facility right along the river overlooking that great Detroit skyline. I couldn't dream of a better venue and I'm thrilled we're going to get the opportunity to show it off to all of our convention attendees, many of whom will be coming from out of town or even out of country. It allows Windsor to be shown in a truly positive light. I'm proud to be working in partnership with St. Clair College in making Christmas Comic Con 2 a reality."
C3-2 runs this Sunday December 1st from 11am to 6pm.
For more information, those interested can visit the event's facebook page, blog or Google+ page.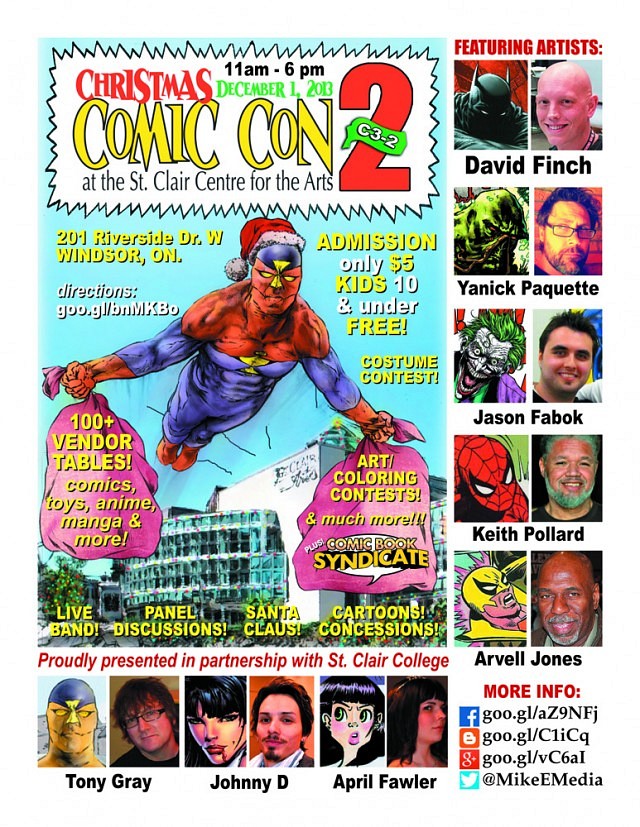 Content Continues Below Local Sponsor Message
Content Continues Below Local Sponsor Message
Content Continues Below Local Sponsor Message