Spring Begins At Art Gallery Of Windsor
Wednesday April 17th, 2013, 11:00am
Hello time traveller!!
This article is 3573 days old.
The information listed below is likely outdated and has been preserved for archival purposes.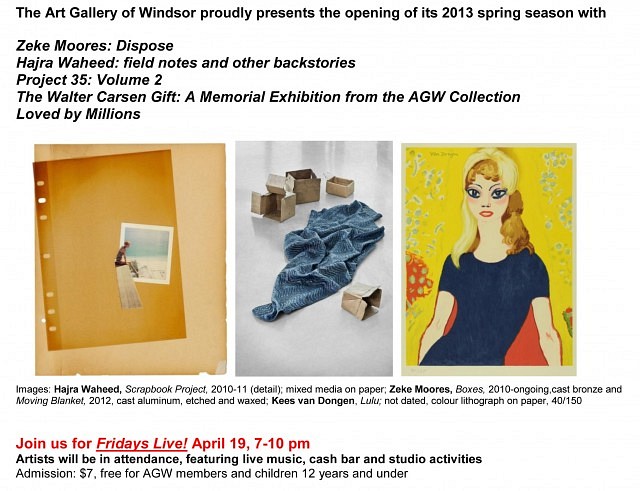 The Art Gallery of Windsor kicks off it's 2013 spring season this Friday from 7pm to 10pm with the opening of several exhibits.
Zeke Moores: Dispose
Curated by Srimoyee Mitra and Bruce Johnson
Zeke Moores' sculptures draw inspiration from everyday life. He modifies and manipulates objects in unexpected ways by playing with material, weight, size and perception. Moores invites viewers to assess the values which govern the aesthetics of mass production and transience in our consumer culture. Similarly, the exhibition echoes the constant state of transition in our material culture through ordinary cardboard boxes, wooden crates, milk crates and a moving blanket. Moores reclaims these objects as cultural artifacts and recreates them in bronze and aluminum to highlight their beauty and potential. Born and raised in Conception Bay South, Newfoundland, Moores has lived in cities across North America from New Jersey, Toronto to Windsor, where he continues to live and work. His work has received much attention since he was a finalist of the prestigious Sobey Art Award in 2011. The Art Gallery of Windsor is proud to present his first major solo exhibition in a public gallery with this exhibition.

A 48-page catalogue will accompany the exhibition with essays and an interview by Bruce Johnson, Curator of Contemporary Art, The Rooms Provincial Art Gallery, Ray Cronin, Director, Art Gallery of Nova Scotia and Srimoyee Mitra, Curator of Contemporary Art, Art Gallery of Windsor.
 

 

Hajra Waheed's art practice has been deeply concerned with found images and objects mostly drawn from our contemporary culture such as souvenirs like vintage post cards or photographs, cuttings from a magazine and newspaper to expired film and aged paper. Through a playful process of cutting, slicing and layering she creates intriguing collage, drawings and photo transfers to tease out new narratives and build meaning. Waheed's long-standing interest in producing undisclosed documents/documentation makes her work seem like secret notes or ciphers that the viewers are invited to de-code. This exhibition brings together bodies of works that reflect on the artist's compelling practice. Among them are the Anouchian Passport Portrait Series (2008-2011), a large set of detailed drawings inspired by the passport photographs of Tripoli-based Armenian photographer Antranik Anouchian who owned one of the first photography studios in the Middle-East (1935-1991). Works from this series have been acquired by major institutions around the world including the British Museum and The Museum of Modern Art, New York. This exhibition will also showcase new and recent work including the Scrapbook Project (2010-11) and the Video Project (2012-13). Field notes and other backstories is Hajra Waheed's debut public solo exhibition in Canada.

A 48-page catalogue will accompany the exhibition with essays by Nada Raza, Assistant Curator, Tate Modern, Kristine Khouri, independent researcher and writer, Beirut and Srimoyee Mitra, Curator of Contemporary Art, Art Gallery of Windsor.
The Walter Carsen Gift: A Memorial Exhibition from the AGW Collection
Curated by Catharine Mastin
On October 8th 2012, Canada lamented the passing of noted cultural philanthropist, Walter Carsen who had that year also reached his 100th birthday. Carsen's generosity has extended to several public art galleries and focusing on his gift to the Art Gallery of Windsor, this exhibition concentrates on Carsen's interest in printmaking dominantly by artists associated with Paris, France and New York City, USA after the Second World War. It was the Art Gallery of Windsor's long-term Director-Curator, Kenneth Saltmarche who developed a relationship with Walter Carsen in the later 1970s and early 1980s. Major acquisitions of dominantly "School of Paris" prints resulted, including works by Jean Dubuffet, Pablo Picasso, Antoni Clavé, Johnny Friedlaender, Richard Hamilton, Lynn Chadwick, Elsworth Kelly, Alexander Calder, Mel Ramos, Ad Reinhardt, Larry Zox and Tom Wesselman.
John Will: Loved by Millions
Curated by Catharine Mastin
The VHS production Loved by Millions coincided with the development of Chris Cran's exhibition of the same name curated by Grant Arnold at the Art Gallery of Windsor in 1989. Created by the artist's long-time friend and colleague, painter John Will of Calgary, the video production playfully responds to the documentary tradition, featuring artist-subject, Chris Cran. John Will is a prominent artist known best for his works in painting, his critiques of popular culture, his humorous and ironic means of visual resolution. Will's Loved by Millions traces the journey of Cran by air from his home in Calgary to Detroit then to Windsor, to attend the opening of his 1989 solo show with his broker-agent and chic in tow. The two artists' jockeying as male subjects in this collaborative process yielded a production whereby both offered valuable critiques on the social construction of fame in the late 20th century and society's fascination with it.
Project 35 Volume 2
Produced by Independent Curators International (ICI), NY
In 2010, Independent Curators International (ICI) launched Project 35, a program of single-channel videos selected by 35 international curators who each choose one work from an artist they think is important for audiences around the world to experience today. The resulting selection was presented simultaneously in more than thirty venues around the globe, inspiring discourse in places as varied as Skopje, Macedonia; Lagos, Nigeria; Tirana, Albania; Cape Town, South Africa; Storrs, Connecticut; New Orleans, Louisiana; Berlin, Germany; Los Angeles, California; and Taipei, Taiwan. The diversity of venues mimics the list of participating curators, whose selections reflect their current interests and research, and most often their local regions. Canadian curators represented in this compilation include Daina Augaitis and Srimoyee Mitra who selected work by Jin-Me Yoon (Vancouver) and Deanna Bowen (Toronto) respectively.

Project 35 Volume 2 is a traveling exhibition produced by Independent Curators International (ICI), New York. The exhibition is made possible, in part, by grants from the Horace W. Goldsmith Foundation, and the Robert Lehman Foundation; the ICI Board of Trustees; and donors to ICI's Access Fund.
All exhibitions run until June 2nd 2013

Content Continues Below Local Sponsor Message
Content Continues Below Local Sponsor Message
Content Continues Below Local Sponsor Message